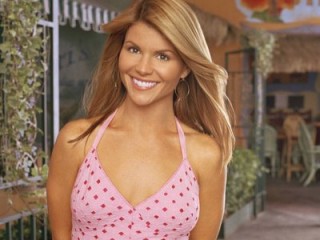 Lori Loughlin
Date of birth : 1964-07-28
Date of death : -
Birthplace : Queens, New York, United States
Nationality : American
Category : Arts and Entertainment
Last modified : 2011-09-19
Lori Loughlin is an American actress, best known for her role as Rebecca Donaldson-Katsopolis on the ABC sitcom Full House.

Lori's best known to American viewers for having turned down the lead in the Blue Lagoon (which went to Brooke Shields) and accepting the part in Full House. Yes, she worked with the Dream Team that was Bob Saget, John Stamos, and the Olsen Twins. It took Lori a while to get over John "Wild Stallion" Stamos, both on screen and off, but she returned to TV recently with a show she co-created, Summerland.

Lori was born in Queens, New York, but moved with her family to Oceanside, New York at a young age. She attended Oaks Public Elementary School #3. At the age of 12, she became a print model, and was seen in national print ads for Sears and Bradlees Weekly Flyers.

In 1979, Lori got a national TV ad, playing a cheerleader in a Tab commercial, and her career was underway. She next landed a part on the soap opera, The Edge of Night. After three-and-a-half years on the soap, she began trying out for work in feature films. While this didn't immediately pan out, she did land a part on the sitcom, Full House. Her role of Rebecca Donaldson is her most recognizable role to date. As Lori realized the hard way, once you work with Saget it's hard to get the stink off.

Following Full House, Lori landed a slew of small film parts, and television cameos. Notable amongst these were her appearances on Seinfeld, The Drew Carey Show, and in the film, In the Line of Duty: Blaze of Glory, with Bruce Campbell. Lori took a break from acting before returning to the small screen in 2004 with Summerland, a WB series she co-created. The show ran into 2005 before being cancelled. Lori is married to the man behind Mossimo clothing, so hopefully she can strategize her next entertainment move while relaxing in a crisp new set of his volleyball threads.

She can currently be seen in the CW network's revamped 90210.
View the full website biography of Lori Loughlin.