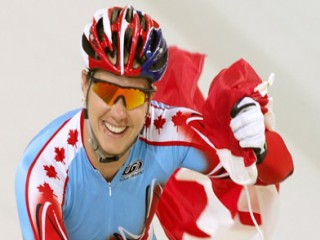 Lori-Ann Muenzer
Date of birth : 1966-05-21
Date of death : -
Birthplace : Toronto, Ontario, Canada
Nationality : Canadian
Category : Sports
Last modified : 2010-06-23
Lori-Ann Muenzer (born May 21, 1966 in Toronto, Ontario) is a Canadian track cyclist and gold medal winning athlete at the 2004 Summer Olympics in the Match Sprint. She attended Runnymede Collegiate Institute.

She won a silver medal at the 2001 World championships in Antwerp, Belgium in the 500m time trial and a bronze in the sprint, she won a silver at the 2000 World Championships in Manchester, England in the sprint, and a bronze medal at the 2004 world championships in Melbourne, Australia in the sprint. She is the only Cycling Olympic Gold Medalist in Canadian history.


As athletes gathered for the 2004 Athens Summer Olympic Games, Lori-Ann Muenzer was considered a longshot to win a gold medal. The cyclist had several strikes against her. First, Canada isn't exactly a cycling powerhouse; no Canadian had ever won a gold medal in an Olympic cycling event. Second, Muenzer was the only track cyclist from Canada competing in Athens, and she was doing so with no coach or support staff on hand, not even a mechanic. She didn't have the money to bring anyone with her to the Games.

Then there was her age. At 38, Muenzer, a legal secretary from Edmonton, was the oldest woman in competition at the Athens Olympics and was well past the age at which cycling sprinters usually retire. Her opponents were all young enough to be her daughters. In fact, when she first started cycling competitively at the age of 23, she was still older than her competitors at the Olympics. For Muenzer, however, age wasn't an issue. "My age? It's just a number on my licence," she told Allan Maki of The Globe and Mail. "For me, the age thing has never been a factor. If it was, I never should have started cycling 17 years ago."

Any sports fan can tell you what happened. Muenzer, nicknamed "Rolling Thunder," captured the gold medal in the match sprints. It was Canada's second gold of the Games, and the country's first Olympic gold medal in cycling. It also made Muenzer the second-oldest Canadian to win Olympic gold; the oldest, Linda Thom, was 40 when she won in shooting at the 1984 Los Angeles Olympics.

Muenzer added her new medal to a collection of trophies gathered during her career. She has been Canadian champion 13 times and has taken home 11 World Cup medals, a pair of Commonwealth Games medals, and two silver and two bronze medals from world championships.

Born in Toronto, Muenzer grew up in the Junction, a neighbourhood in the city's west end. After he retired, her grandfather began repairing bicycles as a hobby, sometimes building them out of old frames and parts, and Muenzer and her sister would test-drive them. In fact, her first bike was one of her grandfather's creations. "My grandfather wouldn't have known what to make of these racing bikes," she told Wayne Scanlan of the Ottawa Citizen. "You don't just take a hammer and a screwdriver to them."

Muenzer got her first 10-speed bike when she was 10 years old. Soon she was racing other neighbourhood kids from one end of the street to the other. "I've always liked speed," she told Joanne Ireland of the Edmonton Journal. "I do remember racing kids down the street, going as fast as I could, so fast one of my tires once exploded." This was, she told Heather Andrews Miller of Real Estate Weekly, her first experience as a sprinter, and she believes that one of the reasons she gravitated to sprint events is that competing flat-out over a short distance reminded her of those childhood races.

As a kid, she was soon chasing buses on the streets of Toronto just to see if she could outrace them. "Later, I used to go from Toronto to Hamilton just for something to do," she told Ireland. "It was four hours each way, but the worst part of that was, once I got a time, I wanted to go out the next time and do it faster." Then, when she watched Steve Bauer of Fenwick, Ontario, win a silver medal in the head-to-head sprint at the 1984 Los Angeles Olympics, she was inspired. Someday, she told herself, that'll be me.

As a teenager, however, Muenzer pretty much forgot about cycling. She didn't ride a bike for seven years. In the meantime, she became a legal secretary and found a job with a Toronto law firm. Then one day, she rode a mountain bike and rediscovered her love of two-wheelers.

She joined her first cycling club, sponsored by a Toronto bike store, in 1987. "There were 10 guys and me," she told Laura Robinson of Pedal. A month later, she started looking for her first racing bike. When she finally found one she could afford, it was too small, she told Morris. "I ended up buying a bike that was $700," she continued. "I took out a loan for $1,000 because you have to get the shoes, the helmet, the jerseys. That's where I started."

Belonging to a club whetted Muenzer's appetite for the sport, and by the age of 23, she was winning road-racing events. After moving to Montreal in 1989, she made the Quebec provincial cycling team as a road racer and won several provincial championships. By this time, she was training seriously, riding two hours every day before going to work. In 1993, she made the Canadian national team and began competing in track cycling events, riding on the polished hardwood of a velodrome track. Track cycling emphasizes tactics as well as speed, and she liked the combination. "Everything I've done before has been based on power and strength," she told John Korobanik of the Edmonton Journal. "Training on the road, I was able to ride real fast but I had no tactics." Eventually, she decided to focus exclusively on track racing.

Then, in 1994, the bad luck that has dogged Muenzer's career surfaced when she crashed during a race in Cuba and fractured her collarbone. The injury kept her out of the Commonwealth Games in Victoria and the 1996 Olympic Games in Atlanta, Georgia. To make matters worse, she developed tendinitis in both knees while trying to recover from the injury. Then she lost her job.

Muenzer's debts mounted, and the run of bad luck left her thinking seriously about her future in cycling. "It took me two years to pay off my debts for that eight, nine-week period," she told Tony Care of CBC Sports Online. "I was weighing things, and it's like, 'Am I going on a wild-goose chase and just sinking myself financially?' So I was lost, I was actually lost for quite a while. For a whole year, I didn't touch the bike at all." She thought her career was over.

During this time, she moved back to Toronto --- she could speak French but had a hard time writing it, so she found it difficult to get a job in Montreal --- and finally returned to serious training in December 1995.

In 1999, Muenzer moved to Edmonton so that her partner of the time could take advantage of a job opportunity. She quickly found work at Field Law, a local law firm that has supported her need to take time off during the racing season. Then, she discovered the city's Argyll Velodrome, built for the 1978 Commonwealth Games. She joined the Juventus Cycling Club, where she met her coach, racer Steen Madsen, whom she has described as the ultimate training partner and coach. "We both have the same vision, the same ideas," she told Mitch Potter of the Toronto Star. "He was as crazy as I was about thinking and dreaming and getting to the Olympics."

With Madsen's guidance, Muenzer established a strict training routine. Three days a week, she lifts weights. She rides at the velodrome another three days, for two to four hours a day. On alternate days, she rides on the road or, during the long Edmonton winters, indoors, with her racing bike balanced on rollers. Before she bought a house after the 2000 Sydney Olympic Games, Muenzer worried about the effect on her neighbours of the rumbling noise that echoed off the walls of her apartment at six o'clock in the morning as she rode at speeds of 50 to 60 kilometres an hour.

Unfortunately, her health woes continued. Muenzer began the 1999 racing season with a lung infection that put her in hospital twice. Then, while mountain biking, she fell off a 20-foot cliff into a ravine and landed on her pelvis. It took her eight months to recover fully from this accident.

The enforced break gave Muenzer lots of time to think, and she decided that she wanted to be the best cyclist she could be: no excuses about her age or the fact that she had never really trained on a track before, that she had discovered that she is hypoglycemic or that there was no spot for her on the Canadian Olympic team. "In hindsight," she told Korobanik, "[the accident] was the best thing that could have happened to me."

The timing of the accident and her recovery meant that Muenzer had only three months to train before the 2000 cycling season. She nevertheless qualified to compete at the Sydney Olympic Games by beating veteran Tanya Dubnicoff, the former world sprint champion and 1999 Pan American Games gold medallist. Muenzer qualified for the 500-metre time trial, however, rather than her preferred event, the sprint, because Dubnicoff had already earned Canada's lone berth in the sprint.

With Madsen, Muenzer set up a rigorous training program aimed at winning the time trial. "I wanted to win it, yes, but it was about going out and riding my best, riding my fastest, putting everything that we had done in training into that one ride on that Sunday morning," she told Korobanik. She thought she might even come home with a medal. "It's going to be tough, but it is realistic," she told Korobanik. "I think with the training we've been doing and the mental preparation I really think it's possible."

Despite her high hopes, the Sydney Games could be only described as a disaster for Muenzer. Sick with the Australian flu, she finished 13th in the time trial, and her racing bike went missing on the way home. Nothing could spoil her first Olympic experience, however. "Oh my God, it was incredible, unbelievable," she told Korobanik. "I'm even more motivated now to work harder, work smarter, train faster and go hard." The athletes' village was "awesome," she continued, and the opening ceremonies were as exciting to participate in as they were colourful to watch. "I wasn't going to miss that," she continued. "It was the most unbelievable experience."

An avid amateur photographer, Muenzer shot some 400 photographs in Australia. "I took a look around me at what was going on, took a lot of pictures and I really enjoyed doing that because I'll have some really good memories of my first Games," she said. As for her performance, she managed to set a personal best in the event, despite getting stuck in the automated starting gate, something the Edmonton velodrome doesn't have. "I think I did pretty good, considering," she said.

Despite her disappointing performance at the 2000 Olympics, the 2000, 2001 and 2002 cycling seasons represented big steps forward for Muenzer, even though she was still struggling with tendinitis in both knees. In 2000, she won the women's flying 200 at the Mexico City World Cup and a silver medal in the women's match sprints at the world cycling championships in Manchester, England.

In 2001, she won the Grand Prix Cycliste International de Vitesse in Saint-Denis, France, as well as gold medals in match sprint and the 500-metre time trial at the World Cup in Malaysia. She also won a silver and two bronzes at the 2001 world cycling championships. And in 2002, she won silver and bronze medals at the Commonwealth Games in Manchester. In fact, she set a Commonwealth Games record in the qualifying round and was disappointed by her second-place finish in the sprints and third-place finish in the time trial. "I was looking for a different colour medal, but a medal is a medal," she told the Montreal Gazette. "I'm still very happy with that because that was the objective. I still want to go faster."

Then, the day after she won two golds and a silver at the Pan American championships in August 2002, Muenzer's appendix ruptured. "I started blowing up," she told Korobanik. "I had no idea what it was. My stomach was so big I looked like I was pregnant." It was the end of her racing season. "I spent nine days in hospital," she said. "I spent all of September and October recovering from that."

Given Muenzer's struggle with injuries and illness, it would have been understandable if she had decided to retire, but she says the thought never crossed her mind. "I've never been frustrated," she told Care. "I think most people would look at it in a negative way, but I haven't because it's all been positive. I've come back stronger, and I've learned more about myself personally with training, how I work, how I want to work and where I want to go. But most importantly, how do I want to do this?"

For the 2003 season, Muenzer decided to try something different. Instead of training in Edmonton with Madsen, she travelled to the World Cycling Centre in Switzerland to train with Frédéric Magné, a seven-time world champion who had turned to coaching. Magné's approach didn't work for her, however. She found that she was losing speed, and after three months, she returned to Edmonton to work with Madsen again. As a result, Muenzer's 2003 season was a disappointment; her best finish at the 2003 world championships was sixth.

She approached the experience with a positive attitude, nevertheless. "I'm not going to say [training in Switzerland was an] error because it wasn't," she told Korobanik early in 2004. "Thank goodness it wasn't an Olympic year because I would have been toast. I would not have been a contender. And I haven't been going this hard this long to just go, 'Okay, I'm done.' So I'm really grateful to have one more year, this year."

For the all-important 2004 season, Muenzer decided to go back to the coaching that had worked for her in the past. "I'm back to doing it 100 per cent Steen's way," she told Korobanik. "Keeping it simple. We're trying a few new things, but it's more of what we've done in the past that has been successful."

The 2004 season was important, of course, because of the Olympic Games in Athens. This time, Muenzer was determined to win a medal. First, however, she had to qualify for the Canadian team, which was no easy feat. The Canadian Olympic Committee has tough qualifying standards; since 1994, Muenzer and the now-retired Tanya Dubnicoff have been the only women cyclists to meet them.

For the 2004 Olympics, the COC's standards became even tougher, requiring Canadian athletes to register a top-12 finish in a world qualifying event to earn an Olympic berth. Other international sport federations require only a top-16 placing. "I think [the COC's new standards are] really making this summer an elitist Olympics, to be honest," Muenzer told Care. "They're raising the bar so high and giving you nothing, so how do you produce with nothing? I'd love to see more women involved in this sport, but you can't do it without development. When there is no development, there is nothing."

Nevertheless, if Muenzer wanted to go to Athens, she would have to meet the COC's qualification rules. She decided to focus on World Cup events in Mexico and Sydney, Australia. Her plan was to accumulate enough points to qualify for the world championships, where a top-12 finish would secure her a spot on the Canadian Olympic team.

In the end, this is exactly what happened. Muenzer became the only Canadian cyclist to qualify for the Olympics by winning medals at the world championships in Melbourne, Australia, and the World Cup event in Sydney. This meant she would be the sole member of Canada's cycling team in Athens.

Muenzer's performances showed her that she was a force to be reckoned with, she told Ireland. "Technically, I shouldn't be going faster but I am, which is a little mind-boggling," she said just before the Athens Olympics. "But I also think it's will and spirit and what drives you." Madsen had another opinion about the source of her increasing speed. "There really is no secret," he told Ireland. "It's just hard work."

Muenzer's approach to the Athens Games was different from her approach to the Sydney Olympics four years earlier. For one thing, she skipped the opening ceremonies. Instead, she trained with Madsen in France until the last possible moment. The French track was similar to the one in Athens, and the two played out various race scenarios and honed her tactics.

Given these preparations, Muenzer was confident that she would at least win a bronze medal in the match sprints. "I'm going in strong, I'm going in fast, and I've got experience on my side this time," she told Care. "I still think I am a machine, but you have to weigh down that you're still human after all. It takes a while to come back. I'm the fittest I've ever been."

Muenzer's first event in Athens was the 500-metre time trial. The winner was Australia's Anna Meares, who set a new world record. Muenzer finished in seventh place, but she was pleased. With its emphasis on speed rather than tactics, the time trial isn't her favourite event, and she hadn't expected to win a medal. "It was my best ride ever," she told Terry Jones of the Edmonton Sun, noting that she had set a personal best and a Canadian record at the same time. "I'm right on schedule," she said. "I feel very, very strong and very, very technical. I'm at my absolute peak, my absolute pinnacle right now."

The match sprints were run a few days after the time trial. In the semi-final, Muenzer was slated to ride against Meares, who had narrowly defeated her in the sprint semi-final at the world championships in Melbourne, Australia. Cyclists are fierce rivals on the track, but when they're not racing it's a different story. Muenzer told Morris that the sprints were going to be very exciting and described Meares as a great lady. "I have a lot of respect for her personally and professionally," she said. "We get on very well. If she beats me, I'll be very happy. We're both out there to win and that's what we came to do."

Muenzer did concede, however, that Meares had an advantage in speed; after all, she had set a world record in the time trial just days before. "I have to be smarter, faster," she told reporters. "I have to be at my best. The best woman will win. Who wants it most? I want to leave nothing on the track."

At the Olympics, the sprints are run in three heats; to win, a racer must win two of the three. The race requires both speed and tactics; it's a cat-and-mouse game where cyclists ride three laps, but the last lap is the one that's timed. The first across the finish line wins.

For Muenzer, the real challenge came in the semi-final race against Meares, for it was a battle of strength versus tactics. "I told [Muenzer], 'If you get through Meares, you start thinking about the gold," Madsen told Korobanik. Though Meares won the first heat, Muenzer took charge in the final two, using tactics rather than speed. In the final lap of the third heat, Meares was so far behind that she didn't even make a last hopeless push, instead preserving her energy for the bronze-medal race. Madsen told Korobanik that Muenzer's performance in the semi-final was "perfect."

In the final, Muenzer defeated Russia's Tamilla Abassova in two straight heats before 4,000 spectators, using her superior power and speed to intimidate the younger racer. "The message was, 'I'm sorry, I'm in charge; today's my day,'" she told Scanlan. She accepted the crowd's ovation, riding a full six victory laps around the 250-metre track, fists in the air, a Canadian flag over her shoulders for the last lap, before finally dismounting and kissing the hardwood track.

Before and during the race, she told Maki, her thoughts were simple. "I was thinking about what I had to do to be the first woman across the finish line, what do I have to do to be in control of the race, where I need to position myself. It didn't matter if I was leading or I was following. This week, this is the fittest I've ever been, the fastest I've ever been, the strongest I've ever been and also the smartest I've ever been. Today was the day to put it all together."

On the podium, a teary Muenzer received her gold medal while "O Canada" played. At a news conference afterwards, she could hardly contain her jubilation. "You dream about doing things like this," she told reporters. "But they don't tell you what happens when you get to the top. It's been beautiful. Incredible.... Everything just seems to be in slow motion. Unbelievable, unbelievable. I feel like I've found the pot of gold at the end of the rainbow."

Afterwards Muenzer went to doping control to give a urine sample, then to the International Broadcast Centre, where she gave interviews until three o'clock in the morning. After that, she wanted to go out for a drink to celebrate but couldn't find a bar still open that looked like the kind of place to celebrate winning a gold medal.

She also called Madsen. "We were both kind of speechless. We both had so many words to say to each other and couldn't really get the words out to say them," she told Jones. "It wasn't until about 6:30 a.m. that I had a real chat with him on the phone from the [athlete's] village. That was fantastic. He told me he was totally proud of me. He said it was the best sprint he ever saw me do."

The next day, after just two hours' sleep, Muenzer spent her time doing the things that Olympic gold-medallists suddenly discover they must do. She found the attention overwhelming. "To be in the spotlight is very unusual because I'm not normally in it," she told Suzanne Beaubien of Canadian Press. "I don't think things are going to be quite the same as they were before," she continued, acknowledging that winning a gold medal had probably changed her life forever. "I'm still the same person, but I think before I was Canada's best-kept secret. Now the top just got blown off."

Muenzer also learned something else about Olympic medal winners: except to sleep, she didn't remove her gold medal for the rest of the Games. In Sydney, she didn't understand why athletes continuously wore their medals, she told Korobanik. Now she did. "I can't stop touching it," she said.

Muenzer flew back to Canada just days after winning the gold, missing the Games' closing ceremonies. Between her experiences in Sydney and in Athens, she'd had enough opportunities to be a tourist, she told Bob Weber of the Vancouver Sun. "I'd kind of already done it," she said. Besides, she wanted to share the win with her coach in Canada. "Steen said if I really wanted to, I could do closing ceremonies," she continued. "I said, 'You know what? I'd really like to come home.' I wanted to share the hardware with him because he's part of this as well."

Muenzer's return to Edmonton was marked by celebrations, rallies and crowds of fans. It was, she told Korobanik, overwhelming and unbelievable. "I couldn't have imagined anything like this," she said. "The reaction of everybody has been wonderful."

The Edmonton Eskimos arranged for her and Madsen to be driven around the field in a convertible before their next game started. Field Law and her personal Website were deluged with congratulatory telephone calls and e-mails. And when she walked into Field Law to thank her colleagues for their support, she found her desk covered in Canadian flags, balloons, red-and-white streamers and stacks of cards and newspaper articles about her. "Where am I supposed to work?" she joked.

There's no mystery, however, about why Muenzer's co-workers respect her. "She's worked so hard, and a lot of us would like to have just a little bit of that tenacity, to be able to do that," Field Law office manager Lynne Turner told the Associated Press. "I just feel absolutely incredible --- elated for her. I'm so proud she's part of our office and us. She's just awesome."

Field Law has played an important role in Muenzer's success. In addition to giving her time off for training and to attend races, the firm has been a financial sponsor --- and given Canada's system for funding athletes, private funding is crucial. Because Muenzer is one of the top eight track cyclists in the world, she is a carded athlete, which means she received a stipend of $1,100 a month from Sports Canada.

"It makes a difference," she told Korobanik. "But my mortgage is $900, I eat $600, so I'm already in a deficit." In 2003, Muenzer actually lost $14,000 because of her racing. Moreover, athletes also have other costs: for equipment and travel to international competitions, not to mention massages and chiropractic therapy. Though Muenzer also has other private sponsors --- she has received financial support from Tim Horton's, among others, and in-kind support from a number of firms, including Shimano, Oakley, Continental Tires and Avis --- it's never enough. Besides, she says, as an elite athlete her focus should be on cycling, not on finding sponsors.

"Money is one of the biggest obstacles, because without the money you can't go to a race, or you can't do the training, or you can't buy the equipment," Muenzer told Korobanik. Money also pays for the support staff athletes need. The Australian and British cycling teams, for example, bring a small army of support staff to competitions.

"I want every advantage," Muenzer told Ireland just before the Athens Games. "I mean, [the Canadian team] went to the worlds and didn't have a masseuse, we didn't have a mechanic. We had nothing and went up against Great Britain, which had more support staff than athletes. Australia had a physiotherapist, an analyst, a videographer, photographer, massage therapists . . . should I go on?"

In contrast, the Canadian cycling team in Athens had no support staff. Muenzer raced on wheels borrowed from the Australian and French cycling teams. She didn't even have the $10,000 it would have cost to bring Madsen to the Games, so he coached her over the telephone. And she certainly can't pay Madsen. "I had included an honorarium for him in the budget I sent to the [COC], but it was frowned upon," she told Korobanik. "The [Canadian cycling] federation didn't really think it was too important." Though Muenzer doesn't claim to have solutions to the problem of funding Canadian athletes, she believes that her experience makes it clear that something must be done to improve their situation.

After her return home, Muenzer began a long-deferred vacation. She hasn't yet decided if she will compete in Beijing in 2008. Right now, she is getting ready for a series of World Cup events to qualify for the 2005 world championships in California. One thing, however, is certain: she has no plans to retire --- at least, not yet. "If I can keep going and I'm still fast and I'm still competitive and I still have the support, I'm going to keep going," she told Julie Scott of the Edmonton Journal. Two things have eluded her during her cycling career --- a world championship and a world record --- so she still has a couple of goals to shoot for.

Muenzer is strong and confident, Morris wrote, and "her powerful body is matched by a keen wit and easy laugh." She loves photography and would like to turn it into a full-time occupation when her cycling career ends. She wants to use her medal to inspire people, both young and old. Her message to them is simple. First, never be afraid to try something new. "Get out and try it," she told Miller. "The first time you learn a lot, and then you have to try it a second time. That's when you'll really enjoy it. You are never too old to challenge yourself." Second, enjoy everything you do. "Whatever you're doing, make sure there's an element of fun," she told Korobanik." Finally, remember that nothing is impossible. "It's what you decide your limits are," she told Elliotte Friedman of CBC. "I've never wanted to say, 'I wish I would have.'"
View the full website biography of Lori-Ann Muenzer.