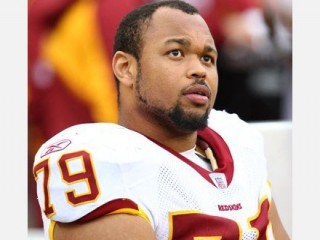 Lorenzo Alexander
Date of birth : 1983-05-31
Date of death : -
Birthplace : Berkeley, California
Nationality : American
Category : Sports
Last modified : 2010-10-20
Lorenzo Alexander has proven to be a valuable player for the Redskins the last two seasons. He is moving to linebacker in 2010, his fourth season in Washington. He has seen action on defensive line, offensive line and special teams as a three-way player. He haslined up at tight end and fullback on goal-line packages. He originally joined to Redskins practice squad on October 3, 2006.

Lorenzo John Alexander is an American football linebacker for the Washington Redskins of the National Football League. He was originally signed by the Carolina Panthers as an undrafted free agent in 2005.

Highlights
PRO:
* Has played in 44 career games with one start in three seasons (2007-09) with the Redskins.
* Totaled 52 career tackles (31 solo), four sacks, three passes defensed and 15 special teams tackles.
* Has played on both the offensive and defensive line, as well as fullback and as a tight end on goal line formations in his first three NFL seasons.
* Converted to linebacker during the 2010 offseason.

2009 (Redskins)
* Played in a career-high 16 regular season games, seeing action on the defensive line and special teams.
* Had a career-high 12 special teams tackles.
* Notched 22 tackles (16 solo), tied a career-high with two sacks, recorded the first forced fumble of his career, and had a fumble recovery.
* Recorded one tackle and the first forced fumble of his career when he knocked the ball loose from running back Correll Buckhalter vs. Denver (11/15).
* Registered his first sack of the season at Oakland (12/13).
* Totaled four tackles and a sack vs. NYG (12/21).

2008 (Redskins)
* Played in 15 games as a reserve defensive lineman, was placed on injured reserve on Dec. 24 with a hamstring injury and missed the season finale at San Francisco (12/28)
* Recorded 26 tackles (12 solo), two tackles for a loss, two sacks, six quarterback hurries and two passes defended
* Posted his first career sack at Seattle (11/23) when he took down QB Matt Hasselbeck for a 7-yard loss in the fourth quarter
* Logged a season-high four tackles, including a sack, at Baltimore (12/7) and helped limit Ravens QB Joe Flacco to just 134 passing yards.

2007 Season (Redskins):
* Played in 13 regular season games and one postseason game (inactive at Philadelphia, 9/7; vs. New York Giants, 9/23 and vs. Detroit, 10/7)
* Played in a reserve role on the offensive line, defensive line and special teams during the season
* Made his first career start as part of a two-tight end formation against Philadelphia(11/10)

2006 Season (Redskins):
* Spent the bulk of the season on the Redskins practice squad after joining the club on Oct. 3
* Was released after preseason by the Carolina Panthers, 9/3; signed with the Baltimore Ravens practice squad, 9/7; and was released, 9/12

2005 Season (Panthers):
* Signed with the Carolina Panthers as an undrafted rookie free agent on April 29; was waived on Sept. 4 and signed to the practice squad on Sept. 5

College
* Earned honorable mention All-Pac 10 twice while at California
* Was given the Brick Muller Award as the team's most valuable defensive lineman after surpassing his career-high in tackles in 2003 with 33 stops
* Pocketed 24 tackles (including five for losses of 15 yards), one sack and one fumble recovery in earning 2001 Pac-10 All-Freshmen first team honors from The Sporting News

Personal
* Attended St. Mary's High School (Berkeley, Calif.) where he finished his senior season with 120 tackles, including 17 sacks among 25 tackles behind the line of scrimmage.
* Was selected to play in the U.S. Army All-American Bowl in 2004.
* Has continually been one of the most involved Redskins with the Washington Redskins Charitable Foundation, participating in the "What Moves U Challenge," which encourages children to remain active; Redskins Read, which speaks to local elementary schools about the importance of reading; and Holiday Wishes Come True, which took local youth on a Christmas shopping spree, during the 2009 season.
* During the 2009 offseason and 2008 season visited with patients at Walter Reed Army Medical Center; supported the Loudoun County back-to-school giveaway; was a station leader during "1st Down for Fitness," distributed Thanksgiving food baskets for "Harris Teeter-Redskins-Harvest Feast presented by Ryan Homes," was a panelist for the "4th & Life High School Football Forum;" and a guest reader for Redskins Read Kickoff event.
* Was one of 89 NFL players whose foundation was awarded a grant from NFL Charities after being recognized for its work during the 2008 season.
* Attended the Wizards Care 2nd Annual Ballers Bowl benefiting the Capital Area Foodbank during the 2009 offseason.
* This past offseason held a concert in Virginia to benefit the Haiti Relief Fund.
* Participated in the NFL's business management and entrepreneurial programs at the Wharton School of the University of Pennsylvania, which prepares players for their post-season playing careers.
* Along with teammates Jason Campbell and Kedric Golston, he joined the Tigerlily Foundation this past offseason to host its Annual Kickoff for Breast Cancer to raise awareness and funds to continue its mission of providing full-lifecycle assistance to young women affected by breast cancer.
* Participated in Atlas and Athena, a nationally-acclaimed initiative designed to promote healthy living and reduce the use of steroids and other drugs among high school athletes.
* Joined Toys for Tots Marines to distribute toys to underserved area youngsters at Skins Santa Shoppe.
View the full website biography of Lorenzo Alexander.