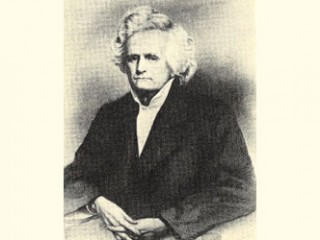 Logan Stephen Trigg
Date of birth : 1800-02-24
Date of death : 1880-07-17
Birthplace : Kentucky, United States
Nationality : American
Category : Famous Figures
Last modified : 2010-06-07

Logan, Stephen Trigg (Feb. 24, 1800 - July 17, 1880), jurist and law partner of Lincoln, son of David and Mary (Trigg) Logan, was born in Franklin County, Ky., of Scotch-Irish and English ancestry. Much of the history of pioneer Kentucky may be read in the chronicles of his family. His grandfather, Col. John Logan, represented a Kentucky county in the legislature of Virginia and served in the Kentucky constitutional convention of 1799; his great-uncle, Gen. Benjamin Logan [q.v.], established a fort in Lincoln County in 1776 and took prominent part in the Indian wars of the Boone period. Stephen Trigg, his maternal grandfather, moved from Virginia to Kentucky in 1779 and was killed in 1782 in the battle of Blue Licks. The first thirty-two years of Logan's life were spent in Kentucky. He was educated at Frankfort, admitted to the bar before attaining his majority, served as deputy in the circuit clerk's office of Barren County, held the office of commonwealth's attorney of the Glasgow circuit, and practised law in Barren and adjoining counties until 1832. He then moved to Illinois, lived for a time on a farm in Sangamon County, gave up agriculture for the law, and made his home in Springfield. He soon became one of the foremost lawyers of the state. Elected in 1835 by the legislature as judge of the first judicial circuit of Illinois, he held this office until 1837, when he resigned to resume his law practice. He served in the state legislature for four terms (1842-48, 1854-56), and he was a prominent member of the Illinois constitutional convention of 1847, where he urged strict economy and opposed debt repudiation. Indorsing the obligations of a friend, he had become insolvent; but through personal thrift he paid all of his vicarious debt.

In 1841 he formed a partnership with Abraham Lincoln and for a time these two men, together with E. D. Baker, formed a group known as the "Springfield junto," their word being locally decisive as to the nomination of candidates in Whig conventions (A. J. Beveridge, Abraham Lincoln, 1928, I, p. 302). Lincoln owed much to his senior partner, for it was during the period of this partnership that Lincoln's serious practice of the law began. After the dissolution of the partnership late in 1844--a dissolution which has sometimes been attributed to political rivalry between the partners, though the evidence on this matter is insufficient--the two men remained warm friends. In 1848 Logan was the Whig candidate to succeed Lincoln in Congress; but, suffering from the unpopularity of Lincoln's attitude toward the Mexican War, he was defeated. In 1860 he served as a member of the Republican convention which nominated Lincoln, and in February 1861 he was one of the representatives of Illinois in the Peace Convention which assembled in Washington at the call of Virginia to avert the Civil War. In this convention he delivered a notable speech, striving hard to effect a compromise which might reunite the North and South. From this time, having acquired considerable means, he lived in comfortable retirement.

He died in his Springfield home, July 17, 1880.

On June 25, 1823, Logan was married to America T. Bush of Glasgow, Ky. There were four sons and four daughters, of whom David (1824-1874) became prominent in Oregon politics, Mary (1831-1874) married Milton Hay of Springfield, and Sally (1834-1892) became the second wife of Ward Hill Lamon [q.v.]. Logan was small, thin and wiry, with an intellectual face surmounted by thick, reddish curling hair. "Though of ample means," says a contemporary (Memoirs of Gustave Koerner, 1909, I, pp. 478-79), "occupying a very fine residence surrounded by a large and beautiful park, his clothes were shabby. . . . I never saw him wear a necktie. He wore an old fur cap in winter and a fifty-cent straw hat in summer, baggy trousers, and a coat to match. Thick, coarse, brogan shoes covered his feet." It has been said that Lincoln once sought Logan's appointment as federal judge, at that time regarding him "as the most thorough and accomplished lawyer he had ever known" (Memorials, post, p. 61).
View the full website biography of Logan Stephen Trigg.