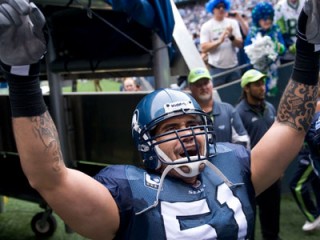 Lofa Tatupu
Date of birth : 1982-11-15
Date of death : -
Birthplace : San Diego, California, U.S.
Nationality : American
Category : Sports
Last modified : 2010-12-06
Mosiula Mea'alofa "Lofa" Tatupu is an American football linebacker for the Seattle Seahawks.

Selected with the 13th pick in the second round (45th overall) of the 2005 NFL Draft. At the time it was the Highest choice used on a linebacker since Anthony Simmons was taken 15th overall in the 1998 draft.

NFL CAREER HIGHLIGHTS:

* Played only five games in 2009 after being placed on injured reserve on 10/28 for a pec- toral injury. Was also inactive (hamstring) vs. Chicago (9/27).
* First Seahawks player to lead team in tackles four consecutive seasons (2005-08).
* Has led team in tackles 24 times in 68 career games. Has recorded 10 or more tackles in a game 12 times.
* Named to the NFC Pro Bowl each of his first three seasons.
* Named All Pro for the first time in his career in 2007.
* Started 55 consecutive games before miss- ing his first career game at Philadelphia on November 11, 2008 (groin).
* Ranks second in team history with 54 career postseason tackles (Leroy Hill, 64), including 22 in the 2005 Super Bowl run.
* Established a career high 123 tackles in 2006.
* Set a career high with four interceptions, including three in one game (at Philadelphia, 12/2) in 2007.
* In 2006, became the first Seahawks middle linebacker to start back-to-back seasons at the position in nearly a decade.
* Became the first player to record back-to- back 100-tackle seasons since Anthony Simmons (2000-01).
* In 2005, became the second rookie in club history to lead the team in tackles (105) and first since 1977 whenTerry Beeson recorded 134.
* Set a career high with 4.0 sacks in 2005. • Returned an interception 38 yards for a touchdown and registered nine tackles in a 42- 0 shutout in Philadelphia (12/5/05) on Monday Night Football.

HONORS:
2005: NFC Pro Bowl, PWF/PFWA All-Rookie Team, NFL Defensive Rookie of the Month for December/January, USA Today's All-Joe Team.
2006: NFC Pro Bowl. 2007, NFC Pro Bowl, Associated Press First Team, NFC Player of the Week for Week 13.

COLLEGE:

Transferred to USC after spending freshman year at the University of Maine. Started 25 games in two years for theTrojans as they won back-to-back national championships. Finished USC career with 202 tackles, nine sacks, seven interceptions, three fumble recov- eries, three forced fumbles, 18 pass deflections, and one touchdown. Garnered numerous hon- ors as a RS junior. First-team All American selection by Sports Illustrated and All-Pac-10 Conference first-team pick. Recipient of USC's co-Most Inspirational Player Award, Co-Lifter Award, and Bob Chandler Award. Led team in tackles for second straight year with 104. Honored with the John McKay Award, given annually to the underclassman with the most competitive spirt as a RS sophomore.

PERSONAL:

Attended King Phillip Regional (Wrentham, Mass.) High School. Played foot- ball for his father, former NFL fullback and spe- cial teams great Mosi Tatupu. Played linebacker and quarterback senior year. Recorded 100 tack- les.Threw for 800 yards and 10TDs while rush- ing for 450 yards and five scores. All-state pick and two-time (1999-00) Sun Chronicle All-Star and all-league linebacker. Earned all-league Defensive MVP honors as a senior. Majored in Sociology. married to Rachael.

View the full website biography of Lofa Tatupu.