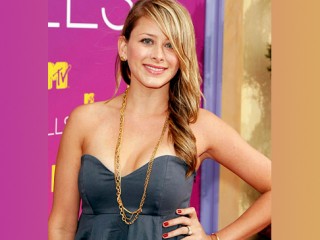 Lo Bosworth
Date of birth : 1986-09-29
Date of death : -
Birthplace : Laguna Beach, California, U.S.
Nationality : American
Category : Famous Figures
Last modified : 2011-01-10
Lauren "Lo" Ogilvie Bosworth is an American television personality and actress.
Lo Bosworth is most recognized from the first season of Laguna Beach and the fourth season of The Hills. She graduated from UCLA in June, 2008, with an Art History Degree and currently resides in Los Angeles with Lauren Conrad.

Early years and career:

Bosworth first appeared on the MTV reality series Laguna Beach: The Real Orange County alongside best friend Lauren Conrad and former classmates, Stephen Colletti and Kristin Cavallari. Throughout the series, her and her friends' lives were filmed during their senior year of high school, as well as the summer prior to college. She appeared as a regular in the first season, and made a couple of appearances in the second.

After Laguna Beach, Lauren Conrad, Bosworth's best friend since elementary school, went on to star in its spin-off, The Hills. However, the pair was not on speaking terms for the early stages of production. As a result, Bosworth was not added as a secondary cast member until the second season, after she and Lauren had reconciled. This rift in Conrad and Bosworth's friendship was only briefly mentioned on The Hills. The only details given were that the two did not speak for nearly two years due to a fight caused by Jen Bunney, a mutual friend who has made several appearances on the program.

During the third season, Bosworth, Conrad, and Audrina Patridge shared a house. Conrad and Bosworth became closer from this arrangement, causing Patridge to feel like an outsider. Tension rose throughout the season until the finale, when it was revealed that Patridge had moved out of the house. Conrad and Bosworth, however, remained roommates and best friends until Conrad's departure from the series and are currently still very close. In early 2008, they adopted a dog, Chloe, who was also shown on The Hills.

In the fourth and fifth seasons, Bosworth began to reveal more about her personal life and allowing cameras into her place of work. In August 2008, PerezHilton.com leaked the salaries of The Hills' cast members; according to that, Bosworth received $10,000 US for each episode she appeared in at that time. Although these salaries were assumed to be correct, Bosworth has never confirmed how much she makes as a cast member.

Despite Conrad's departure in Season 5, Part 1, Bosworth was billed as a 'returning cast member' for Season 5, Part 2. In real life, she is friends with all of The Hills cast, including Kristin Cavallari, Conrad's friend and replacement and another Laguna Beach cast member. Despite rumors of not returning, Bosworth remained a member of the cast until the end of the series. She was elevated to one of the five lead roles in the sixth and final season, where she introduced her personal life by including her long time boyfriend, Scott, and dealt with drama at the work place as well. The Hills series finale aired on July 13, 2010.


View the full website biography of Lo Bosworth.