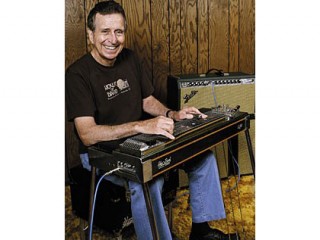 Lloyd Green
Date of birth : 1937-10-04
Date of death : -
Birthplace : Leaf, Mississippi, U.S.
Nationality : American
Category : Arts and Entertainment
Last modified : 2011-02-05

Lloyd Green is an American steel guitarist. Green is most notable for his session work, having played on records with artists such as Johnny Cash, Alan Jackson, Don Williams, Paul McCartney, Charley Pride and many others

Lloyd Green graduated from high school in 1955 and went on to attend the University of Southern Mississippi. Green landed in Nashville after college and soon found steady work as a road musician supporting artists like Ferlin Husky and Faron Young. He stayed with Young's band for 18 months and then left to be with his new wife in Mobile. During those months, he appeared on one George Jones side, "Too Much Water Runs Under the Bridge" (1957). While in Mobile, Green played in numerous clubs and managed to save enough money to return to Nashville nine months later. But the touring life wasn't for him, and neither was the low pay or the lack of steady gigs. He left the music business for a job in retail, but returned when Fred Rose's wife paid his union dues and secured him work as a supporting musician at the Grand Ole Opry. In 1964 he began working as a part-time assistant at the SESAC office for Roy Drusky. Although the pay was low, the gig was steady and did give Green the opportunity to make his own demos. He remained with SESAC for three years, and soon was earning good money from his session work.

Green worked with pop musicians as well, including Vera Lynn, Paul McCartney, and Ringo Starr, as well as on the Byrds' seminal Sweetheart of the Rodeo. He had just a handful of solo chart hits, including instrumental versions of the pop tunes "I Can See Clearly Now" and "Here Comes the Sun" in the early '70s. He also made the charts singing "You and Me." During the 1980s an ear infection forced him to stop working, but Green eventually returned to session work, and did perform the occasional concert on dobro or steel guitar.





View the full website biography of Lloyd Green.