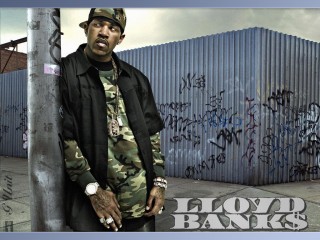 Lloyd Banks
Date of birth : 1982-04-30
Date of death : -
Birthplace : Baltimore, Maryland, U.S.
Nationality : American
Category : Arts and Entertainment
Last modified : 2010-04-21
Christopher Charles Lloyd better known by his stage name Lloyd Banks, born in Baltimore, Maryland, is an American rapper and member of the rap group G-Unit.

Lloyd Banks was raised in Jamaica, Queens, by his Puerto Rican mother; his father spent much of his son's childhood behind bars. Like many young men amid the poverty and ruin of his community, he found solace through ghetto poetry and the work of rappers like Big Daddy Kane and Slick Rick. He dropped out of high school at the age of 16, finding the structured environment a hindrance to his developing talent for rhyming. After appearing on numerous local mixtapes, Banks, along with childhood friends Tony Yayo and 50 Cent, formed a crew called G-Unit, a group that proceeded to redefine the term "street marketing" with a series of self-released albums that included original numbers and quality artwork. Banks stayed on with 50 Cent, appearing on the artist's now classic 2003 debut, Get Rich or Die Tryin'. November of that same year saw the release of G-Unit's Beg for Mercy. Banks' long-awaited solo debut for G Unit/Interscope Records, Hunger for More, was released in June 2004. He followed it two years later with Rotten Apple.

Solo career

Lloyd Banks released his solo debut album The Hunger for More in June 2004. The first single was the summer smash hit "On Fire" which featured 50 Cent, however he was uncredited.
The album was a cal and commercial success, receiving positive reviews, it debuted at number 1 on the Billboard charts with 500,500 copies sold in the first week. The album has since sold over 4 million copies and has been certified double platinum by the RIAA.
Two other singles were also released from The Hunger For More, "I'm So Fly" and "Karma", the latter was a hit reaching number 17 on the Hot 100, number 9 on the R&B charts and number 6 on the rap charts. "I'm So Fly" received little attention only reaching 102 on the Hot 100 and peaking at 32 and 21 on the R&B and rap charts respectively.

Rotten Apple (2006)
The Big Withdraw was intended to be Lloyd Banks's second album. The album was leaked to the internet after Banks had a ménage à trois encounter with two women and left the CD album behind. The leaked version of the album contained 23 tracks.
Due to the leak, Lloyd Banks began work on Rotten Apple. "Rotten Apple" is a play on New York City's nickname "The Big Apple". It was released on October 10, 2006. The album debuted at #3, selling 143,000 copies in its first week. Rotten Apple was not considered as a commercial success because his debut album sold a significantly higher number of copies in its first week. He has released three singles from Rotten Apple: "Hands Up", "The Cake", and "Help".

H.F.M. 2 (The Hunger for More 2) (2010)

In late January 2010, it was announced that Banks would release a new song, "Beamer, Benz, or Bentley" featuring Juelz Santana, from his upcoming third studio album. "Beamer, Benz, or Bentley" charted at #69 on the Billboard Hot 100. Lloyd Banks release info via his twitter announcing that the title for his third album has tentatively been called The Hunger for More 2 and will attempt to take him back to his best work. However, the G-Unit label later stated that the title is not set in concrete and still may be altered. The title of the album was confirmed by 50 Cent as H.F.M. 2 (The Hunger for More 2) in a interview with MTV News. According to Banks Interscope is trying to get him back due to the sucess of the single "Beamer, Benz, or Bentley".

Awards

In 2004, Banks was awarded 2004's Mixtape artist of the Year at the Mixtape Awards. Lloyd Banks commented on this award in an interview with AOL Sessions:

When I won the mixtape artist of the year 2004, after that I didn't want to get away from it because that right there is where I got my satisfaction, from the fans giving me that award. It wasn't like an award show when you got some big fat guys in suits on the podium that never even heard my album giving me a rating or judging what I deserve... that's actually my most proudest trophy right now.

In 2005, "On Fire" was nominated for a Grammy award for Best Rap Solo Performance. In 2006, "Touch It [Remix]" was nominated for Hip-Hop Video of the Year, and won for Best Collaboration at the BET Awards. The award was shared by Banks and his collaborators, Busta Rhymes, Mary J. Blige, Rah Digga, Missy Elliott, Papoose, and DMX.

View the full website biography of Lloyd Banks.