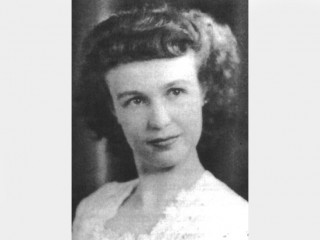 Lisa Ben
Date of birth : -
Date of death : -
Birthplace : San Francisco, California, U.S.
Nationality : American
Category : Famous Figures
Last modified : 2010-08-18
Edith Eyde, born 1921, also known by her pen name Lisa Ben is an American editor, author, and songwriter.

She created the first known lesbian publication in the world, Vice Versa. Ben produced the magazine for a year and distributed it locally in Los Angeles, California in the late 1940s. She was also active in lesbian bars as a musician in the years following her involvement with Vice Versa. Eyde has been recognized as a pioneer in the LGBT movement.

The woman who uses the pseudonym Lisa Ben (an anagram for Lesbian) was, in the late 1940s, a Los Angeles secretary who published a journal for lesbians entitled Vice Versa: America's Gayest Magazine. She is today celebrated for her courage in doing so. Those were pre-Stonewall days. Lesbian and gay culture were of necessity underground phenomena, and the publication of such materials was strictly prohibited.

In June 1947, Lisa sought to further awareness of gay issues by starting her own publication. Feeling isolated in the rigorously heterosexual world of the late 1940s, she also hoped to establish through the magazine a network of personal acquaintances. Ben put the magazine together singlehandedly during slow periods at work, using carbon paper and a typewriter to create the copies. Nine issues of the monthly publication were created and distributed in Los Angeles between June 1947 and February 1948, featuring play, film, and book reviews, poetry, short stories, editorials, and an annotated bibliography of novels about lesbianism. Ben's criteria, however, were not limited to the sexual orientation of her material. An editorial in the first issue admonished:

If Vice Versa should be subjected to the glance of unsympathetic eyes, let us at least show that our magazine can be just as interesting and entertaining on as high a level as the average magazines available to the general public.

Ben stopped producing Vice Versa when the company for which she worked closed and she was forced to find a new job. Nevertheless, the first small battle in the war on homophobia had successfully been waged, and Vice Versa did bring an awareness of lesbian issues to its readers.

Moreover, Ben herself continued to be active in the gay community. Partly as a tonic to the self-deprecating antics of female impersonators, Lisa started writing gay parodies of popular tunes in 1948. Ben later commented:

I was absolutely appalled at the gay male entertainers who would, on stage, make derogatory remarks and dirty jokes about themselves to entertain non-gay people.... No wonder society had such a bad opinion of us.

Ben performed her parodies at bars and small gatherings, and they soon became widely known and popular among gays.

Lisa's artistic talents facilitated her developing an ever-widening circle of friends. Among the women she met were members of the pioneering lesbian organization, the Daughters of Bilitis (DOB), which she eventually joined.

She remains active in the gay community of southern California, where she lives with her cats.
View the full website biography of Lisa Ben.