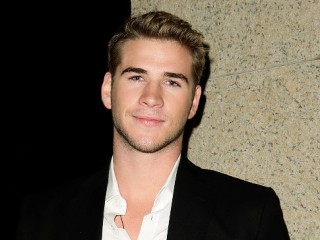 Liam Hemsworth
Date of birth : 1990-01-13
Date of death : -
Birthplace : Melbourne, Australia
Nationality : Australian
Category : Arts and Entertainment
Last modified : 2011-04-06
Liam Hemsworth is an Australian actor best known for his roles as Josh Taylor in the soap opera Neighbours and as "Marcus" on the children's television series The Elephant Princess. He appeared in the American film The Last Song, released on 31 March 2010. Hemsworth's elder brothers, Chris Hemsworth and Luke Hemsworth, also became actors and provided a path for Hemsworth to emulate.

Early life:

Hemsworth, born in 1990, was born and raised in Melbourne, Australia. When Hemsworth was in year 8, he and his family relocated to Phillip Island. After finishing school, Hemsworth worked in construction, laying floors for six months before he began acting.

Hemsworth's older brothers Chris Hemsworth and Luke Hemsworth are also actors. Hemsworth says that there is competition between them, it is friendly: 'We are brothers and we are always competitive, but it is a good thing, it pushes us both and we are always happy whenever someone books something.' In 2009, Liam moved to the United States to pursue his career there. He and his brother Chris first stayed in the guest house of Chris Hemsworth's agent William Ward before renting their own Los Angeles apartment in which they currently reside.

Career:

During the week of July 8, 2007, Hemsworth began filming a two month long spot on the Australian soap opera "Neighbours", which his brother Luke had already starred in. Hemsworth also voiced 'Marcus' in the television series "The Elephant Princess" and had roles in the television series "Satisfaction", "Home and Away", "McLeod's Daughters" and has starred in the movies "Knowing" and "Triangle".

In 2009, Hemsworth was considered for the lead role in the 2011 film "Thor" and moved to the States in April for screen tests. Though he eventually lost the part to his brother Chris in May, the same week Disney announced that Hemsworth had landed the part of Will Blakelee in the 2010 drama "The Last Song", based on the Nicholas Sparks novel by the same name. Hemsworth plays the love interest of Miley Cyrus's character in the film. Nikki Finke reported that Hemsworth had been in Los Angeles for just three weeks and had not yet found an agent when he was cast. Hemsworth next appeared in the music video for Cyrus' 'When I Look at You' which was recorded on August 16, 2009.

It was announced in August 2010, that Hemsworth had been offered the role as Isaac Gildea in the movie "The Throwback" a sports drama with Dennis Quaid. Taylor Swift had previously been rumored for a role but she is not a part of the package at this point.

Hemsworth was the Nickelodeon Australian Kids' Choice Awards 2010 host. He and Miley Cyrus won the "Fave Kiss" category.

On 4 April 2011 Lionsgate announced Hemsworth to be one of the leads, Gale Hawthorne, in The Hunger Games film adaptation.


View the full website biography of Liam Hemsworth.