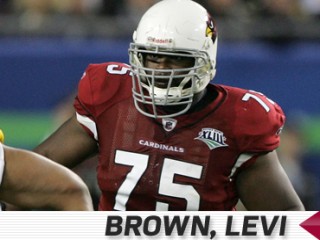 Levi Brown (Cardinals)
Date of birth : 1984-03-16
Date of death : -
Birthplace : Jacksonville, North Carolina
Nationality : American
Category : Sports
Last modified : 2010-11-28
Levi Brown is an American football offensive tackle for the Arizona Cardinals of the National Football League. He was originally drafted by the Cardinals fifth overall in the 2007 NFL Draft. He played college football at Penn State.

Pro Career:
The Cardinals first pick in the 2007 NFL Draft (5th overall), Brown has been the starter at right tackle during his first three NFL seasons and has started 43 of the 45 games he appeared in during the regular season, including all 38 games during the 2008 and 2009 regular season and postseason.

2009: Selected as an alternate for the Pro Bowl after starting all 16 games and both postseason contests at RT … one of four offensive linemen that have started 38 straight games as a group, including the regular and postseason … part of an offensive line that blocked for 1,494 rushing yards, the most by a Cardinals team since 2004 (1,668), and averaged 4.1 yards per carry, the highest by Arizona since 2002 (4.4) … missed time during the second quarter with a sprained ankle but returned @ Jax (9/20); part of line that did not allow a sack for the first time in '09 … helped offense possess the ball for 42:50 @ Sea (10/18), marking the first time since 12/18/94 (41:31 vs. Cin) that Arizona held the ball for at least 40:00 … part of line that only gave up one sack on 32 pass attempts and cleared the way for 182 yards rushing @ Chi (11/8) … was part of line that, despite 38 pass attempts, did not allow sack for the second time in '09 vs. Sea (11/15) … helped block for 183 rushing yards on 30 carries @ StL (11/22); marked the most rushing yards by the Cardinals since 10/3/04 vs. NO (211 yards); 487 rushing yards over the last three games was the highest three-game total in a season since the Cardinals rushed for 494 yards in games 10-12 in 1990 (161, 201, 132 yards) … part of line that didn't allow a sack and cleared the way for 113 rushing yards vs. Min (12/6); broke Vikings streak of recording at least one sack in 23 consecutive games; marked the sixth time in '09 (all wins) and the fourth time in the last five games the line allowed one or fewer sacks … part of line that did not allow a sack for the fourth time in the '09 regular season finale vs. GB (1/3/10) … part of line that cleared the way for 156 rushing yards against the NFLs number one ranked rush defense during the regular season vs. GB (1/10/10) in the Wild Card matchup; marked the highest rushing total against a GB defense that only gave up 83.3 yards per game … for the second straight week helped o-line give up only one sack and block for over 100 yards rushing (101) @ NO (1/16/10) in the Divisional game.

2008: Started all 16 games as well as all four postseason games and was part of an offensive line that had the same five starters for all 20 games ... started at RT in the season opener @ SF (9/7); helped Edgerrin James collect 100 yards on 26 carries ... started at RT vs. Mia (9/14) and suffered a knee injury but returned to the game ... member of line that did not allow a sack for the first time on the season vs. Buf (10/5); helped clear the way for Arizona to record three rushing TDs in back-to-back weeks (@ NYJ, vs. Buf) for the first time since 1979 ... for the second time in '08 was part of line that did not allow a sack despite 42 pass attempts vs. SF (11/10) ... helped clear the way for James to register his 57th career 100-yard game and eighth as a Cardinal in the season finale vs. Sea (12/28) ... started first career playoff game and was part of a line that allowed zero sacks vs. Atl (1/3/09); including the regular season it marked the fourth time they had allowed zero sacks ... helped the Cardinals run the ball a season-high 43 times for 145 yards and control the ball for a season-best 39:49 in the Divisional Playoff win @ Car (1/10/09) ... helped Cardinals register 102 rushing yards in the NFC Championship Game vs. Phi (1/18/09); marked the second consecutive game that the Cardinals eclipsed 100 yards rushing.

2007: Started 11 of 13 games played at RT, missing three contests due to an ankle injury suffered in week three … started first NFL game in season opener @ SF (9/10) and helped Arizona rack up 161 rushing yards on 38 carries … helped James to 128 yards on 24 carries as well as not allowing a sack in the home opener vs. Sea (9/16) … suffered an ankle injury midway through the second quarter and did not return @ Bal (9/23) … inactive (ankle) for the next three games … stepped in at LT when Mike Gandy left with a calf injury in the third quarter @ Was (10/21) … saw action at RT in the fourth quarter when starter Elton Brown went out with a knee injury @ TB (11/4) … made first start since week three vs. Det (11/11) and helped lead the longest TD drive of the season (15 plays, 90 yards) … started vs. SF (11/25) and helped the offense rack up 552 total yards, the most by a Cardinals offense since 1949 (Chicago Cardinals, 572 yards, 11/13) … started vs. Cle (12/2) and helped not allow a sack for the third time this season (only happened once in 2006) while helping James to his second 100+ yard rushing performance of the year … helped James eclipse 1,000-yards on the season @ NO (12/16) becoming only the second Cardinal RB to record back-to-back 1,000-yard rushing seasons (Ottis Anderson 1983 and 1984) … started vs. StL (12/30) and assisted in helping offense score the most points (48) in a game since 10/23/1977 (49-31 vs. NO); part of line that did not allow a sack for the final two games and a total of five times in 2007, in which the Cardinals went 4-1.

College:
Originally recruited at Penn State as a defensive lineman, he went on to become a two-time All-American and one of the most dominant offensive linemen in the country after converting to offensive tackle during his freshman season … started 11 games at LT sitting out the Northwestern and Minnesota contests after he injured his knee … as a junior, was instrumental in helping Penn State lead the Big Ten in scoring (35.2 ppg) and rank second in rushing (233.1 ypg) … started all 12 games at LT, participating in a career-high 869 plays … allowed only one QB sack and was penalized just twice ... started nine games at LT and the Iowa game at RT as a sophomore, helping pave the way for 300 yards or more of offense in five games and a two-year high of 352 yards rushing in the season-opener with Akron ... as a freshman, was listed as a starting DT in spring drills, but the coaching staff shifted him to the offensive line in fall camp … redshirted as a freshman, competing on the scout team as a DT.

Personal:
Full name Levi James Brown III … attended Granby (Norfolk, VA) High School where he was a standout two-way lineman … selected first-team All-Tidewater and second-team All-State on both offense and defense by the Virginia High School Coaches Association … played in the U.S. Army All-American game … during his junior season, he recorded 102 of his 189 career tackles … helped lead his team to an 8-2 mark as a senior by recording six sacks, four forced fumbles and 22 stops for losses … earned his degree in Labor and Industrial Relations in 3 1/2 years, graduating in December 2005 … earned his second degree, in Psychology in December 2006, becoming one of six members of the 2006 Penn State football squad that graduated by May, 2006.

View the full website biography of Levi Brown (Cardinals).