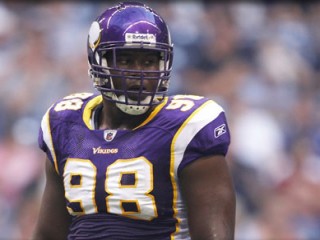 Letroy Guion
Date of birth : 1987-06-21
Date of death : -
Birthplace : Starke, Florida
Nationality : American
Category : Sports
Last modified : 2011-01-19
Letroy Guion is an American football defensive tackle for the Minnesota Vikings of the National Football League.

GAMES/STARTS (regular season, playoffs) 2008 (2/0), 2009 (7/0). Total- 9/0.

• Played in career-high 7 games in 2009.
• Avid outdoorsman has embraced hunting and fishing in his new Minnesota surroundings.

OFF THE FIELD
Has a daughter Zharianna...Name is pronounced GUY-on...Florida native played at FSU despite growing up in Starke, in the shadow of arch-rival University of Florida..Nickname is Gucci, along with Baloo, the character from the Jungle Book...An avid fisherman, aspires to a career as a game warden following his playing days...Is the oldest of 5 children in his family, owes his success to the lessons learned from his mother, Connie and stepfather Robert...Participated in 2009 Minnesota Governor's Fishing Opener events in May, teaching kids to fish and encouraging them to get involved in the outdoors.

PRO
Raw player who left school early to declare for the draft...Physical talent who is benefitting from working with defensive line coach Karl Dunbar as he grows in the pro game...Learning to hone his craft behind decorated veterans Kevin Williams and Pat Williams...Part of the Vikings smallest draft class in team history with 5 selections in 2008...The 1st FSU player drafted by the Vikings since 1995 when CB Corey Fuller was a 2nd-round pick...Entered the NFL after his junior season...Was the 2nd of 3 FSU players drafted in 2008, joining fellow DT Andrew Fluellen (3rd round) and LB Geno Hayes (6th round).

2009
Saw action in 7 games during his 2nd season with the Vikings...Was inactive 9 times during the regular season and for both playoff contests...Had career-best 3 tackles at Detroit (9/20) along with a QB hurry...Posted QB hurries in 4 of the 7 games he played in, including 2 in 3 separate games...Played in opening 3 games of the season.

2008
Provided depth for the NFL's #1-ranked NFL rushing defense behind Pro Bowl DTs Kevin Williams and Pat Williams...Inactive for 15 of the Vikings 17 games during the 2008 season, including the Wild Card Playoff vs. Philadelphia…Made his NFL debut at Tennessee (9/28)…Saw action at Detroit (12/7).

COLLEGE

Started 14 of the 32 career games he played at FSU, recording 66 total tackles in his career and 1.5 sacks...Opened career-high 8 games as a junior, his final campaign with the Seminoles...Earned FSU's Big Otis Award as the player most dedicated to physical development in his final season with the 'Noles…Started in Emerald Bowl against UCLA as a sophomore…Was the only FSU true freshman defensive player to earn a start in the 2005 season.

Helped Bradford High advance to Florida Class 2A state semifinals as a sophomore, junior and senior...Honored as Gainesville Sun Player of the Year as a senior...Named All-State 1st-Team as a junior and senior...Played in Cali-Florida Bowl all-star game.



View the full website biography of Letroy Guion.