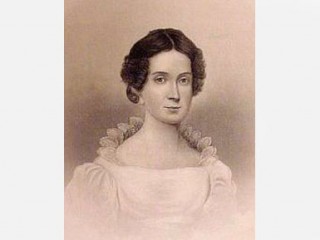 Letitia Christian Tyler
Date of birth : 1790-11-12
Date of death : 1842-09-10
Birthplace : Virginia, U.S.
Nationality : American
Category : Famous Figures
Last modified : 2010-08-10
Letitia Christian Tyler, also known as Mrs. John Tyler born November 12, 1790 in Virginia, United States - died September 10, 1842 in Washington, D.C, United States
Nationality: American was the First Lady of the United States.

At first glance, history portrays Letitia Tyler as a shy, gracious woman, devoted wife and mother, and, later, an invalid, who shunned public life while her husband pursued a career in politics. But dig a little deeper and a more complete picture emerges of the woman whose skills and inner strengths made it possible for John Tyler to become the tenth president of the United States.

Growing up on a Virginia plantation in the 18th century, a White House biography states, "...Letitia learned all the skills of managing a plantation, rearing a family, and presiding over a home that would be John Tyler's refuge during an active political life." Tyler provided much more than just a refuge for her family. "She had for years entirely run the complex business of their plantation, and made all the financial investments," wrote Carl Sferrazza Anthony in First Ladies. "Her role as businesswoman was rightfully credited as the reason [John] Tyler was able to remain solvent and pursue politics."

Tyler's husband also often relied upon her advice on political matters. Anthony quoted one daughter who recalled, "I have frequently heard our father say that he rarely failed to consult her judgment in the midst of difficulties and troubles, and that she invariably led him to the best conclusion."

Trained to be Plantation Mistress

The seventh of 12 children, Tyler was born on November 12, 1790, to Colonel Robert Christian and his wife Mary. Their home was the Cedar Grove Plantation, twenty miles east of Richmond. "'Cedar Grove' was built on a grand and magnificent scale," noted Sol Barzman in The First Ladies. "The Christians were a family of substance, and lived accordingly... Their every wish and need was attended to by personal servants and slaves."

In those days, daughters did not receive a formal education. It was believed that females were incapable of higher learning, wrote John T. Marck in About Famous People. Tutored at home, Tyler and her sisters learned only the basics of reading, writing and arithmetic. Bred to be modest and demure, they were also trained to assume the same role their mother occupied, noted Barzman, as "mistress of an extensive plantation."

A Prolonged and Proper Courtship

Tyler blossomed into a sweet, gentle, and deeply religious young woman. In The First Ladies, she is described as "slight, with a quiet, patrician quality to her face. She had black hair, dark eyes, and an olive complexion." Her beauty attracted many suitors until one captured her heart.

At 17, Tyler met her future husband, who had grown up on the Greenway plantation, 14 miles away. John Tyler, 18, had just graduated from William & Mary College, in Virginia. Their courtship lasted nearly five years while Tyler studied law, preparing to start his own practice.

It was a very proper courtship, even by the standards of those times. In Ladies of the White House, Laura Carter Holloway said that it wasn't until three weeks before the wedding that Tyler "ventured to kiss her hand on parting, so perfectly reserved and modest had she been."

They married on March 29, 1813, after Tyler inherited some property upon his father's death. The Tylers moved to three different plantations before finally settling on John Tyler's family plantation home in Williamsburg.

Managed Family and Plantation

Letitia Tyler's training to be mistress of her husband's home and the family plantation was put to immediate use, and the responsibilities of running a plantation were enormous. "Actual supervision of the fields, the many houses, the field hands and other slaves fell upon Letitia," wrote Barzman. "There was much to be looked after, including a kitchen-garden, fruit-orchards, a dairy, a laundry, poultry yards, spinning, weaving, knitting, sewing, the ordinary household affairs, and the purely decorative task of overseeing the lawns and gardens."

Tyler was also busy raising a growing family. During the next 15 years, the Tyler family had seven children - Mary, Robert, John Jr., Letitia, Elizabeth, Alice and Tazewell.

John Tyler moved quickly up the political rungs. He served as Virginia representative to the U.S. Congress, Governor of Virginia, U. S. Senator, and, eventually, Vice President of the United States. His wife, however, had no interest in either politics or the glamorous life of Washington society. She preferred staying home, enjoying her knitting, gardening and reading, and spending time with her family. Tyler "was completely devoted to her children and they to her," wrote Lewis L. Gould in American First Ladies.

"Lady of the White House"

Even after John Tyler became Vice President in 1841, he felt that he could still carry out his duties from their home in Williamsburg. But their quiet, comfortable life was cut short when, only a month after taking office, President William Henry Harrison suddenly became ill and died. On April 5, 1841, Tyler was sworn into office as President and, soon after, moved his family into the White House.

Sadly, Tyler would never have the opportunity to assume the role of the President's wife. Two years earlier, she had suffered a stroke that left her partially paralyzed, confined to a wheelchair. Only once in 17 months did the "Lady of the White House" leave the seclusion of her room in order to attend the wedding of her daughter Elizabeth.

The duties of the White House hostess were turned over to her daughter-in-law Priscilla Cooper Tyler, who loved and admired the First Lady. Priscilla Tyler once described her as "the most entirely unselfish person you can imagine ... Notwithstanding her very delicate health, mother attends to and regulates all the household affairs and all so quietly that you can't tell when she does it," according to a White House biography.

Shortly before her 52nd birthday, Tyler suffered a second stroke and died on September 10, 1842. An obituary in The Washington Intelligencer, recorded Gould, described her as "loving and confiding to her husband, gentle and affectionate to her children, kind and charitable to the needy and afflicted."
View the full website biography of Letitia Christian Tyler.