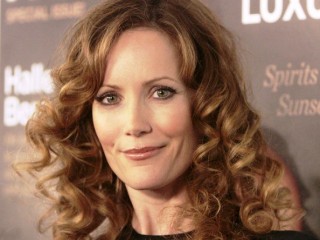 Leslie Mann
Date of birth : 1972-03-26
Date of death : -
Birthplace : San Francisco, California, U.S.
Nationality : American
Category : Arts and Entertainment
Last modified : 2011-09-15
Leslie Mann is an American actress best known for her roles in comedic films, many of which are collaborations with her husband, Judd Apatow.

Mann was born in San Francisco, California and was raised by her mother, a real estate agent. Mann graduated from Corona del Mar High School.

Leslie Mann is an American actress who began her acting career in the film "Birdland," a medical drama series set at the San Francisco Bay Area. She later worked on bit roles on various films and television shows until she bagged her breakout role in 1996 as Matthew Broderick's girlfriend in the movie "The Cable Guy."

Prior to appearing on the film "Cable Guy," Leslie Mann already worked on supporting roles in films such as "Virgin High" and "Bottle Rocket," both done in 1991.

Not long after, she starred in the comedy flick "She's the One" starring Cameron Diaz and Edward Burns. She also had a role in the film "Last Man Standing" opposite Bruce Willis. She later starred opposite Lili Taylor in the independent film "Cosas que nunca te dije."

In 1997, Leslie Mann had a starring role in the children's film "George of the Jungle," which became box office hit. She took a break from acting and returned in 1999 to star in another box office hit, "Big Daddy." During the 2000s, she had supporting roles in comedies such as "Orange County," starring Jack Black and Colin Hanks, and "Stealing Harvard," which starred Jason Lee. She also expressed her dramatic side in the film "Timecode."

Her other notable roles during this period include a guest appearance in "Freaks and Geeks," and "Perfume," a film about the New York fashion industry.

In 2005, Leslie Mann starred in director Jude Apatow's directorial debut, "The 40-year Old Virgin." The film, which starred Steve Carell, turned out to become a critical and commercial success.

In 2007, she starred in another Jude Apatow comedy, "Knocked Up." The film was another financial success thanks to actors Paul Rudd and Seth Rogen, whom she worked with. In 2008, Leslie Mann starred in the film "Drillbit Taylor," this time opposite Owen Wilson.

Leslie Mann had significant roles in 2009 films, first in the film "I Love You Philip Morris" opposite Jim Carrey, "17 Again" featuring teen icon Zac Efron, "Funny People," and "Shorts."

View the full website biography of Leslie Mann.