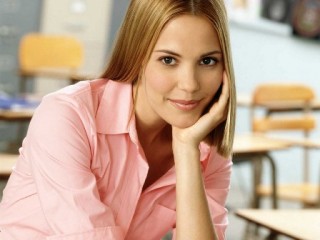 Leslie Bibb
Date of birth : 1973-11-17
Date of death : -
Birthplace : Bismarck, North Dakota, U.S.
Nationality : American
Category : Arts and Entertainment
Last modified : 2011-09-14
Leslie Bibb is an American actress and former fashion model. She transitioned into film and television in late 1990s. She appeared in television shows such as Home Improvement (1996), before she appeared in her first film, the comedy Private Parts (1997), which was followed by her first show The Big Easy. She received a role in This Space Between Us (1999).

Her role as Brooke McQueen on the WB Network comedy drama series Popular (1999-2001) brought her to the attention of a wider audience, and received a Teen Choice Award for Television Choice Actress. During the series, she also gained recognition for her roles in the thriller The Skulls (2000) and in the comedy See Spot Run (2001). She had a recurring role in the medical drama show ER (2002-2003).

Bibb was cast as Carley Bobby, in the comedy Talladega Nights: The Ballad of Ricky Bobby (2006). She had a minor supporting role in the 2008 hit action film Iron Man and appeared in the 2009 crime-thriller Law Abiding Citizen. She reprised her role in the 2010 sequel to Iron Man, Iron Man 2, and appeared in the 2011 family comedy Zookeeper as an unrequited love interest of Kevin James.

Bibb was born in Bismarck, North Dakota, and raised in Nelson County, Virginia. Her father died when she was three years old. Later, she and her mother, along with her three older sisters, moved to Richmond, Virginia, where she attended an all-girls Catholic high school, Saint Gertrude High School.

In 1990, The Oprah Winfrey Show and the Elite Agency held a nationwide modeling search. Bibb's mother submitted photos of her then-16-year-old daughter. The celebrity judges, John Casablancas, Naomi Campbell, Linda Evangelista and Iman chose her to be the winner. After finishing her junior year, Bibb flew to New York City and signed a contract with Elite Agency. She modeled over that summer and went on a trip to Japan. She returned home for her senior year and graduated in 1991. Then she decided to attend the University of Virginia. After a single semester, she left school and moved to New York City to pursue a full-time modeling career. Her modeling photographs have appeared in such magazines as Maxim and FHM. She also attended the William Esper acting studio for three years.

She doubled it up with movie roles in such feature outings as See Spot Run (2001), Wristcutters: A Love Story (2006), and Talladega Nights: The Ballad of Ricky Bobby (2006, as Will Ferrell's gold-digging wife), as well as a recurring parts on ER (2002-2003), as Erin Harkins, and Crossing Jordan, as Tallulah "Lu" Simmons (2005-2007). In 2007, Bibb signed on to play the female lead in Ryuhei Kitamura's serial killer-themed horror saga The Midnight Meat Train (2008).

View the full website biography of Leslie Bibb.