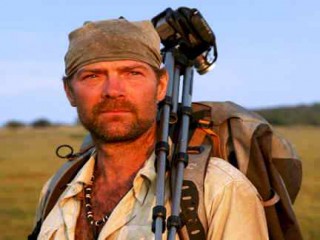 Les Stroud
Date of birth : 1961-10-20
Date of death : -
Birthplace : Mimico, Ontario, Canada
Nationality : Canadian
Category : Arts and Entertainment
Last modified : 2011-07-08
The filmmaker, outdoor adventurer, singer-songwriter and performer, Les Stroud, is best known as star of the six-time Gemini nominated hit TV series Survivorman (OLN Canada, The Science Channel US, Discovery Channel International, City TV (Rogers) Canada).

He graduated from Mimico High School in the Mimico neighborhood of Toronto, and went on to complete the Music Industry Arts program at Fanshawe College in London, Ontario. Stroud worked for several years at the Toronto-based music video channel MuchMusic, and as a songwriter for the band New Regime before a Temagami canoe trip sparked a career change. During this time he also worked as garbage collector for the City of Toronto. In 1990 Stroud became a guide for Black Feather Wilderness Adventures leading canoe excursions into the Northern Ontario wilds. It was also during this time while on a survival course he met his future wife, photographer Sue Jamison. They married in 1994 and together left for a year-long honeymoon in the remote Wabakimi area of Ontario which was to become the basis of the documentary Snowshoes and Solitude. Afterward, the couple moved to Yellowknife in the Northwest Territories where Stroud was employed as an outdoor instructor to special needs individuals of aboriginal descent. Stroud and Jamison then settled in Huntsville, Ontario where they had two children and started both the outdoor instructional outfit Wilderness Voice and the media company Wilderness Spirit Productions. Inspired by the popularity of the television show Survivor, Stroud pitched a more authentic version of the show to The Discovery Channel Canada. Stroud produced two programs titled One Week in the Wilderness and Winter in the Wilderness for Discovery Canada. The success of these specials led to the development of Survivorman, a show that followed a similar format of leaving Stroud on his own, with minimal equipment, in the wilderness to videotape his survival experience.

Stroud has extensive experience with survival and primitive living skills, initially training with expert David Arama. He went on to study with many others including John "Prairie Wolf" McPherson.

Stroud has been an active participant in adventure racing and has competed at the Canadian championships. In late 2008, Stroud and Jamison separated.
The only producer in the history of television to produce an internationally broadcast series entirely written, videotaped and hosted alone, Stroud is credited with starting the new genre of television known as 'Survival TV'. Survivorman became the highest rated show in the history of both OLN Canada and the Science Channel US and among the most popular and highest rated shows on Discovery Channel US.
Stroud has appeared on Late Night with Jimmy Fallon performing with Jacob Dylan as well as The Roots. He has appeared on The Ellen DeGeneres Show, Late Late Show with Craig Ferguson, MTV Live, The View, The Hour with George Strombopolous, Q radio on CBC and Larry King Live. In July 2010, Les was invited by the Prime Minister of Canada (The Honourable Stephen Harper) to meet the Queen of England and the Duke of Edinborough during their 2010 Royal Tour of Canada. Stroud's commercial with famous Geico Gecko was referenced by David Letterman, Howard Stern and numerous other media personalities, and he has been parodied on the hit TV sitcoms 'The Office' and 'King of the Hill'.
Stroud has appeared in and/or produced numerous television specials including hosting the 20th Anniversary of Discovery Channel's Shark Week; I Shouldn't Be Alive; the Science of Survival, Surviving Sharks, Expedition Everest, Surviving Urban Disasters, After the Experiment, Deadly Waters and the documentary feature 'Off the Grid with Les Stroud'. In 2010, Les received his seventh Gemini nomination as Executive Producer/Host of the hit kids TV series 'Survive This' (YTV, Cartoon Network) and made celebrity guest appearances on Extreme Makeover Home Edition and MTV Cribs. He continues to Executive Produce/Host the NHL celebrity survival series 'Survival Challenge' (OLN/Rogers), and the Discovery Channel series, 'Les Stroud Beyond Survival' which earned top ratings on both Discovery Channel US and OLN in Canada.

Celebrated and captivating keynote speaker, musician and author his book 'Survive! ' Essential Skills and Tactics to Get You Out of Anywhere Alive! (Harper Collins) made the bestseller list for 20 weeks and broke the top 100 on Amazon.com. Les most recent book, Will to Live (Harper Collins), is also a bestseller. A proud member of the Explorers Club, Les contributes to dozens of charities and benefits, and is an advanced survival trainer for the Canadian Military Armed Forces.

Music
In addition to film making and wilderness survival, Les Stroud has also worked in the music industry as a professional musician. After graduation, Stroud worked both as an associate producer for the nascent music channel MuchMusic as well as production manager on music videos for artists such as Rush and Corey Hart. During this time Stroud also played in the David Bowie cover band Diamond Dogs and played lead guitar and composed music for his band New Regime which signed with RCA Records shortly after Stroud left the band. Les Stroud and The Pikes CD Art. As frequently illustrated in his show Survivorman, Stroud is considered an exceptional blues harmonica player. This instrument is featured prominently in his self-titled debut CD which has been described as "a collection of diverse roots/blues and traditional folk, acoustic music that reflects the uniquely northern spirit of freedom and adventure." Several songs off of this album can be downloaded from his official site. Stroud has performed in and around the Muskoka area and at the Orillia Blues Festival and Toronto Beaches International Jazz Festival.

Stroud and The Northern Pikes have struck up a musical collaboration under the name Les Stroud and the Pikes. Throughout 2005 and 2006 they performed together live several times, and an EP born from this collaboration entitled Long Walk Home that was released in the spring of 2007

Awards:

Stroud has received several accolades as a musician. He has won "Best Acoustic/Folk Act", "Best Blues Act" and "Best Overall" awards at the Spirit of the North music festival in New Liskeard, Ontario.

Stroud's documentary Snowshoes and Solitude was named Best Documentary at the Muskoka Film Festival and Best Film at the Waterwalker Film Festival. Stroud was nominated for 6 Gemini Awards for his work on SurvivormanIn 2010, Stroud and his production team was nominated for Best Children's or Youth Non-Fiction Program or Series for Survive This.
View the full website biography of Les Stroud.