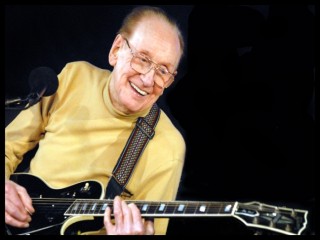 Les Paul
Date of birth : 1915-06-09
Date of death : 2009-08-12
Birthplace : Waukesha, Wisconsin, United States
Nationality : American
Category : Arts and Entertainment
Last modified : 2010-06-10
Lester William Polfus (June 9, 1915 – August 12, 2009) known as Les Paul was an American jazz and country guitarist and inventor.

Paul designed a solid-body electric guitar in 1941, but, by the time the Les Paul Standard was ready for production by the Gibson Guitar Company in 1952, Leo Fender had already mass-produced the Fender Broadcaster four years earlier, thus beating Paul to popular credit for the invention. Nonetheless, the Les Paul acquired a devoted following, and its versatility and balance made it the favoured instrument of such figures as Jimmy Page and Peter Frampton. Before focusing his attention on electric guitar design, Paul was a working country and jazz musician - performing with his own Les Paul Trio in the 1930s and with singers such as Bing Crosby and the Andrews Sisters in the 1940s - and for a time had his own radio program in Chicago. In the 1950s, while continuing to perform - mostly with his wife, Mary Ford (original name Colleen Summers; b. July 7, 1924, Pasadena, Calif.- d. Sept. 30, 1977, Los Angeles, Calif.) Paul pioneered the development of multitrack recording and is credited with having invented the first eight-track tape recorder and the technique of overdubbing.

Awards and honors

Paul was initiated into the Gamma Delta chapter of the Tau Kappa Epsilon fraternity at the University of Miami in 1952. He has earned the Presidential award from the Tau Kappa Epsilon fraternity.

In 1979, Paul and Ford's 1951 recording of "How High the Moon" was inducted into the Grammy Hall of Fame. Paul received a Grammy Trustees Award for his lifetime achievements in 1983.

In 1988, Paul was inducted into the Rock and Roll Hall of Fame by Jeff Beck, who said, "I've copied more licks from Les Paul than I'd like to admit." In 1991, the Mix Foundation established an annual award in his name; the Les Paul Award which honors "individuals or institutions that have set the highest standards of excellence in the creative application of audio technology". In 2005, he was inducted into the National Inventors Hall of Fame for his development of the solid-body electric guitar. In 2006, Paul was inducted into the National Association of Broadcasters Hall of Fame. He was named an honorary member of the Audio Engineering Society. In 2007, he was awarded the National Medal of Arts.

A one-hour biographical documentary film The Wizard of Waukesha was shown at the Los Angeles International Film Exposition (FILMEX) March 4–21, 1980, and later on PBS television. A biographical, feature-length documentary titled Chasing Sound: Les Paul at 90 made its world première on May 9, 2007, at the Downer Theater in Milwaukee, Wisconsin. Paul appeared at the event and spoke briefly to the enthusiastic crowd. The film is distributed by Koch Entertainment and was broadcast on PBS on July 11, 2007, as part of its American Masters series and was broadcast on October 17, 2008, on BBC Four as part of its Guitar Night. The première coincided with the final part of a three-part documentary by the BBC broadcast on BBC ONE The Story of the Guitar.

In June 2008, an exhibit showcasing his legacy and featuring items from his personal collection opened at Discovery World in Milwaukee. The exhibit was facilitated by a group of local musicians under the name Partnership for the Arts and Creative Excellence (PACE). Paul played a concert in Milwaukee to coincide with the opening of the exhibit.

Paul's hometown of Waukesha is planning a permanent exhibit to be called "The Les Paul experience."

In July 2005, a 90th-birthday tribute concert was held at Carnegie Hall in New York City. After performances by Steve Miller, Peter Frampton, Jose Feliciano and a number of other contemporary guitarists and vocalists, Paul was presented with a commemorative guitar from the Gibson Guitar Corporation.

On November 15, 2008, he received the American Music Masters award through the Rock and Roll Hall of Fame at a tribute concert in the State Theater in Cleveland, Ohio. Among the many guest performers were Duane Eddy, Eric Carmen, Lonnie Mack, Jennifer Batten, Jeff "Skunk" Baxter, Dennis Coffey, James Burton, Billy Gibbons, Lenny Kaye, Steve Lukather, Barbara Lynn, Katy Moffatt, Alannah Myles, Richie Sambora, The Ventures, and Slash.

In August, 2009, Paul was named one of the ten best electric guitar players of all-time by Time Magazine.

He was an honorary board member for Little Kids Rock, a non-profit organization dedicated to bringing free musical instruments and music instruction to underfunded schools across the U.S.
View the full website biography of Les Paul.