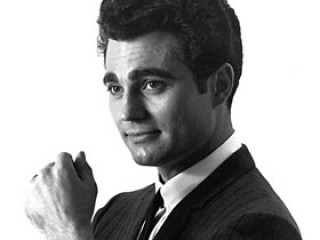 Leroy Van Dyke
Date of birth : 1929-10-04
Date of death : -
Birthplace : Mora, Missouri, U.S.
Nationality : American
Category : Arts and Entertainment
Last modified : 2011-04-27
Leroy Frank Van Dyke is an American country music singer best known for his hits, "The Auctioneer" (1956) and "Walk On By" (1961).

Leroy Van Dyke was best known for penning the country novelty standard "The Auctioneer" and the country-pop smash "Walk on By," his biggest hit. Born in Missouri, Van Dyke originally wanted to be a farmer. He earned a degree in agriculture and journalism at the University of Missouri, where he first began playing guitar. His uncle had been an auctioneer, and Van Dyke himself studied livestock auctioneering and worked as an auctioneer for a time. Following graduation, Van Dyke worked as a newspaper reporter. Sent to Korea during the Korean War, he began performing for his peers and wrote "The Auctioneer," which recalled Van Dyke's uncle and was dedicated to his cousin. The song contains passages of actual auction calls.

Following military service, Van Dyke returned to journalism in Chicago but kept up his performing career, appearing on Red Foley's Ozark Jubilee television show. In 1956, he entered a talent contest on Chicago radio station WGN, performing "The Auctioneer." DJ Buddy Black signed up as Van Dyke's manager and slipped in a document giving himself co-writing credits and half the royalties for the song. Released as a single on the Dot label, the song hit the pop charts in late 1956 and appeared on the country charts in early 1957, where it climbed to the Top Ten. In 1961, Van Dyke went to Nashville and signed with Mercury. One of his early releases on the label was "Walk on By," which went right to the top of the country charts and remained there for 19 weeks; it also crossed over to the Top Five on the pop charts. Van Dyke contributed his distinctive smooth tenor to what became one of country music's quintessential cheating songs, a fast two-step number with a certain sly veneer of sophistication.

"Walk on By," which gained a Grammy nomination for Van Dyke, was followed up with another major crossover hit, "If a Woman Answers (Hang Up the Phone)," and the Top 40 "Black Cloud." In 1962, Van Dyke began appearing on the Grand Ole Opry. His next few Mercury releases gained only middling success, and in 1965 he signed to Warner Brothers and had Top 40 success with "Roses From a Stranger." In 1967, Van Dyke appeared in the film What Am I Bid?. He recorded throughout the decade but hit the charts only with "Louisville" in 1968. Nevertheless, he remained a strong draw in Las Vegas (where he was among the first country performers to package and deliver his own self-contained show) and other upscale concert locales; as a performer Van Dyke mastered the art of combining a rural persona with countrypolitan sheen; he offered what he called "city-style country music" on the album The Leroy Van Dyke Show. In 1977, he notched one final minor hit, "Texas Tea." Later that year he also released two albums, Gospel Greats and Rock Relics, both produced by old friend Shelby Singleton. He performed often in Branson, MO, after that town emerged as a country music tourist mecca, and he continued to appear at the agricultural trade shows and livestock auctions whence his music had sprung.

"The Auctioneer Song" :


View the full website biography of Leroy Van Dyke.