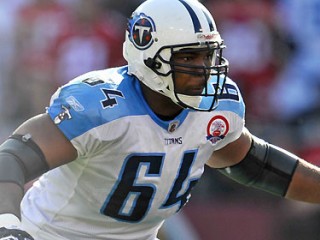 Leroy Harris
Date of birth : 1984-06-06
Date of death : -
Birthplace : Raleigh, North Carolina, USA
Nationality : American
Category : Sports
Last modified : 2010-12-16
PRO:
After playing as a reserve for the first three seasons of his career (2007-09), offensive lineman Leroy Harris is primed to become a mainstay in the Titans lineup. The versatile player is capable of starting at any one of the three interior offensive line positions, giving the Titans options at left guard, right guard and center. An easy-going nature off the field belies the gridiron toughness of the former fourth-round draft choice from N.C. State.

CAREER HIGHLIGHTS:
• On Nov. 8, 2009, Harris was thrust into the starting lineup at right tackle after David Stewart suffered a hamstring injury during the Thursday practice leading up to the game. Despite never playing the position in a game prior to the start, Harris helped the Titans gain 152 rushing yards in the 34-27 victory and gained praise from teammates and coaches for his effort.
• Harris received his first career starts at the conclusion of the 2008 season, filling in for injured center Kevin Mawae in the regular season finale and Divisional playoff game.

TITANS TIDBITS:
• In February 2010, Harris and his wife, Christina, opened Kids Night Out (www.kids-nightout.com), a drop-in day care in Nashville. On many evenings Leroy can be found at the facility helping the full-time staffers take care of the many children that use their services.
• Harris, who is married and has two sons, knows first-hand the impact a strong and committed family can have. His mother, Dorothy, passed away when he was only three years old as a result of a tragic surgical accident. She left behind Leroy; his sister, Neice; and their father, Leroy Sr. To help care for the children, Neice was sent to live with aunts in New Bern, N.C., where Leroy would visit most weekends. While Leroy Sr. worked 60-hour weeks at a soy bean plant, Leroy Jr. spent most of his time at his grandparents house in Raleigh, where another set of aunts, Carol McDougal and Margaret Harris, also lived and became mother figures in his life. They all helped care for his grandmother, who was an amputee. When Leroy Jr. was 12 years old, his father remarried to Shelvatine, whose son, Lamont, quickly formed a brotherly bond with Leroy Jr. It was then that Leroy Jr. began getting heavily involved in sports and laid the foundation for his NFL career.
• In addition to being a top recruit in football as a high school student, Harris also was among the elite wrestlers in North Carolina. He won the North Carolina 4A State Title in the 275-pound weight class as a senior. While redshirting in his first season on the football team at N.C. State, he wrestled for the Wolfpack and placed third in the ACC among heavyweights.
• To complete his degree in sports management at N.C. State, Harris interned at the Wolfpack Club, a fundraising organization for the school's athletic department. There he received training on the front lines of ticketing, parking, membership drives and other efforts of the organization. He received his degree with a minor in business in December 2006.

CAREER TRANSACTIONS:
• The Raleigh, N.C., native was selected by the Titans in the fourth round (108th overall) of the 2007 NFL Draft.

COLLEGE:
• Played in 43 games at N.C. State with 42 career starts. Started a total of 26 games at center, 15 at left guard and one at right guard.
• As a senior (2006), named first-team ACSMA/AP All-ACC and won inaugural Sonitrol Offensive Lineman of the Year Award. Served season as offensive team captain. Started eight games at center, one game at right guard and one game at left guard. Did not allow sack during season as member of line that allowed only 19 total sacks.
• As a junior (2005), named first-team All-ACC by The Sporting News and named team's Most Valuable Offensive Lineman after starting all 12 contests (11 at center, one at left guard).
• Earned honorable mention All-ACC honors as freshman and sophomore and named Freshman All-American by The Sporting News and Football Writers Association.
• Redshirted in 2002.
• Received degree in sports management with minor in business in December 2006.

PERSONAL:

• Married to Christina, couple splits time between Brentwood, Tenn., and Raleigh, N.C., with their sons, Leroy III (4) and Christian (infant).
• Was three-time All-Conference performer as two-way lineman at Southeast Raleigh (N.C.) High School. Rated by Rivals.com as best defensive tackle prospect in state after posting 56 tackles as senior.
• Wrestled for four years, posting 23-1 mark and winning 2002 4A North Carolina State Title in 275-pound class as senior.
• Also threw shot put and discuss for track and field team for two years.
• Has his own website, leroyharris64.com.
• Hosts an annual three-day youth football camp at his former high school in Raleigh.
• Hosts a blood drive in Raleigh for the American Red Cross.
• List of favorites: (movie) "The Green Mile"; (TV shows) "24," "Hell's Kitchen" and any show on the USA Network; (actor) Denzel Washington; (musicians) Snoop Dogg and Biggie Smalls; (sports heroes) Bruce Smith and Frank Thomas; (school subject) math; (vacation getaway) Caribbean cruise; (video game) NCAA Football on PSP; and (food) steak, pork chops, baked potatoes and Caesar salad.
• Born Leroy Harris Jr. on June 6, 1984 in Raleigh, N.C.

View the full website biography of Leroy Harris.