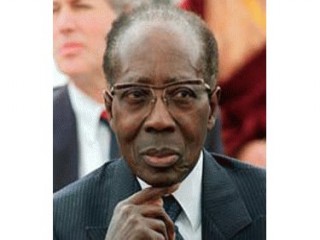 Leopold Sedar Senghor
Date of birth : 1906-10-09
Date of death : 2001-12-20
Birthplace : Joal, Senegal
Nationality : Senegalese
Category : Famous Figures
Last modified : 2011-10-13
Léopold Sédar Senghor was an African poet, philosopher, and president of Senegal. He was one of the originators of "Negritude," a "black is beautiful" doctrine begun in Paris during the 1930s.
The map of Africa as it exists today owes something to the efforts of Léopold Senghor who took a leading role in the negotiations that led to independence of France's sub-Saharan colonies. He established relations with the former mother country that endure to this day. While asserting the uniqueness and greatness of black culture, the equal in every respect to that of the Greeks and the French, he held out the promise of an eventual synthesis of diverse peoples' contributions to a coming great "civilization of the universal."
Senghor was born on October 9, 1906, at Joal, the son of a wealthy Catholic trader who descended from a Serer royal family. Raised as a Catholic among an overwhelmingly Moslem population, Senghor attended the school of the Fathers of the Holy Ghost at N'Gazobil in 1914 and went on to pursue his studies in Dakar until 1928, when he left for France. In Paris he was the first African to be awarded an agregation certificate, in 1935, qualifying him to teach at a lycee, which he did from 1936 to the outbreak of the war, first in Tours and then in Paris. Captured while fighting against the Germans in 1940, he organized a resistance among his fellow prisoners.
After the war, Africa's representation in the French National Assembly was greatly increased, and opportunities for indigenous political activity were expanded. In 1945 Senghor joined with Lamine Gueye in cofounding a new political party affiliated with the French Socialist party, the Bloc Africain, which appealed to newly enfranchised people in the rural areas. In the same year, and again in 1946, the people of Senegal elected Senghor as deputy to the French National Assembly. In 1946 he was also selected the official grammarian for the new constitution of the Fourth Republic.
Senghor's alliance with Lamine Gueye soon grew thin, as Senghor turned to cultivate his rural following and as he rejected Gueye's assimilation politics. In 1948 Senghor formed his own political party and rejected affiliation with all metropolitan organizations. In 1951 his organization won both seats to the National Assembly. Senghor's proposal in 1953 that the French government divide French West Africa into two federations, one with its capital at Dakar in Senegal and the other at Abidjan in the Ivory Coast, was defeated. This defeat, as Senghor predicted, meant the "Balkanization" of West Africa, the creation of many small, not really economically viable, political units.
Senghor served as a minister in the Edgar Faure government in 1955; the following year Senghor's group, for the final time, won the elections to the National Assembly and then won 47 out of 60 seats in the newly established territorial council of Senegal. A division occurred among African leaders over the value of these councils, for some saw them as a positive step toward self-government, but others (Senghor foremost among them) argued that what counted was the unity of the region as a whole and that "territorialization" would only make this task more difficult.
Unlike the modernizing Africans in the British colonies, Senghor also argued that "mere political independence" could be a sham and therefore was not necessarily the highest goal African peoples should seek. Economic and technological realities in his day meant that even the "super powers" could not go it alone; what chance then for Senegal by itself? Not surprisingly, in 1958, when the new DeGaulle government offered the territories of West Africa the chance to "opt for independence" in a referendum—on the understanding that all financial and technical aid would be immediately withdrawn—Senghor, in spite of much domestic opposition, campaigned against this type of "self-government." Senegal joined the Sudanese Republic in 1959 to form the short-lived Mali Federation. Finally, on Aug. 20, 1960, Senegal became independent but remained part of a reconstituted "French community."
Thereafter Senghor survived several attempted coups d'etat, the most serious occurring in 1962, at least one assassination effort (1967), and widespread riots and demonstrations against rising prices and government financial policies (1968 and 1969). Nevertheless, throughout all these developments, he maintained his position as president of the republic and head of the governing political party while absorbing the major organized opposition groups and appeasing the central elements of his own coalition.
The evolution of Senghor's doctrine occurred in three distinct periods—the era preceding World War II, the period of achieving independence, and the epoch following independence. Senghor argued that the work of the black has distinction not in substance or subject matter but, rather, in a special approach, method, and style. In the pre-World War II period, Senghor particularly argued that one must look for the black person's uniqueness in the person himself. "Negritude" arises first, then, from the singular racial characteristics of the black. Later, after the war, Senghor became caught up in the problem of reorganizing societies—in Europe after fascism, in Africa after colonialism.
Revolted by Nazism, he placed increasing emphasis in his theory of Negritude on the historical context of the black evolution as an explanation for the rise of unique civilizations. Socialism he viewed as a way toward a renewed humanism through the ending of exploitation. Revolutionary change in France and the West as well as in the developing areas would allow a new type of community to be created. After independence in 1960, Senghor turned increasingly to the day-to-day problems of building a viable economy.
Significantly, Senghor used the term Senegalese socialism for the first time early in 1962. His ideas and ideology became increasingly pragmatic and technocratic as he attempted to maximize the effectiveness of modern agricultural methods, capital, industry, and social engineering.
Senghor resigned in 1981 after 20 years of being president. He devoted much of time afterwards to developing and publishing his philosophical contributions to the realization of a single, planetary civilization.
The year 1945 marked not only Senghor's entry into political life but also the publication of his first collection of poems, Chants d'ombre. In 1948 he published another volume of poetry, Hosties noires, and edited an anthology of new Negro and Malagasy poetry. Later poetic offerings were Chants pour Nantt (1949), Éthiopiques (1956), and Nocturnes (1961).
Senghor's major prose works were Nation et voie africaine du socialisme (1961), Pierre Teilhard de Chardin et la politique africaine (1962), LibertéI:Négritude et humanisme (1964), Les Fondements de I'Africanitéou Négritude et Arabité (1967), and Politique, nation et developpement moderne (1968).
A substantial collection of Senghor's poetry is in Selected Poems, translated and introduced by John Reed and Clive Wake (1964). Several of Senghor's major political writings were translated by Mercer Cook in On African Socialism (1964). Irving Leonard Markovitz, Léopold Sédar Senghor and the Politics of Negritude (1969), which has an exhaustive bibliography, traces the development of Senghor's ideas from 1931 and views them within the changing social, political, and historical scene of French colonialism and African development. See also Michael Crowder, Senegal: A Study in French Assimilation Policy (1962), for a good general treatment of the historical background.
View the full website biography of Leopold Sedar Senghor.