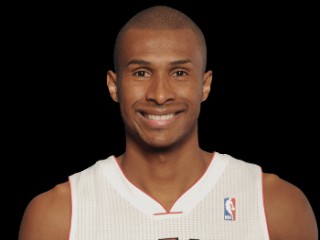 Leandro Barbosa
Date of birth : 1982-11-28
Date of death : -
Birthplace : São Paulo, Brazil
Nationality : Brazilain
Category : Sports
Last modified : 2011-05-06
Leandro Barbosa is a Brazilian professional basketball player, who plays at the guard position with the Toronto Raptors in the National Basketball Association. In Brazil he is nicknamed "Leandrinho" (Little Leandro), and in the USA he is nicknamed "The Brazilian Blur", referring to the fact that he is one of the fastest players in the NBA.

Career history:

Palmeiras (1999–2001)
Tilibra/Copimax (2001–2003)
Phoenix Suns (2003–2010)
Toronto Raptors (2010–present)

CAREER:

First-round draft choice (28th overall) by San Antonio in 2003; June 26, 2003: Draft rights traded by San Antonio to Phoenix for a future first-round pick; July 14, 2010: Traded by Phoenix with forward-centre Dwayne Jones to Toronto for forward Hedo Turkoglu.

PROFESSIONAL :
Voted 2006-07 NBA Sixth Man of the Year … One of the NBA's best reserves, over the last five seasons has averaged 14.7 points, 2.5 rebounds and 2.8 assists in 27.4 minutes, including 47.0 percent shooting and 40.2 percent from three-point range, in 333 games (57 starts) … Has averaged 12.6 points, 2.6 assists and 25.1 minutes in 466 regular season games in his seven-year NBA career … Owns postseason averages of 10.2 points, 2.0 assists and 23.3 minutes in 64 appearances … Played in Brazil from 1999-2003 ... In his second season with Baura Tilibra in 2002-03, averaged 28.2 points, second to the legendary Oscar Schmidt; among the league leaders averaging 7.0 assists and 4.0 rebounds ... Named Brazilian League Rookie of the Year after averaging 15.8 points, 6.4 assists and 1.7 steals in his first full season for Baura Tilibra in 2001-02 ... Was the youngest player (19) to earn a roster spot on the Brazilian National Team that competed at the 2002 World Championships in Indianapolis ... Began his professional career in 1999-00 playing for Palmieras in the second division ...

2009-10 :
Averaged 9.5 points, 1.6 rebounds and 1.5 assists in 17.9 minutes … Saw action in a career-low 44 games… Averaged 13.8 points in five starts … Scored in double figures 18 times, including two 20-point efforts … Suns scored 100 or more points in 40 of his 44 games, averaging 113.1 points with him and 106.9 points without … Became just the third Sun in franchise history Mar. 28 to reach 700 three-pointers made in a Phoenix uniform (Nash, Majerle) … Underwent surgery Jan. 26 to remove a cyst in his right wrist and missed 23 games … Missed the first 12 games of December with a sprained left ankle after landing on a defender's foot while attempting a three-pointer Nov. 29 at Toronto … Started the first two games of the season in place of Jason Richardson and averaged 20.5 points, including a season-high 24-point effort Oct. 30 vs. Golden State.

PERSONAL:

His brother Arturo, who was a member of the elite Brazilian Special Forces, introduced Leandro to the sport of basketball when he was five ... Speaks Portuguese and English ... Has a 6-10 wingspan and grew a half-inch during the 2006 offseason … Participated in the NBA's Basketball Without Borders Americas community outreach program in his native country Brazil in 2004, 2006 and 2007 … Became the fourth Brazilian to play in the NBA following Rolando Ferreira (Portland, 1988-89), Joao Jose Vianna (Dallas, 1991-92) and Nene (Denver, 2002-03).
View the full website biography of Leandro Barbosa.