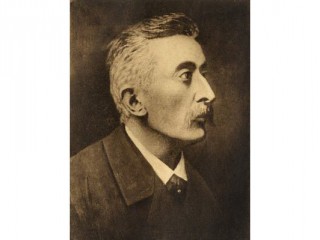 Lafcadio Hearn
Date of birth : 1850-06-27
Date of death : 1904-09-26
Birthplace : Santa Maura, Greece
Nationality : Greek-Japanese
Category : Famous Figures
Last modified : 2011-09-08
Lafcadio Hearn, European-born American author, wrote novels and articles with exotic themes in highly precise and polished prose.
Lafcadio Hearn was born June 27, 1850, on the Greek island of Santa Maura. His mother was Maltese and his father a British army surgeon of Anglo-Irish extraction. When Hearn was 2, his mother abandoned him to an aunt in Dublin, who later sent him to St. Cuthbert's College to prepare for the priesthood. There he lost his left eye in an accident; he lost much of his religious faith as well. His other eye, strained by incessant reading, bulged badly.
At 19, extremely short, disfigured, and psychologically maimed, Hearn arrived in Cincinnati, Ohio, where he eventually became a reporter for the Inquirer. In 1874 he married a local African American girl, breaking the Ohio laws against miscegenation. The marriage lasted 3 years and cost Hearn his job. Sent by another periodical to New Orleans, he found there the colorful, exotic ambience that would energize his pen.
By 1881 Hearn had become the successful literary editor of the New Orleans Times Democrat, to which he contributed local-color sketches, obscure folktales and legends, and translations of French writers. His first book, One of Cleopatra's Nights (1882), was a perceptive translation of six Theophile Gautier stories. He also contributed to Harper's Weekly and the Century. His literary propensities were becoming more obvious; he was attracted by the romantic, strange, and grotesque, but he presented these against real backgrounds or with real people. He published a book of obscure legends and stories, Stray Leaves from Strange Literature (1884) and Some Chinese Ghosts (1887). He lived for 2 years in the West Indies, where he wrote his first novels, Chita (1889), a Rousseauesque romance, and Youma (1890), concerning a slave rebellion. Both narratives illustrate his deft, polished, precise prose and emphasis on description which often overshadow the brittle and abstract plot and characterization.
In 1890 Hearn was commissioned to go to Japan, but shortly after arriving there he quarreled with his publisher and found himself unemployed. For a while he taught English at a government school in Matsue and freelanced newspaper articles. His life in Japan was greatly enhanced by his marriage to Setsuko Koizumi, whose family adopted him. As Yakumo Koizumi, Hearn found his final nationality and an estimable academic position as professor of literature at the Imperial University of Tokyo. During this happy period Hearn composed his best prose—minute examinations of Japan, its people, and its folkways: Glimpses of Unfamiliar Japan (1894); Kokoro (1896); Gleanings in Buddha-fields (1897); Exotics and Retrospectives (1898); In Ghostly Japan (1899); Shadowings (1900); and Kwaidan and Japan: An Attempt at Interpretation (1904). He died in Okubo, Japan, on Sept 26, 1904.
View the full website biography of Lafcadio Hearn.