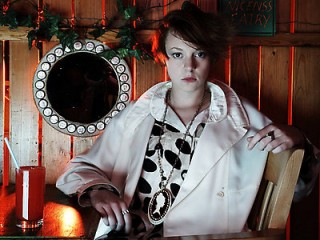 La Roux
Date of birth : -
Date of death : -
Birthplace : London, England
Nationality : English
Category : Arts and Entertainment
Last modified : 2012-03-27
La Roux are an English electro pop duo formed in 2008. The band consists of Elly Jackson (born 12 March 1988; singer and keyboardist) and Ben Langmaid (co-writer and co-producer). Their music is largely influenced by 80s pop music including Eurythmics, Depeche Mode, The Human League, Heaven 17, Yazoo and Prince.

The name La Roux (pronounced lah-roo) is reported to be chosen when Elly found it in a book of baby names. La Roux comes from the mix of the French masculine word for "redhead" and the feminine article for "the", referring to Jackson's distinctive hairstyle.

In 2006 Jackson and Langmaid were introduced by a mutual friend. Their first project was named Automan and they wrote largely acoustic music.

In 15 December 2008, La Roux released their first single "Quicksand" on Kitsuné Music label, reaching just #129 on UK. This single was followed on 29 June 2009 by their debut album La Roux, on Polydor label. The album peaked at #2 on UK albums chart, #158 on US charts, and it sold over 500,000 copies worldwide.

La Roux' second single "In for the Kill" was released on 16 March 2009. This single debuted at #11 on the UK singles chart and peaked at #2. The dubstep producer Skream made two remixes of this track: "In For The Kill (Skream's Let's Get Ravey remix)" and "In For The Kill (That Doesn't Sound Like Skream's Remix)". Lifelike also made a remix entitled "In For The Kill (Lifelike Remix)".

"Bulletproof" was released on 22 June 2009 and debuted at #1 on the UK singles chart and peaked at #8 on the US charts. This single was ranked #25 on Rolling Stone's list of The 25 Best Songs of 2009. They issued "I'm Not Your Toy" as fourth single on 27 September 2009, reaching #27 on the UK singles chart.

La Roux gained fifth position on the BBC's Sound of 2009 poll. The Guardian featured La Roux as one of the "Best New Acts of 2009" in the January of that year. The debut album has been nominated for a Mercury Prize. Also they have received 2010 BRIT Award nominations in the categories of British Breakthrough Act and British Single for "In for the Kill".

They won the NME Award for Best Dancefloor Filler with "In For The Kill (Skream's Let's Get Ravey remix)". They were also the only band to be featured 4 times on the NME 50 Best Tracks of 2009 list with "I'm Not Your Toy" placed at #41, "Bulletproof" at #24, "In For the Kill (Skream's Let's Get Ravey remix)" at #19 and "In For The Kill" at #8.

La Roux were scheduled to start writing material for their second album during Christmas 2009 at their manager's home. Jackson said, "I think there will be a natural instrument or two on there though, which will make a change from the first record." She added that due to limited time, she did not think there would be "anything in terms of a second record for a while".

As of January 2011, La Roux were writing their second album with a somewhat established indie rock band whose members are friends of Jackson. Jackson told the NME, "I know I'm not going to stop writing until we've got songs that can compete on the same level as 'In For The Kill' and 'Bulletproof'".

In January 2012 Jackson described the second album "a lot cheekier. Not 'Touch my Bum' cheeky or 'Carry On' cheeky -just slightly suggestive. The music is a lot sexier. But a lot of music that's quite sexual is aggressive. The music itself doesn't sound sexy - it's more people shouting, 'look at my bum! Look! I'm not turned on by it, I'm terrified." She also noted she feels a lot of pressure to replicate the high quality of the group's first album.

Unlike the first album, album two will contain guitars and percussion. Jackson has confirmed she will be playing both, in addition to co-writing, co-producing and providing vocals for the record.

In February 2011, La Roux won the Best Electronic/Dance Album Grammy Award for their self-titled debut album. Their single "In for the Kill" was nominated for Best Dance Recording; Jackson wrote on Twitter "This is the happiest I think I've ever been". This contrasts Elly Jackson's previous comments at the 2010 NME Awards, where she lightheartedly stated that the group "rarely wins awards". Ben Langmaid stated in a post-award interview, that the day before the Grammys, the duo were rewarded with a double platinum set of discs from their record company, describing the weekend of the Grammys as "My happiest weekend ever".
View the full website biography of La Roux.