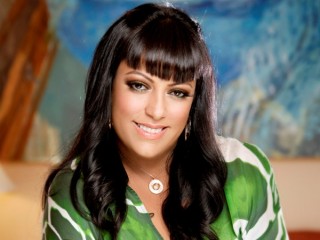 La India
Date of birth : 1969-03-09
Date of death : -
Birthplace : Rio Piedras, Puerto Rico
Nationality : Puertorican
Category : Arts and Entertainment
Last modified : 2011-12-07
La India, known also as "La Princesa de la Salsa" (engl. "The Princess of Salsa"), is a singer of salsa. She has been nominated for both Grammy and Latin Grammy awards.

Despite comparisons with Madonna, early on La India took the advice of Ralph Mercado, owner of RMM Records, and Eddie Palmieri, a well-known bandleader, and crossed over to salsa. With the title "Princess of Salsa," La India is poised to follow in the footsteps of the "Queen of Salsa," Celia Cruz. La India's fans admire her determination and style. She has succeeded in a male-dominated industry and created a style that is admired around the world and emulated by the likes of Madonna. She takes a feminist stance that speaks to many women, particularly within Latino culture. Her career has encompassed a variety of musical styles from Latin hip-hop to salsa and jazz. Her influences range from R&B's Aretha Franklin and rock 'n' roll's Janis Joplin to the Latin music royalty of La Lupe and Cruz.

Linda Caballero was born in 1970 in Rio Piedras, Puerto Rico. Raised in "La Candela" ("the Candle") section of the Bronx in New York City, her dark complexion and exotic looks earned her the nickname "India." She studied opera for a short while as a child. Having always loved singing, she sang everything she came across--except salsa. She told Peter Watrous of the New York Times, "I loved singing rock-and-roll, jazz, anything on the radio, anything commercial. I was able to do anything, but I didn't know what direction to go in." Even though she grew up listening to Latin music, she enjoyed mainstream American styles, particularly disco.

La India's music career began with a stint as a singer for TKA, a popular Latin hip-hop group, in the mid-1980s. She met Little Louie Vega, deejay and co-owner of Masters at Work, in grade school and established a relationship with him that has spanned both their careers. They married in 1989 and divorced on friendly terms in 1996. In that time, Vega and La India worked together on dance hits like their single "I Can't Get No Sleep." She sang background for his remixes, including the remix of Tito Puente's "Ran Khan Khan" from The Mambo Kings soundtrack. Vega also coproduced Llego La India, her first salsa album.

In 1990 La India released Breaking Night, produced by Jellybean Benitez. She was headed down the same road that Madonna had followed, but she made a conscious decision to switch directions. She explained to Watrous, "I felt pressured to follow in Madonna's footsteps, and I didn't want to base my career on sex. So I began to change how I saw myself." Despite her achievements in dance music and a contract with Warner Bros., La India found even bigger success by following her roots.

La India came to salsa at the urging of Ralph Mercado, who told her, as she quoted to Tom Smucker of the Village Voice, "'You can spend your life making English music or come to Latin music and get noticed.'" The time was ripe. Eddie Palmieri, a legendary Latin musician and bandleader, needed a vocalist. When he heard La India's voice, he decided she was up to the task. La India recalled to Elena Oumano of the Los Angeles Times the important role Palmieri played in her development: "[He] took me to school. He taught me about the rhythm, how you improvise within Latin beats." In 1992 La India released her first salsa record, Llego La India (Via Eddie Palmieri). The album was a success and outsold the music of many male Latin artists--and it was usually the men who dominated the industry. Her 1994 release Dicen Que Soy increased her popularity. Four singles from the album reached number one on Billboard's Tropical Singles charts, while six of them reached the top ten. Sales in the United States and Puerto Rico sent the album to platinum status four times over. She toured the world for two years promoting Dicen Que Soy.

While Llego La India may have been her introduction to the world audience for Latin music, Dicen Que Soy established La India's credibility as a salsa star. As she said to Oumano, "Llego was, 'I've arrived and I can sing this incredible old school, the motherland of our music.' The new album will be, 'This is me, my flavor in a tropical way.'" Her songs on this album reflect her desire to step out of stereotypes of Latino culture. The title song translates to "they say I am." In it, La India vehemently disregards all the negative things people say about her with "I don't care." As Alisa Valdes stated in the Boston Globe, "With her no-nonsense lyrics about not needing men, being disappointed by men, finding men stupid and insolent, India represents a new generation of Latina women. She sings anthems many Latinas have been longing to sing for centuries; she shouts and growls confidently ideas that no respectful Latina would have dared utter until recently." It is this confidence and her ability to voice discontent and strength in the face of adversity that makes La India popular among women and men alike.

The trademark cigar that she held during performances for many years was a habit she learned from her grandmother. La India told Oumano, "Every time my grandmother lit up a cigar, I'd say, 'Put it out!'... Once, just before she passed away ... she looked at me and said, 'Girl, you keep messing with me about my cigar. You don't know how good this is, how free it makes you feel. You want to get to me now, right? But when you get older, before you have your kids, you're going to be holding one too.'" Not long after her grandmother died, La India took up the practice. She eventually stopped smoking onstage because, as she related to Robert Dominguez of Hispanic, "[P]eople were focusing more on that than on my career."

La India continued to release popular and eagerly awaited albums throughout the 1990s, including Sobre El Fuego in 1997 and Solain 1999. She also worked on other projects, including writing, performing background vocals, and making contributions to compilations. She wrote songs for Marc Anthony while he was with RMM and recorded a popular duet with him called "Vivir Lo Nuestro." With the crossover success of artists like Anthony blazing a trail before her, La India seems ready to take yet another bold step. She told Dominguez, "My goal is to conquer the pop charts."

On February 23, 2010, India's newest single "Estupida" was released on iTunes. The single was recorded in two versions, a salsa version and a ballad version.India filmed a video for both versions were been released. The song debuted on the tropical billboard charts at #10 and made it to #1 in just a couple of weeks. India's ninth studio album, Unica, was released June 1, 2010.

In 2011 India still continues to release new music. India's latest songs include a duet with Issac Delgado titled, "Que no se te olvide" which has four different versions, one salsa, another an extended salsa mix, one a bachata version, and another a New York Pop version. In 2011, India has also released a new house track titled, "Tacalacateo" which she worked on with Italian DJ, Peppe Citarella.

View the full website biography of La India.