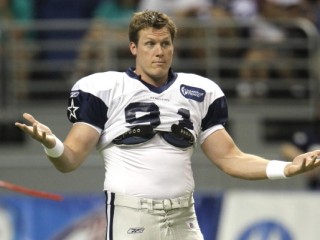 L.P. Ladouceur
Date of birth : 1981-03-13
Date of death : -
Birthplace : Montreal, Quebec, Canada
Nationality : Canadian
Category : Sports
Last modified : 2010-11-08
Louis-Philippe Ladouceur is a Canadian-born American football player. He played college football for the California Golden Bears, where he was a career backup defensive lineman (2000–2004) as well as their regular long snapper. In 2005, he went undrafted, and signed with the Dallas Cowboys as their long snapper.

PRO:
Louis-Philippe "L.P."Ladouceur joined the Cowboys three games into the 2005 season and has provided consistency at long snapper since his arrival. He has played in every game since landing in Dallas and made clean snaps on 375 punts, 145 field goals, and 221 PATs in his career, including the playoffs.

2009:
# Was once again a model of consistency, providing clean snaps on every kick attempt through the regular and postseason – 81 punts, 36 field goal attempts and 45 field goals.
# Was in on three special teams tackles – one solo and two assists.
# Had a tackle in the Cowboys Stadium opener against the N.Y. Giants (9/20), another on Thanksgiving Day against Oakland (11/26) and his third at the N.Y. Giants (12/6).
# Played in his 75th career game in the win at previously undefeated New Orleans (12/19).

2008:
# Was flawless on every snap attempt of the season while also contributing three special teams tackles.
# Collected a special teams tackle in the season opener at Cleveland (9/7).
# Made a special teams stop at Arizona (10/12).
# At Philadelphia (12/28) posted a special teams tackle.

2007:
# Provided clean snaps against the N.Y. Giants (9/9) with a rookie kicker (Nick Folk) and new holder (Brad Johnson).
# Had one special teams tackle and clean snaps on five PATs and five punts against St. Louis (9/30).
# Snapped cleanly on all five of Folk's kicks, including a 53-yard game-winning field goal at Buffalo (10/8).

2006:
# Made clean snaps on special teams in his first full season in Dallas.
# Recorded his first career special teams tackle at Jacksonville (9/10).
# Added one special teams tackle against Washington (9/17) and against Philadelphia (12/25).

2005:
# Made his NFL debut at Oakland (10/2) and snapped cleanly on five punts and two field goals.
# Finished the season with clean snaps on 70 punts, 25 field goals and 28 PATs.
# Saw limited time at defensive end and as the Saints long snapper through preseason.
# Finished with two tackles, one sack, a forced fumble and a special teams tackle but was released at the end of camp.

COLLEGE:

# Played every game as Cal's deep snapper and was a key player on a special teams unit that did not allow a blocked kick in both his junior and senior seasons.
# Saw action in just two games as a sophomore and did not record any statistics.
# Played in three games for the Bears as a redshirt freshman.

PERSONAL:

# Louis-Philippe Ladouceur-Semeteys was born in Montreal, Canada.
# Played at Notre Dame High School and John Abbott College in Pointe-Claire, Montreal, Canada.
# As a defensive lineman, had 48 tackles, seven sacks, three blocked field goals, one blocked punt and a fumble recovery which he returned 35 yards for a touchdown as a senior.
# Earned his bachelor's degree in earth and planetary science and his master's degree in education from Cal.
# Fluent in French.
View the full website biography of L.P. Ladouceur.