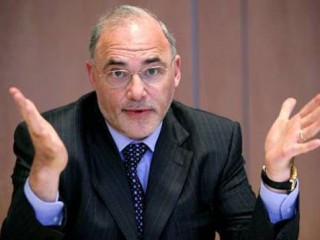 Léo Apotheker
Date of birth : 1953-09-18
Date of death : -
Birthplace : Aachen, Germany
Nationality : German
Category : Science and Technology
Last modified : 2010-10-01
Léo Apotheker (born September 18, 1953 in Aachen, Germany) is the CEO of Hewlett-Packard, and was the former CEO of SAP AG, having served in that position from April 2008 to February 2010. He joined the SAP AG executive board in 2002 and was promoted to co-CEO of the company in April 2008 to ensure a smooth handover from his predecessor, Henning Kagermann, when the latter's contract with the company expired. The succession plan was communicated in the business media early in 2008, including Forbes Magazine. The transition received praise as an example SAP's corporate culture: "a seemingly contradictory mix of internal consensus and competition". Apotheker was named CEO of Hewlett Packard in September 2010.

SAP

Apotheker took an early opportunity to set out his vision for the IT industry, and explained enterprise software in layman's terms (likening it to the human nervous system), in an interview with prominent American journalist Charlie Rose. He also articulated SAP's commitment to sustainability.

Before his appointment as SAP's co-CEO, Apotheker was deputy CEO from 2007 to 2008, member of the SAP AG executive board and president of global customer solutions and operations from 2002 to 2007, and president of SAP EMEA (Europe, Middle East, and Africa sales region) from 1999 to 2002. He was CEO and founder of SAP France and SAP Belgium (from 1995 to 1997) and president of SAP's South West Europe region (from 1997 to 1999).

During his career, Apotheker has also held senior positions with a variety of companies in the IT industry. He sits on the supervisory boards of AXA and Schneider Electric SA.

Apotheker's appointment to lead SAP was the first occasion that a large German company was run by a Jewish executive whose parents escaped the Holocaust. When the Nazis invaded Poland, Apotheker's parents fled all the way to the Russo-Chinese border. After the war they settled in Aachen, near Belgium. Léo Apotheker was born there in 1953, and later moved to Antwerp. "If SAP had a pre-war history, I would never have joined the company," he told The Economist.

In a ceremony in Paris on December 5, 2007, Léo Apotheker was honored with the French Légion d'honneur in recognition of his business leadership and contribution to the French economy. As the CEO and founder of SAP France and SAP Belgium, and later as president of SAP EMEA, Apotheker played a key role in increasing competitive capabilities and innovation for French industries. Other recipients in 2007 include the CEOs of Saint-Gobain, EDF, France Telecom, SUEZ and, the Banque Nationale de Paris (BNP Paribas), all long-term SAP customers.

On February 7, 2010, the SAP supervisory board reached an agreement with Apotheker not to extend his contract as a member of the SAP executive board. With this decision, he stepped down as CEO and resigned from SAP.
View the full website biography of Léo Apotheker.