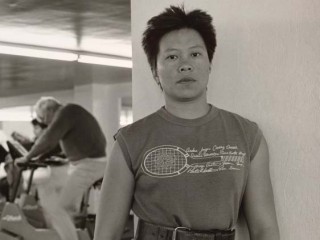 Kitty Tsui
Date of birth : -
Date of death : -
Birthplace : Hong Kong, China
Nationality : Chinese-American
Category : Arts and Entertainment
Last modified : 2010-08-27
Kitty Tsui makes a dynamic career from her identity as a Chinese-American lesbian. Her life and work thus far provide an essential corrective to minority politics, both by defining ethnic difference within the lesbian community and by modelling sexual difference within the Asian American community. Tsui is an award-winning chronicler of the rich complexities of balancing more than one identity.

Born in Hong Kong in 1952, Kitty Tsui spent her childhood in California, receiving a B.A. in Creative Writing from San Francisco State University. She currently lives in the midwest with her beloved Hungarian Vizsla dog, Meggie Too.

Tsui's poetry and prose have been published in over 35 anthologies, including Asian American Sexualities: Dimensions of the Gay and Lesbian Experience (1995), Lesbian Erotics (1995), Chloe Plus Olivia (1994), and Making Waves: Asian Women United of California (1989). She is the recipient of the CLAGS 1995 Ken Dawson Award for research in gay and lesbian history and was listed in the 1990 Lambda Book Report as one of the 50 most influential people in gay and lesbian literature. She has been featured in three films, Women of Gold (1990), Framing Lesbian Fashion (1992), and Cut Sleeve (1992).

Although known primarily for her writing and activism within the Asian Pacific Lesbian Movement, Tsui is also a competitive body-builder, winning a bronze medal at the Gay Games in San Francisco in 1986 and a gold medal in Vancouver in 1990.

Tsui is the author of three books to date: The Words of a Woman Who Breathes Fire (1983), a book of poems, prose, and dramatic pieces; Breathless (1995), erotica for lesbians; and a historical novel, Bak Sze, White Snake (not yet published). These books point to her versatility in terms of genre, while she remains committed to a politics of inclusion and tolerance in the lesbian community.

The Words of a Woman Who Breathes Fire, written in the 1980s tradition of identity politics, focuses on ethnic and class differences among urban lesbians. Tsui struggles for self-definition in these poems, as a Chinese-American woman who loves women and as a writer who refuses to be encumbered by literary stylistic traditions. In the first poem, "It's In The Name," the speaker condemns the dominant culture's (including non-Asian women) confusion of Asian women with each other--"it happens all the time. /orientals so hard to tell apart" (1). The book's conclusion, however, is more upbeat, with "A Celebration Of Who I Am," and an inter-generational dramatic monologue of two women's voices, "Poa Poa is Living Breathing Light."

Because her female and Chinese heritage is so central to Tsui, she includes several poems honoring her grandmother, whose struggles as an immigrant actress and Cantonese opera singer mirror the poet's own creative efforts. The Words of A Woman... is dedicated to Tsui's grandmother, Kwan Ying Lin, "[her] first and closest connection." The poem "Chinatown Talking Story" describes her grandmother's American career: "the gold mountain men said/when kwan ying lin/went on stage/even the electric fans stopped." Kwan, too, loved women and left her husband to live with another actress. Other poems describe her family's ignorance concerning her love for women; for example, in "A Chinese Banquet," Tsui is unable to invite her lover home for a traditional meal because the category "same-sex lover" does not exist for her parents. However, Tsui insists that Chinese women come with strength: "born into the/skin of yellow women/we are born/into the armor of warriors."

A large part of Tsui's fight is for lesbian autonomy. Her second book, Breathless, continues the theme of inclusivity. This collection of erotica covers many varieties of lesbian sexual desire, from charged glances to sex toys to sado-masochism to cutting. While some stories involve violence and are not for the faint-hearted reader, many are also simply funny along with being sexy. One story in particular, "the foodie club," contains sensual descriptions of exotic (and erotic) edibles, leaving the reader to imagine whatever sexual activities go with them. Another story, "rain," describes two old women, long-time partners, who rediscover their sexual selves. Breathless combines questions of love, commitment, loyalty, and loneliness with raw bodies doing amazing, and, depending on your perspective, horrifying or titillating, things.

As Tsui writes in an early poem, "este poema is for the crazywoman/who lets me wear her favorite blue shirt/and takes my tongue into her mouth/and massages it." For Kitty Tsui, we are all potential crazy women, if we can learn to celebrate each other and ourselves as she does.
View the full website biography of Kitty Tsui.