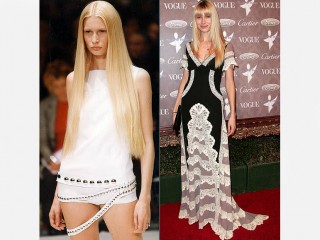 Kirsty Hume
Date of birth : 1976-09-04
Date of death : -
Birthplace : Ayrshire, Scotland
Nationality : Scottish
Category : Arts and Entertainment
Last modified : 2010-06-08
Kirsty Hume (born September 4, 1976) is a Scottish model who came to prominence in the fashion world in the 1990s. A columnist likened her appearance to a Botticelli angel.

She is married to rocker and actor Donovan Leitch, Jr.. After getting married in Scotland in 1997, they drove all around Bali in a jeep. The couple have a daughter named Violet.
KNOWN FOR: Her long blonde hair and being one of the 'new breed' of supermodels.

HEIGHT: 5′11″
MEASUREMENTS: 32-23-34
WEIGHT: 115lbs
HAIR: Long, straight, light blonde locks
EYES: Blue
BORN: September 4, 1976 in Ayr, Scotland.
DISCOVERED: At age 16 she signed up with an agency in Glascow. She says she owes her success to the photographer Patrick Demarchelier.
AGENCY: New York-Elite, Paris-Viva, UK-Elite.

RESUME: Has Chanel contract. Did Gucci, Ralph Lauren and the Gap campaignes.

In 1996 Hume was the feature model for Chanel ads. She has modelled for Victoria's Secret. For the March 1996 Gucci presentation of fall and winter fashion collections in Milan, Italy, Hume wore a fabulous dress made of white jersey (clothing) with a plunging neckline.

Following a 1997 Paris, France showing of Karl Lagerfeld designs for Chanel, Hume was queried by a Russian TV reporter. He asked her what was the most exciting part of her job. She answered, Um, the money. She appeared in a bias-cut chiffon gown designed by Donatella Versace at the January 1998 Milan fashion show.

Hume attended a Halloween party at Lot 61 in Chelsea, Manhattan, with Leitch and Oliver Stone, in 1998. The Japanese-themed event included an appearance by Leonardo DiCaprio and friends dressed as members of Kiss. Hume arrived in fangs.The night before Halloween in 1999 Leitch and Hume hosted a party at the same venue. Hume was draped in vines and the couple were scantilly dressed as Adam and Eve.

Hume and Leitch eschewed city life and relocated to Woodstock, New York. Hume began to study painting and paganism after their move. She is fond of wearing flip flops and Birkenstocks.

SWEETIE: Married to Calvin Klein model Donovan Leitch.
TATTOOS: She has a tattoo of a flower on a toe on her left foot and a tattoo of a mischievous angel on an intimate part of her body.
HOME: New York City and Scotland.

View the full website biography of Kirsty Hume.