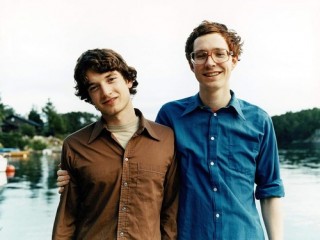 Kings Of Convenience
Date of birth : -
Date of death : -
Birthplace : Bergen, Norway
Nationality : Norwegian
Category : Arts and Entertainment
Last modified : 2012-03-27
Kings of Convenience are an indie folk-pop duo from Bergen, Norway. Consisting of Erlend Øye and Eirik Glambek Bøe, the musical group is known for their delicate tunes, calming voices, and intricate and subtle guitar melodies.

The duo were signed to the American label Kindercore after appearing in European festivals during the summer of 1999. After a spell living in London in 2001, they released their debut album Quiet Is the New Loud. The album was produced by Coldplay producer Ken Nelson. The album was very successful and even lent its name to a small movement of musicians in the pop underground (including acoustic contemporaries such as Turin Brakes) which took Elliott Smith, Belle & Sebastian and Simon & Garfunkel as their inspiration and focused on more subtle melodies and messages.

Versus, an album of remixes of tracks from Quiet Is the New Loud, came out shortly after. After this breakthrough year, not much was heard from the band. Øye spent the next few years living in Berlin and doing solo material, releasing music under the DJ Kicks series as well as a solo album titled Unrest. He also has a side project named The Whitest Boy Alive.

It was not until 2004 that the Kings' follow-up Riot on an Empty Street was released. The video made for "I'd Rather Dance With You," the second single from the album, topped MTV's European list as the best music video of 2004. The album also featured contributions by Feist.

The band had a period of inactivity, which led to speculations that they had stopped working together. On March 7, 2007 however, the duo played a one-off concert in Mexico City. There was also a concert scheduled for March 6, but it had to be cancelled, because Øye had a problem with "Montezuma's Revenge" and was not feeling well. They played two concerts on March 7 and announced they were going to start work on their new album in Puerto Vallarta, Mexico. In January 2008 the band played concerts in the Northern Norwegian cities of Tromsø, Svolvær and Bodø, and Swedish city Umeå along with a concert in August in Stockholm.

Most recently, the band toured North America, Latin America and Europe, including stops in Boston, New York, Toronto, Detroit; Latin American stops in Mexico, Colombia, Argentina, Brazil and Chile. European stops include Italy, Switzerland and Spain. On some of their American tour stops they appeared with the band Franklin for Short who joined them on stage for a few rousing numbers.

The third album, called Declaration of Dependence, was released on October 20, 2009.
View the full website biography of Kings Of Convenience.