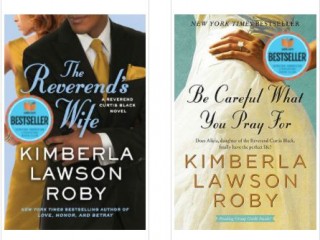 Kimberla Lawson Roby
Date of birth : 1965-05-03
Date of death : -
Birthplace : Rockford, Illinois
Nationality : American
Category : Arts and Entertainment
Last modified : 2021-12-02
Kimberla Lawson Roby is a well-known American author and speaker. Best known for her Reverend Curtis Black series, and for her depiction of real-life social issues in a fictional format, she had her debut with the novel Behind Closed Doors, originally self-published through her own company, Lenox Press.

She has sold more than 2.6 million copies of her novels, which have appeared on numerous best-seller lists, including AALBC, The New York Times, USA Today, The Washington Post, Publishers Weekly, Essence Magazine, Upscale Magazine, Emerge Magazine, Barnes & Noble, Amazon.com, Wal-Mart, The Dallas Morning News, and The Austin Chronicle.


Here is a list of books from Kimberla Lawson Roby:

The Reverend's Wife (Reverend Curtis Black #9)
Be Careful What You Pray For (Reverend Curtis Black #7)
The Perfect Marriage
Love, Honor, and Betray (Reverend Curtis Black #8)
A Deep Dark Secret
Secret Obsession
A House Divided (Reverend Curtis Black #10)
Behind Closed Doors
One in a Million
Casting the First Stone (Reverend Curtis Black #1)
A Taste of Reality
Love and Lies (Reverend Curtis Black #4)
The Woman God Created You to Be: Finding Success Through Faith- Spiritually, Personally, and Professionally (2020)


In February 2013, Roby received the 2013 NAACP Image Award for Outstanding Work – Fiction for her novel The Reverend's Wife. She was nominated again in 2014 for her novel The Prodigal Son. She is the 2006, 2007, 2009, 2010, 2011 and 2013 recipient of the Author of the Year – Female award presented by the African-American Literary Award Show in New York, the recipient of the 1998 First-Time Author Award from Chicago's Black History Month Book Fair and Conference, and her fifth novel, A Taste Of Reality, was a 2004 finalist for the Atlanta Choice Awards sponsored by the Atlanta Daily World.


Kimberla was inducted into the Rock Valley College Alumni Hall of Fame (Rockford, IL). She resides in Illinois with her husband, Will.

View the full website biography of Kimberla Lawson Roby.