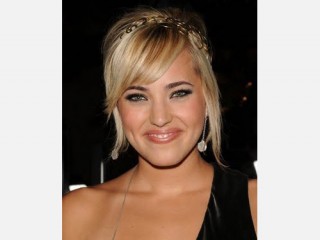 Kherington Payne
Date of birth : 1990-01-26
Date of death : -
Birthplace : Whittier, California, United States
Nationality : American
Category : Arts and Entertainment
Last modified : 2011-01-25
Kherington Payne is an American dancer and actress who came to prominence as a Top 10 Finalist in Season 4 of the hit reality-dance show So You Think You Can Dance and in a role in the 2009 reinvention of the movie Fame. She is currently a member of the Pussycat Dolls and Dance Recital.

Career

In 2008, Kherington competed on Season 4 of the hit reality-dance show So You Think You Can Dance. After being the youngest competitor selected to be a part of the Top 20 that year, the then 18-year-old contemporary/jazz dancer was paired up with hip-hop dancer Stephen 'tWitch' Boss. The duo, also known as "Twitchington", performed many memorable routines and were extremely popular with audiences. Having made the Top 10, Kherington later toured the country that fall with her fellow season 4 "IV REAL" finalists.

After the show she went on to play a reform school girl with fellow Season 4 contestants Katee Shean and Comfort Fedoke in the "Bootylicious" number in the "Hairography" episode of the television show Glee. She later starred as Alice Ellerton in the 2009 reinvention of the movie Fame, which opened in theaters in September 2009. Kherington will appear as a checkout girl in the upcoming indie-movie musical Leading Ladies, starring Melanie LaPatin and Benji Schwimmer.

In early 2010, Kherington performed as a backup dancer for Katy Perry at the 2010 MTV Movie Awards, and was also featured prominently in the music video for Perry's summer smash-hit 'California Gurls' as the 'Peppermint Girl'. In June, Kherington played the role of Potiphar's wife in a production of Joseph and the Amazing Technicolor Dreamcoat, at the Lincoln Theater in Napa Valley. In early August, Kherington danced with P Diddy and Dirty Money crew at the Teen Choice Awards, to their hit track 'Hello Good Morning'.

Throughout August and September, Kherington joined Katy Perry on her Teenage Dream promo tour, performing at private concerts around the world, including television appearances on The Today Show, Italy's X-Factor and Saturday Night Live. She also recently performed on the American version of Dancing With The Stars for rock band Daughtry during the performance of their song 'September'. Whilst pursuing her career, Kherington also teaches and assists at various dance studios and conventions in and around America.

In November, Kherington performed a number of shows in Los Angeles with a girl group called Dance Recital. It is unknown whether or not Kherington is still part of the The Pussycat Dolls, it is rumored that she left having not performed a single show with the group since the new line-up's announcement in May. In December, PCD's lead, Nicole Scherzinger left the group, it's questionable as to what will happen with the PCD. Later that month, Kherington announced on her Twitter that she will be featured in a new docu-drama on E!, which will follow choreographer Laurieann Gibson and her dancers as they live and work in the LA dance/entertainment industry. The 8-episode show, currently titled The Dance Scene will air on E! April 10. Kherington is featured in the new Ashton Kutcher and Natalie Portman romantic comedy No Strings Attached, and will also be appearing in an upcoming episode of C.S.I..

Kherington Payne at So You Think You Can Dance Show:






View the full website biography of Kherington Payne.