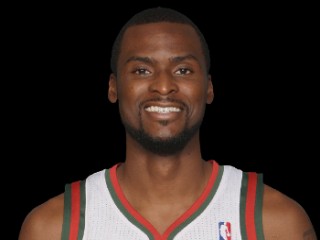 Keyon Dooling
Date of birth : 1980-05-08
Date of death : -
Birthplace : Fort Lauderdale, Florida
Nationality : American
Category : Sports
Last modified : 2011-04-11

Keyon Dooling is an American professional basketball player who plays for the Milwaukee Bucks.

Career history:

Los Angeles Clippers (2000–2004)
Miami Heat (2004–2005)
Orlando Magic (2005–2008)
New Jersey Nets (2008–2010)
Milwaukee Bucks (2010-present)

Selected by Orlando in the First Round (10th overall) of the 2000 NBA Draft … draft rights were traded by Orlando, along with Corey Maggette, Derek Strong and future considerations, to the Los Angeles Clippers, in exchange for a future first round draft pick on 6/28/00 … signed as a free agent by Miami on 7/22/04 … signed as a free agent by Orlando on 8/3/05 … acquired by Nets from Orlando for cash considerations on 7/21/08 ... signed as a free agent by Milwaukee on 7/19/10.

CAREER - 2009-10:

Appeared in 53 games, eight starts … averaged 6.9 points and 2.5 assists in 18.3 minutes per contest … shot .398 (129-324) from the field, .376 (59-157) from downtown and .770 (47-61) from the line … in eight starts, averaged 10.6 points and 5.4 assists in 32.0 minutes while shooting .434 (33-76) from the field and .406 (13-32) from behind the arc … recorded 14 games scoring in double figures and one 20-plus point game … led or tied the Nets in assists eight times and in steals nine times … missed a total of 29 games due to injury; 18 games (10/28-12/2) due to hip surgery, eight games (12/11-12/18, 1/13, 2/2-2/3) with sore hip flexors, one game (3/22) with flu-like symptoms and two games (4/12-4/14) with a strained groin … recorded 11 points, tied a career-high seven rebounds and six assists in 28 minutes vs. HOU on 12/26 recorded a season-high 21 points on 8-11 FG's and 4-7 from deep in 23 minutes at N.O on 1/8 recorded 18 points on 7-13 FG's and a season-high eight assists in 36 minutes vs. LAC on 1/27 ... recorded 13 points on 5-12 FG's and seven assists vs. PHI on 1/31 … recorded 11 points and seven assists at CLE on 2/9 … tallied 15 points and seven dimes at OKC on 3/12 … notched 15 points, 3-6 from downtown, at PHI on 3/17 … scored 13 points, 4-6 FG's, vs. NO on 4/3.

COLLEGE:

Played two seasons at the University of Missouri before becoming an early entry candidate for the 2000 NBA Draft … appeared in 58 career outings for the Tigers, averaging 12.1 points, 3.4 assists and 2.4 rebounds … as a sophomore (1999-2000), led Missouri in scoring, assists and blocked shots, and was named Second Team All-Big XII … also named First Team NABC District 12 and was voted Mizzou's Most Outstanding Player … averaged 15.3 points, 3.6 assists and 2.7 rebounds while leading Missouri to the 2000 NCAA Tournament … scored in double figures in 26 of his 31 games, including seven with 20-plus points … as a freshman (1998-99), averaged 8.7 points, 3.0 assists and 2.1 rebounds … was the runner-up for Big XII Freshman of the Year and was named Honorable Mention All-Big XII … named to the Big XII All Freshman Team and to the Big XII All-Academic First Team … was twice chosen as the conference's Freshman of the Week.

PERSONAL:

Full name is Keyon Latwae Dooling … nickname is "K.D."… with his wife, Natosha, he has three daughters, Deneal, Gabrielle and Jordan … lists his parents, Leroy and Brenda Dooling, as his heroes and the people who made the biggest difference in his life for always being there for him … says his family is his most treasured possession … participated in Magic's 'Read To Achieve' program … bought and distributed toys to underprivileged children and families over the holidays … met with military personnel after a game as part of the Magic's 'Seats for Soldiers' night … served as a school crossing guard and participated in a Habitat for Humanity/MLK Day event in the Central Florida community in 2005-06 … majored in business at the University of Missouri and now owns several businesses … is a part owner of the financial company International Sports Management … wife Natosha owns and operates N-Zone in Ft. Lauderdale, FL, a charity that specializes in helping underprivileged young women … mother Brenda runs the DOMES Foundation (Dooling Outreach Multipurpose Educational Strategies) … enjoys playing video games in his free time … lists the ability to communicate as his greatest talent outside of basketball … football is his favorite sport other than basketball … favorite movies are The Godfather and Scarface … favorite TV shows are Martin and The Fresh Prince of Bel-Air … enjoys R&B and rap and lists Usher among his favorite musical artists.



View the full website biography of Keyon Dooling.