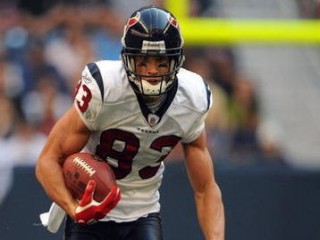 Kevin Walter
Date of birth : 1981-08-04
Date of death : -
Birthplace : Vernon Hills, Illinois
Nationality : American
Category : Sports
Last modified : 2010-12-10
Kevin Walter is an American football wide receiver for the Houston Texans of the National Football League.

Selected by New York Giants in seventh round (255th pick overall) of 2003 NFL Draft…Signed by Giants on June 16, 2003…Claimed on waivers by Cincinnati Bengals on August 26, 2003…Waived by Bengals on August 31, 2003…Re-signed by Bengals to practice squad on September 1, 2003…Activated on October 16, 2003…Signed by Houston Texans on March 18, 2006.

PRO: Skilled, physical receiver with sure hands…has developed into a dangerous receiving threat over the last two years…displays a knack for getting open underneath and has also proven the ability to beat defenders deep…has played in 104 career games with 48 starts…career totals include 223 catches for 2,736 yards and 16 touchdowns…has also rushed 13 times for 82 yards.

2009 (Houston 14/14): Inactive in the season opener vs. the New York Jets (9/13) and at Tennessee (9/20)...made his first start of the season vs. Jacksonville (9/27) and led the team in receiveing with 96 yards on seven receptions along with one rush for 11 yards on a fourth-and-one play in the second quarter...scored his first touchdown on the young season, a nine-yard reception in the second quarter...started at wide receiver and caught one pass for 41 yards vs. Oakland (10/4)...made four receptions for 37 yards at Arizona (10/11)...had three receptions for 29 yards at Cincinnati (10/18)...caught three passes for 29 yards vs. San Francisco (10/25)...caught four passes for 29 yards and had one rush for 13 yards in the Texans win at Buffalo (11/1)...made five receptions for 67 yards at Indianapolis (11/8)...played in his 100th career game and caught four passes for 27 yards vs. Tennesseee (11/23)...started at WR and tied for the team lead with seven catches for a game-high 73 yards vs. Indianapolis (11/29)...made four receptions for 54 yards and two first downs at Jacksonville (12/6)...caught two passes for 17 yards vs. Seattle (12/13)...caught four passes for 42 yards and a touchdown at St. Louis (12/20)...caught three passes for 21 yards at Miami (12/27).

2008 (Houston 16/16): Started in all 16 games for the first time in his career…finished the season with 60 receptions for 899 yards and eight touchdowns…eight scoring catches tied the team record and tied for third-most in the AFC…teamed with WR Andre Johnson to become the most productive receiving tandem in the NFL with a combined 2,474 yards…caught three passes for 41 yards, including a touchdown pass from QB Matt Schaub in the fourth quarter at Pittsburgh (9/7)…caught four passes for 15 yards and had one rush for three yards at Tennessee (9/21)…finished with eight catches for 76 yards along with a career-high two touchdowns at Jacksonville (9/28)…caught four passes for 98 yards, including a 30-yard grab on the last drive of the game that set up the winning touchdown, vs. Miami (10/12)…caught five passes for 70 yards and tied a career high with two touchdowns vs. Cincinnati (10/26)…caught four passes for 85 yards, including a 60-yard touchdown vs. Baltimore (11/9)…caught three passes for 79 yards, including a career-long 61-yard catch in the first quarter at Indianapolis (11/16)…61-yard catch was the 150th of his career…caught his seventh touchdown pass of the season and the 13th of his career when he hauled in a 17-yard scoring pass on the opening drive at Cleveland (11/23)…caught six passes for 146 yards and one touchdown at Green Bay (12/7)…his 58-yard touchdown catch in the first quarter was his eighth of the season, tying the franchise single-season record set by WR Andre Johnson in 2007…that catch also put him over 2,000 yards in his career.

2007 (Houston 16/15): Started 15 of 16 games and caught a career-high 65 passes for 800 yards and five touchdowns…was the only Texans receiver to start more than 10 games in 2007…tied a team record with 12 receptions in one game…one of three Texans to have 800-plus receiving yards on the season…started at Carolina (9/16), recovered a fumbled kickoff in the end zone for his first Texans touchdown…made one catch for seven yards...started at Jacksonville (10/14), had a career day with 12 receptions for 160 yards, giving him his first 100-yard game…his 160 receiving yards ranked second in team history, behind WR Andre Johnson (170 vs. Minnesota 10/10/04)...his 12 receptions tied Johnson's Texans record for receptions in a game…started at WR vs. Tennessee (10/21) and made six receptions for 97 yards, his second-highest receiving total of the season, and his first receiving touchdown as a Texan, a six-yard score from QB Sage Rosenfels in the fourth quarter…started at Cleveland (11/25) and made six receptions for 65 yards and a touchdown…started at Indianapolis (12/23) and had four receptions for 69 yards and his fifth touchdown of the season on the opening drive.

2006 (Houston 16/2): Played in all 16 games, starting two, in his first season as a Texan…saw the majority of his action on special teams and played sparingly as reserve wide receiver…caught 17 passes for 160 yards with a long reception of 15 yards…made his first start of the season at WR vs. Miami (10/1) and caught a season-high three passes for 25 yards, with a long gain of 10 yards…played in his 50th career game at WR at Tennessee (10/29)…caught two passes for 22 yards, including a 13-yard reception on the Texans touchdown drive in the fourth quarter at New York Jets (11/26).

2005 (Cincinnati 16/2): Played in all 16 games for the second consecutive year…started the first two games of his career…made 19 receptions for 211 receiving yards and one touchdown…contributed 17 special teams tackles…caught four passes for 47 yards and a 20-yard touchdown to open the season at Cleveland (9/11)…had a season-high 65 receiving yards on four catches and a long catch of 21 yards in a victory at Tennessee (10/16).

2004 (Cincinnati 16/0): Played in all 16 games for the first time in his career with no starts…caught eight balls for 67 yards…finished fifth on the team with 14 special teams tackles…caught two passes for 23 yards, including a long of 18 yards in his first two-catch game of his career at Washington (11/14).

2003 (Cincinnati 11/0): Played in 11 games with no starts…joined the Bengals after being released by the New York Giants at the end of training camp…spent the first five games on the practice squad…caught three passes for 18 yards…made NFL debut and had one special teams tackle vs. Baltimore (10/19)…first career reception of nine yards at San Diego (11/23).

COLLEGE:
Left Eastern Michigan with school records for receptions with 211, receiving yards with 2,838 and touchdown catches with 20…made at least one catch in each of his last 34 games…earned first-team All-MAC honors as a senior with 93 receptions for 1,368 receiving yards, which were both school single-season records.

PERSONAL:
Married to Caroline…attended Libertyville (Ill.) High School, where he lettered three times in football and was named first-team all-state as a senior…general business major at Eastern Michigan…hometown is Vernon Hills, Ill., located just outside of Chicago…born Kevin Patrick Walter.

View the full website biography of Kevin Walter.