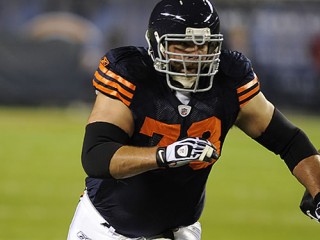 Kevin Shaffer
Date of birth : 1980-03-02
Date of death : -
Birthplace : Salisbury, Maryland
Nationality : American
Category : Sports
Last modified : 2011-01-10
Kevin Shaffer is an American football offensive tackle for the Chicago Bears of the NFL.

NFL Career:

Eight-year NFL veteran enters his second season in Chicago after spending time in Atlanta (2002-05) and Cleveland (2006-08)... Played in 116 career games, including 91 starts (55 at LT, 36 at RT)... Has started all 16 games three of the last five seasons and started at least 15 games for five straight years (2004-08)... Started the last 86 straight games prior to joining the Bears... In his five years as a starter, has helped block for four 1,000-yard rushers (2004-05, 2007-08).

2009 SEASON: Appeared in all 16 games, starting the final five games of the season at RT... Made his Bears debut at GB (9/13)... Part of offensive line that helped Jay Cutler throw for 3,666 yards, the second highest mark in team history.

2008 - Started and played in 15 games at RT for the Browns... Helped block for a 1,000-yard rusher (Jamal Lewis)... Committed just one penalty throughout the season.

2007 - Began training camp at LT but moved to RT and started all 16 games... Part of line which allowed only 19 sacks all season, tied for third fewest in the NFL... Part of offensive which ranked eighth in the NFL with 25.1 points per game... Helped block for a 1,000-yard blocker (Jamal Lewis, 1,304 yards)... Member of O-line that protected Derek Anderson who threw for 3,787 yards.

2006 - First season with the Browns, started all 16 regular season games at LT... One of three Browns offensive players to start every game... Made his Browns debut in the opener vs. New Orleans (9/10).

2005 - Started all 16 games at LT for Atlanta... Part of an offensive unit which paved the way for the NFL's top rushing attack (159.1 yards per game)... Helped pave the way for a 1,000-yard rusher (Warrick Dunn, 1,416 yards)... Team rushed for over 200+ yards on five occasions.

2004 - Started 15 games at LT... Member of offensive line that helped the Falcons lead the League with 2,672 yards rushing (5.1 ypc)... Atlanta tied a team record with six 200+ yard rushing games, while leading the league with 22 runs of 20 yards or more... Helped RB Warrick Dunn rush for 1,106 yards.

2003 - Played in all 16 games, including 8 starts at LT... Played on special teams prior to his move to the starting lineup... Made his first NFL start at LT at N.Y. Giants (11/9).

2002 - Played in six regular season games and two postseason contests, mostly on special teams... Made his NFL debut in the season opener at Green Bay (9/8)... Inactive for 10 games.

College:

Honorable mention all-WAC choice after starting 10 games at LT as a senior... Also named to the National Strength and Conditioning Association All-America Athlete Team... Had a streak of 26 consecutive starts snapped during the 2001 campaign.

Personal:

Two-year letter winner at Conestoga Valley (Lancaster, Pa.) H.S.... First-team all-conference selection on both offense and defense as a senior... Did not begin playing football until his junior season... Majored in finance at Tulsa... Born in Salisbury, Md... Married to wife, Tara, and the couple have two children, daughter, Ava Nicole and son, Austin Gabriel.


View the full website biography of Kevin Shaffer.