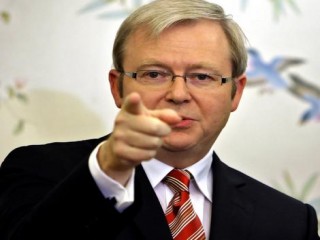 Kevin Rudd
Date of birth : 1957-09-21
Date of death : -
Birthplace : Nambour, Queensland, Australia
Nationality : Australian
Category : Politics
Last modified : 2012-01-17
Kevin Michael Rudd is an Australian politician who was the 26th Prime Minister of Australia from 2007 to 2010. He has been Minister for Foreign Affairs since 2010. A member of the Australian Labor Party, Rudd has served in the House of Representatives since the 1998 federal election, representing Griffith, Queensland.

Rudd was born in Queensland and grew up on a dairy farm. He joined the Australian Labor Party at the age of 15 and was dux of Nambour State High School in 1974. He studied an arts degree in Asian studies at the Australian National University, majoring in Chinese language and Chinese history. In 1981, he married Thérèse Rein and they have three children. He worked for the Department of Foreign Affairs from 1981 and from 1988 he was Chief of Staff to the Queensland Labor Opposition Leader and later Premier, Wayne Goss. After the Goss government lost office in 1995, Rudd was hired as a Senior China Consultant by the accounting firm KPMG Australia.

Rudd was elected to Parliament in 1998 and was promoted to the Labor frontbench in 2001 as Shadow Minister for Foreign Affairs. In December 2006 he had become the leader of the Labor party and Leader of the Opposition; the party overtook the incumbent Liberal/National coalition government led by John Howard, in both party and leadership polling. Rudd made policy announcements on areas such as industrial relations, climate change, an "education revolution", a National Broadband Network, and health. Labor won the 2007 election, with a 23-seat swing. The Rudd government's first acts included signing the Kyoto Protocol and delivering an apology to Indigenous Australians for the stolen generations. The previous government's industrial relations legislation, WorkChoices, was largely dismantled, Australia's remaining Iraq War combat personnel were withdrawn, and the "Australia 2020 Summit" was held. In response to the Global Financial Crisis, the government provided economic stimulus packages, and Australia was one of the few western countries to avoid the late-2000s recession.

Beginning with Rudd's election to the Labor leadership, the party enjoyed a long period of high popularity in the opinion polls. However, a significant fall in Rudd's personal electoral standing was blamed on a proposed Resource Super Profits Tax and the deferral of the Senate-rejected Carbon Pollution Reduction Scheme. The decline in his government's support in opinion polls and growing dissatisfaction of his leadership within the Labor Party led his deputy, Julia Gillard, to announce on 23 June 2010 that she would contest the leadership in a caucus ballot the following day. Knowing he would be defeated if he contested the leadership, Rudd stepped down as party leader and Prime Minister on the morning of the ballot. He successfully recontested his parliamentary seat at the 2010 election, and was subsequently promoted back to cabinet as Minister for Foreign Affairs in Gillard's Labor minority government.

Rudd was appointed Minister for Foreign Affairs in the Gillard government and was sworn into this position on 14 September 2010. He represented Gillard at a UN General Assembly meeting in September 2010.

Material relating to Kevin Rudd's term as prime minister was included in the United States diplomatic cables leaks released en masse by Wikileaks in 2010. As foreign minister, Rudd denounced the publication of classified documents by wikileaks. The Australian media extensively reported purported references to Rudd in the cables — including frank discussions between Rudd and US officials regarding China and Afghanistan; and negative assessments of some of Rudd's foreign policy initiatives and leadership style, written in confidence for the US government by the US Ambassador to Australia.
Prior to his December 2010 visit to Israel, Rudd informed the The Australian newspaper of a new policy position on Israeli nuclear facilities, saying that they should be subject to International Atomic Energy Agency inspection. Israeli Foreign Minister Avigdor Lieberman rejected the call.

Following the 2011 Egyptian revolution and resignation of Egyptian president Hosni Mubarak, Rudd called for "constitutional reform and a clear timetable towards free and fair elections".

In response to the 2011 Libyan civil war, Rudd announced in early March 2011 that a no-fly zone should be enforced by the international community as a "lesser of two evils" to prevent dictator Muammar Gaddafi from using the Libyan airforce to attack protesters and rebels. The Age and other media outlets reported this as representing a rift between Rudd and Prime Minister Gillard, and said that US officials in Canberra had sought official clarification on what the Australian government was proposing. Speaking from Washington, Ms Gillard said in response that the United Nations Security Council should consider a "full range" of options to deal with the situation, and that Australia was not planning to send forces to enforce a no-fly zone.

Following the devastating 2011 Tōhoku earthquake and tsunami in Japan, Rudd announced that in his conversation with Japanese foreign minister Takeaki Matsumoto, he had offered Australian field hospitals and disaster victim identification teams to assist with recovery. He also said he had offered Australian atomic expertise and requested urgent briefings following an explosion at a nuclear plant, telling ABC TV: "We and the rest of the international community need urgent briefings on the precise status of these reactors".

Rudd and the rest of the federal government have been recent beneficiaries of a three per cent raise — an increase that bumps the Aussie P.M.'s salary up by almost $10,000 every year until 2011. A Senate leader actually called for Rudd's salary to be tripled to $1 million, but the everyman Prime Minister sheepishly declined. In fact, Rudd's three per cent raise was a long time coming. After he took office in 2007, the newly-minted Aussie leader froze his own salary and then deferred a similar increase the next year. The P.M. remains committed, he maintains, to improving the quality of life for all people in Australia, where the average annual household income totals just over $60,000.
View the full website biography of Kevin Rudd.