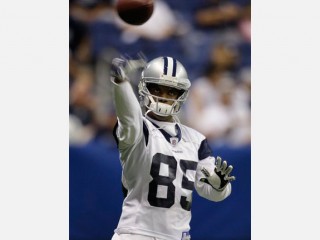 Kevin Ogletree
Date of birth : 1987-08-05
Date of death : -
Birthplace : Queens, New York
Nationality : American
Category : Sports
Last modified : 2010-11-08
Kevin Ogletree is an American football player currently with the Dallas Cowboys.

PRO:

Kevin Ogletree arrived in Dallas immediately after the 2009 NFL Draft as a collegiate free agent with a long shot to make the club. He impressed coaches with his hands, speed and knowledge of the game through the offseason and preseason enough to earn a spot on the club's active roster. He finished the preseason second on the team with seven catches for 87 yards and a team-high two touchdowns while returning five kickoffs 142 yards for a 28.4 average. During the regular season, the promotion of Miles Austin to one of the starting receiver spots at Kansas City (10/11) gave Ogletree the chance he needed to get on the field. He settled in as one of the team's kickoff returners, finishing the season second on the team with eight returns for 166 yards, while also seeing time in multiple receiver sets to finish with seven catches for 96 yards. With one year of experience under his belt, Ogletree once again should find a way onto the Cowboys roster as a reserve in a deep receiving corps while also seeing time on special teams.

2009:
# Was the only rookie free agent to make Dallas' active roster.
# Played in 11 games as a rookie, seeing a majority of his time on special teams units, finishing with seven catches for 96 yards, eight kickoff returns for 166 yards (20.8 avg.) and one special teams tackle.
# Was inactive the first four games of the season, making his NFL debut in the overtime win at Kansas City (10/11) as the club's kickoff returner. Finished with four kickoff returns for 94 yards with a long return of 32 yards on the opening kickoff - his first career play.
# Lined up on offense for the first time in his pro career late in the fourth quarter against Seattle (11/1) and caught his first pass - a 19-yarder on third-and-10.
# Had two catches for 38 yards - both going for a first down on third near the goal line - at Philadelphia (11/8). Also had his first career rush on a six-yard end around.
# Had one catch for one yard and one kickoff returned for 22 yards at Green Bay (11/15).
# Had two kickoff returns for 30 yards and his first career special teams tackle at the N.Y. Giants (12/6).
# Had two catches for 23 yards in the win at previously undefeated New Orleans (12/19).
# In his postseason debut in the Wild Card Playoff Game against Philadelphia (1/9/10), had one catch for a five-yard first down and one kickoff return for 10 yards with a tackle on special teams.
# Led the team with a career-high six kickoff returns for 88 yards in the Divisional Playoff loss at Minnesota (1/17/10).

COLLEGE:

# While at Virginia, totaled 117 receptions for 1,332 yards (11.4 avg.) and nine touchdowns.
# Led the team with 58 receptions for 723 yards (12.5 avg.) and five touchdowns while also returning 15 kickoffs for 274 yards (18.3 avg.), starting all 12 games as a junior.
# Issued a medical redshirt season in 2007 after suffering a knee injury during spring drills that forced him to miss the entire season.
# Had breakout year as the team's primary receiver as a sophomore, appearing in all 12 games with starts in nine of the final 10, to lead the team with 52 receptions, 582 yards (11.2 avg.) and four scores.
# Became just the ninth player in Cavalier history to record 50 catches in a season and ranked third in the ACC in receiving and seventh in receiving yards.
# Appeared in seven games as a true freshman and caught seven passes for 27 yards.

PERSONAL:

# Attended Holy Cross High School in Queens, N.Y.
# Was named Daily News and Newsday Player of the Year as a senior after catching 61 passes for 1,170 yards and 19 touchdowns, all figures that were league records.
# Also intercepted five passes.
# Was also named Newsday and Daily News all-city and All-Queens.
# His 19 touchdown catches were one shy of the state record.
# Led team to a conference championship.
# All-conference performer as a junior when he caught 40 passes for 1,027 yards and 10 touchdowns.
# Also a standout in basketball and baseball.
# Was a sociology major at Virginia.

COMMUNITY:

# 2009 Dallas Cowboys Rookie Club
# Annual team Holiday Hospital Visits.
# Salvation Army Angel Tree Christmas Program.
# Annual Dallas Cowboys Kickoff Luncheon and Cowboys Family Cookbook benefitting Happy Hill Farm.
# Make-A-Wish Foundation of North Texas.
View the full website biography of Kevin Ogletree.