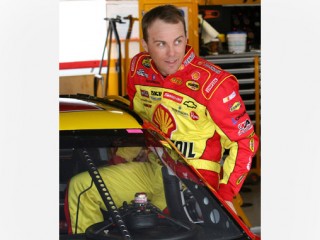 Kevin Harvick
Date of birth : 1975-12-08
Date of death : -
Birthplace : Bakersfield, California, U.S.
Nationality : American
Category : Sports
Last modified : 2010-07-27
Bring up the subject of Kevin Harvick among NASCAR fans and you are likely to generate some spirited discussion. Is intense, hard-working Kevin a sourpuss or a sweetheart? Is he a future Hall of Famer or—as some claim—a menace to the other drivers on the track? Is he an intimidator or an imbecile? Many of those questions were answered at Daytona in 2007, when Kevin put years of fistfights, fender-benders and fines behind him by taking the checkered flag. Now everyone as asking one more question: Will the real Kevin stand up? This is his story ...

GROWING UP

Kevin Harvick was born on December 8, 1975, in Bakersfield, California. He was one of three children. His parents, Mike and JoNell, encouraged Kevin and his siblings, Amber and Clayton, to develop diverse interests. Harvick was drawn to sports. He played baseball, basketball, football and soccer. His favorite sport to watch was auto racing. It wasn't even close.

In the early 1980s, before the rest of America caught the racing bug, Bakersfield was at the epicenter of California car culture—and had been for more than 50 years. Kevin's father, a firefighter, dabbled in racing from time to time. Once a crew chief for a local racing team, Mike enjoyed working on cars in his spare time, and his son liked to hang around and watch his dad.

Even as a kid, Kevin was a hard-nosed competitor. His aggressive driving style has very definite roots in his early childhood, when he terrorized his siblings with his Big Wheel. Kevin recalls bumping his sister during a race so that she slammed into the garage door; he wanted to see how loud a bang she would make. The word got out quickly around the neighborhood: don't race with Kevin unless you're serious about winning. And never, ever pass him near a chain-link fence.

Kevin took the wheel of his first motorized vehicle—a go-kart—after he turned five. Once he got the hang of it, he started entering, and winning, local races. By age nine, Kevin was capturing national titles. A year later, he knew exactly what he wanted to do with his life. On a poster project for his 5th grade class, he listed competing in the Indy 500 and NASCAR's Winston Cup series as his career goals. By 14, Kevin was well on the way—he had seven national go-kart championships and a pair of Grand National titles to his credit.

Kevin's dad acted as his mechanic, pit crew and coach. Mike tried to channel his son's intense competitiveness into tactics that would deliver results as he worked his way up the auto racing ladder. He taught Kevin to push hard all the time, even when he had no chance of winning. He felt this would accelerate his skills and develop an instinct for that fine line where you can't push any harder. Granted, there might be times when Kevin would be viewed as a menace, but there was something to be said for having that kind of reputation.

Indeed, Kevin seemed to do best when other drivers were looking in their rear-views to see where he was. They tended to get out of his way, whether he was snaking his way toward the leaders or trying to establish a lead himself. Of course, this also led to a lot of acrimony. Many drivers considered Kevin dangerous.

At the 1991 Grand Nationals in Riverside, California, Kevin drew the ire of his fellow competitors when he tried to muscle his go-kart into the lead on the first lap. The 15-year-old nearly caused a massive pile-up. After that, threats from other drivers became commonplace. Kevin was persona non grata on the go-kart circuit. It was time to move on.

Mike built his son his first proper stock car later that year. He entered it in NASCAR Late Model events around Southern California, and within a couple of seasons, Kevin was one of the better drivers in the region. His biggest win came in 1993, when he took the checkered flag at the Mesa Marin Raceway in his hometown of Bakersfield.

There was more to life than racing for Kevin, though not much more. Like most young and gifted athletes he was almost completely consumed by his sport. He attended North High School and did well enough in the classroom. He also became an accomplished wrestler—good enough to qualify for the state tournament. But wrestling was not in Kevin's heart. Once he tanked a match so that he could make a Friday evening race on time.

Wrestling did do one thing for Kevin. In order to make weight and stay in peak condition, he became very attuned to what he was putting into his body. JoNell had long preached the benefits of good nutrition, and in high school Kevin finally caught on. Today, he is one of the fittest drivers in racing.

ON THE RISE

By the time he graduated from North High, Kevin was ready to move up to Featherlite competition. In fact, he blew off his senior prom to enter a race. This tier of racing features low-slung machines that harken back to the old hot-rodding days. Many of NASCAR's biggest stars first gained fame in this division, including Harry Gant and Jimmy Spencer. Steve Park, eight years older than Kevin, was one of the nation's leading Featherweight drivers when Kevin began running.

In 1995, Kevin established himself as a regular on the NASCAR Featherlite Southwest circuit. He won an event at Raceway Park in Tucson, Arizona, and finished 11th overall in the point standings—a performance good enough to earn Rookie of the Year honors.

The 1995 season also saw Kevin spread his racing wings and enter Winston West and Craftsman Truck races. Still a teenager, he was moving past older drivers whose careers were peaking at these levels. Of course, he bumped more than a few of them on the way—his pedal-to-the-medal style was still a bone of contention among his competitors.

In 1997, as he approached his 22nd birthday, Kevin faced a decision all young racers do. Either this was going to be a full-time career or a hobby. Racing at the lower levels can be financially unrewarding, and neophyte drivers in particular can have a hard time attracting sponsors and scraping together operating cash. It is not something you do unless you are willing to shoot for the stars. Up to this point, Kevin had been playing it half way. He had been improving as a driver and attracting a good deal of attention in his sport. But he was also hedging his bets, taking classes at Bakersfield Junior College.

Kevin left school and threw himself into racing. He got the necessary backing and became a regular on both the Winston West stock-car circuit and the Craftsman Truck Series in 1998. He held his own in the truck races, while burning up the track in Winston West events. He won three races in all, finished atop the Winston West point standings, and was a hands-down choice for Rookie of the Year. Kevin fattened his bank account to the tune of a half-million dollars and added a Closed-Wheeled Driver of the Year award to his trophy case. He was on his way.

The man who would get him there was Richard Childress, one of NASCAR's most powerful personalities and the owner of Richard Childress Racing, the sport's top team. Childress had teams competing on the West Coast and often flew across the country from his North Carolina headquarters to check on their progress personally.

One of his favorite spots was Sears Point Raceway, located just 30 minutes north of San Francisco. A friend named Jim Offenbach suggested Childress take a look at Kevin while he was there in 1998. The kid was fearless and talented, Offenbach said, much like Childress's longtime friend and business associate, Dale Earnhardt. He was also shooting past veterans like another NASCAR legend, Jeff Gordon. Intrigued by this combination, Childress watched Kevin and liked what he saw. He kept close tabs on his development over the next 18 months.

Always looking for new worlds to conquer, Kevin concentrated on the Craftsman Truck Series in 1999. He had finished 17th the year before and wanted to do better. He entered 25 events in 1999, improved to 12th, and pocketed nearly $300,000 in prize money. Kevin also entered a pair of ARCA races, finishing second in Charlotte and third at Talladega.

Childress was less concerned with Kevin's stats than his approach to racing. Where others saw a dangerous risk-taker, he saw someone who never backed down from a challenge. Childress also knew Kevin was a smart and resourceful driver—the kind that can make a smooth transition to Winston Cup racing.

Childress was most impressed by the young man's straight-forward racing philosophy. Kevin's goal was to drive a little faster than everyone else; whether he had to work his way up from the back of the pack or increase his lead from in front, this approach served him well. At the end of the 1999 season, Childress signed him to drive in the Busch Grand National Series for 2000.

Understandably, Kevin was on top of the world that winter. The Busch Series is to Winston Cup kind of what Triple-A baseball is to the Major Leagues, only much closer. Many drivers compete in both and, when schedules allow, some of the top names in NASCAR can be found racing in Busch Series events. As Kevin went to work preparing his #32 Delco Chevrolet for the coming season, it suddenly dawned on him—Earnhardt was now one of his RCR teammates.

Kevin had other things to get excited about. Months earlier at Michigan Speedway, he had met DeLana Linville, a public relations specialist for driver Randy LaJoie. DeLana knew the racing world inside-out and even competed herself from time to time. Prior to working for LaJoie, she had been part of Jeff Gordon's publicity team. Kevin asked her out, and took her to RCR's famously lavish holiday party. Soon after the two became inseparable.

In final preparation for the 2000 season, Kevin pushed his Chevy hard during a series of test runs. Twice during these trials he blew a front tire—a potentially deadly mishap with an inexperienced driver behind the wheel. Both times, Kevin reported the blowout to his pit crew while calmly bringing the car under control. His team was impressed. It was an important first step toward building the kind of bond that produces championships.

The first 10 races of the Busch season went predictably for Kevin. As every rookie does, he struggled for consistency, though he still notched three Top 10 finishes. In May, at the Hardee's 250 in Richmond, Kevin finished third. This seemed to settle him down, and he was golden the rest of the way. In June, he grabbed his first pole at the MBNA Platinum 200 at Dover Downs International Speedway in Delaware. Kevin ran second in the Myrtle Beach 250, and then broke through for his first Busch win, in the Carquest Auto Parts 250 at Gateway International Raceway in Madison, Illinois. After leading the pack at various times throughout the July race, he moved ahead for good on lap 166. His average speed of 116.595 mph set a new record for the event. The win vaulted Kevin to fourth place in the points standings and helped lift his spirits after the death of friend and fellow driver Kenny Irwin a few weeks earlier in New Hampshire.

In August, Harvick took the checkered flag again, this time at the Food City 250 in Tennessee at the Bristol Motor Speedway. After several so-so starts, Kevin won for the third and final time in the October Sam's Town 250 at the Memphis Motorsports Park. The 2000 season ended three weeks later.

Kevin's first season in the Busch Series was a real eye opener. The 24-year-old finished third behind RCR teammate Jeff Green and ahead of big-name drivers like Todd Bodine, Matt Kenseth, Casey Atwood and Ron Hornaday. Kevin's 4,113 points and $995,274 in earnings shattered rookie records, and he tied the mark for most wins and highest finish by a newcomer, both set by Steve Park in 1997. Needless to say, Kevin was a no-brainer for Busch Rookie of the Year.

One racing veteran whose eyes were open was Earnhardt. Twice during the year, the Intimidator let Kevin take his black #3 car for a spin, and both times he liked what he saw. Earnhardt had heard that Kevin reminded some of him, and he was inclined to agree. He suggested to Childress that Kevin deserved a promotion to the Winston Cup circuit. Childress agreed and secured America Online as a sponsor. The plan was for Kevin to compete full-time on the Busch Series and run in seven Winston Cup events during the 2001 season.

Kevin and DeLana got engaged in December and set a wedding date for late February, in Las Vegas. The Winston Cup and Busch tours were scheduled for a stop ther the first weekend in March, so the timing would be ideal—everyone the couple knew in racing would be around. A month before the ceremony, Kevin and DeLana welcomed a new member of the Harvick family: a 130-pound bull mastiff named Backup.

MAKING HIS MARK

On Sunday, February 18, the racing world was turned upside down when Earnhardt crashed and died on the final lap of the Daytona 500. Kevin and DeLana, now living in Winston, North Carolina, had been out to dinner when then tragedy occurred. They didn't find out until they returned home later that evening. The two went over to fellow RCR driver Mike Dillon's apartment to share their sorrow. As soon as the initial shock wore off, Kevin realized that his life was about to change dramatically.

Several days later, after attending Earnhardt's memorial service, Childress, Kevin and several other RCR members met in Atlanta to discuss their next move. After carefully weighing their options, they decided that Kevin should race in Earnhardt's stead. Kevin made one thing clear—he would not abandon his Busch Series team. They had worked hard all winter and were on the verge of something special. If need be, he would race 60 times in 2001, splitting his time between the two circuits.

The following day, Childress held a press conference to make the official announcement. Kevin had never seen so many television cameras. When it was his turn to speak, he was honest and up front, telling reporters that he had no intention of trying to "replace" Earnhardt. Of course, in the minds of every NASCAR fan, that is exactly what he would be doing. For Kevin, Earnhardt might be more intimidating in death than he was in life.

Childress had Earnhardt's Monte Carlo car painted white and renumbered it 29 for Kevin's first Winston Cup start. Kevin barely qualified, grabbing the 36th and final spot on the grid for the Dura Lube 400 at the North Carolina Speedway in Rockingham. Two days of rain delayed the start, driving the anxious rookie up the wall. When the race was finally run, he finished 14th—not bad considering the circumstances.

Kevin and DeLana then hurried to make their wedding date in Las Vegas. They were married at the Rio Hotel and held their reception at the Stardust. That weekend Kevin finished 12th in the Busch race and 8th in the Winston Cup event.

The following weekend, he raced twice again, this time in Atlanta. In the Busch event, he came in 8th. In Cracker Barrel 500, Kevin did considerably better. He stayed with the leaders all day long, trading paint with the likes of Jeff Gordon, Dale Jarrett, Jerry Nadeau, and Dale Earnhardt, Jr. With 10 laps to go, Kevin spied a chance to win and bolted to the front. Gordon stayed close and tried to set him up for a final pass. The two young guns came down the final straightaway neck-and-neck. Somehow, Kevin held off the challenge, winning by a factions of a second. To this day, he claims he could feel Dale's ghost in the car with him.

Kevin celebrated his victory and honored his fallen comrade by lapping the track in reverse while holding three fingers out the window. As he headed toward Victory Lane, he spotted Chocolate Myers, the Intimidator's gas man. Beyond him was a gauntlet of crew members from the other teams waiting to congratulate him. Kevin spotted DeLana, who was in tears. She was so overcome in the final moments of the race that she had switched off her radio and closed her eyes. Meanwhile, Gordon and Jarrett found Childress and offered their congratulations. Later the team owner said Kevin's win was the most emotional he had ever experienced.

In the old days of stock-car racing, the Firecracker 500 winner would have gone out and had a few beers with the boys. In the modern age of NASCAR, a great story like Kevin's had to be told and retold a dozen times. Reporters mobbed Kevin from the moment he pulled himself out of Earnhardt's old car. ESPN's SportsCenter featured him on its "Sunday Conversation." CNN scheduled him for a live interview. The media crush extended into Monday, as Kevin was asked to do one radio interview after another.

For the rest of the year, Kevin was surrounded by racing fans wherever he went. He was hardly living off his Firecracker 500 win, however. Besides maintaining a Top 20 position in the Winston Cup rankings, Kevin was actually leading all Busch Series drivers in points. Following his win in Atlanta, he won his first Grand National event at the Texas Motor Speedway with help from teammate Mike Skinner. Kevin was in position to do something no driver had ever done: finish in the Top 10 of both racing circuits.

There would be bumps along the way. In June, at the winding Sears Point road course in California, he got into a final-lap duel with Robby Gordon only to watch Tony Stewart shoot past both of them for the win. Gordon called Kevin out after the race, and the two nearly came to blows. Gordon accused him of dirty driving. Kevin refused to apologize.

Kevin got his second Winston Cup win in July at the Chicagoland Speedway. After leading for nearly half the race, he edged Robert Pressley by half a second. The following weekend, he returned to Gateway—site of his first career Busch Series triumph—and defended his title at the Carquest Auto Parts 250. He celebrated with a rubber-burning spin in front of 85,000 fans, and then hopped a plane to New Hampshire for the New England 300. Kevin was so exhausted that he required an IV to rehydrate him on the flight. He went out and finished eighth.

Things remained hectic the rest of the way. The following Saturday, Kevin finished third in the NAPA AutoCare 250 in Colorado, and then jetted to Pocono Raceway in time to finish 15th at the Pennsylvania 500. As the dog days of August passed, Kevin managed to maintain his hold on first place in the Busch standings and moved as high as seventh on the Winston Cup charts. Amazingly, Kevin was actually adjusting to his crazy schedule.

Or was he? Despite a string of impressive finishes, Kevin was feeling the strain. The day after winning the Food City 250 at Bristol Motor Speedway, he got into a fight with driver Chad Little. This followed a bumping incident with teammate Jeff Green, who was trying to defend his Busch title against Kevin. Hoping to head off a major incident, NASCAR find Kevin $10,000 and issued a reprimand. The slap on the wrist did little to slow Kevin down. During the second weekend in September, he ran three races in one weekend under the lights at the Richmond International Raceway, including a Craftsman truck event.

Over the last two months of the season, it became clear even to Kevin that his schedule had dulled his competitive edge. He was tired, he was making mistakes, and it was all he could do just to maintain his position in the rankings. Meanwhile, the other Winston Cup drivers were complaining loudly about his daredevil moves. Childress pulled Kevin aside and told him to cool it. He was up for a lot of awards, and there was a pile of endorsement money waiting for him if he could finish out the year without any ugly incidents.

At the EA Sports 500 in Talladega, Kevin tapped Todd Bodine's bumper and sent him careening into the wall. Bodine called Harvick an "idiot" afterwards and criticized his confrontational attitude. This was just the kind of bad publicity Childress feared. Luckily, racing luminaries Darrell Waltrip and Benny Parsons came to Kevin's defense. Both praised his feistiness and reminded everyone how well he was handling the difficult job of taking over Earnhardt's ride.

The last four weeks of Kevin's great season were ones he'd just as soon forget. Although he held on to win the Busch Series championship and finished ninth in the Winston Cup rankings, he recorded just one Top 10 finish. Kevin admits that he was often driving to survive, not to win.

The Childress publicity team, meanwhile, was hard at work polishing up Kevin's image. Prior to the Napa 500 in Atlanta (the year's second-to-last race), Kevin made a hilarious appearance in TNT's NBA studio with Charles Barkley and Ernie Johnson Jr. The following evening he waited on customers at a Sonic Drive-In restaurant. These publicity stunts showed a softer side of Kevin and also loosened him up. He ran a strong race and finished third.

Kevin's final race of the year, the New Hampshire 500, was his 69th of the 2001 season. To put that in perspective, consider that in the "good old days" of stock-car racing a top driver would typically run between 40 and 50 times. Kevin became the first driver to win a Busch championship and Winston Cup Rookie of the Year honors in the same season. In 35 Winston Cup starts he finished in the Top 10 16 times. In 33 Busch starts, he recorded five wins and 24 Top 10 finishes. The Craftsman truck race was his 69th.

After a well-deserved rest, Kevin set his sights on proving he could repeat his stunning performance in 2002. He would do so in a silver and black Chevy, a tip of the hat to Earnhardt. At the race where the Intimidator's career ended—and, in a way, Kevin's began—Kevin was running strong in second place when he got into a game of chicken with Jeff Gordon. Gordon tried to muscle his way past Kevin on the 149th lap, but Kevin refused to budge. The two traded paint and triggered an 18-car crash that knocked Kevin out of the race.

Kevin shook off the disappointment of Daytona and went after wins in '02 just as aggressively as he had the year before. Although he was devoting the lion's share of his attention to Winston Cup events, he did compete for Childress in the odd Busch Series race and also drove his own trucks in a few Craftsman events. It was after one of these competitions—the March running of the Busch Channellock 250—that he tangled with driver Greg Biffle. The incident drew the ire of NASCAR, which usually doesn't mind a stray punch in the garage every now and then. Obviously, tour officials meant to send Kevin a message. He was fined $15,000 and placed on probation through August.

Apparently Kevin didn't get the message. During an April Craftsman event at Martinsville, he was parked after two on-track incidents with Coy Gibbs. NASCAR slammed Kevin with a $35,000 and extended his probation through the end of the year.

This turn of events added an interesting new wrinkle to the Winston Cup season. Kevin struggled to match his '01 performance and was in contention in only a handful of races. In late May, Childress tried to snap him out of his funk by by swapping his crew with Robby Gordon's. Kevin started working with Gil Martin and most of the crew from the No. 31 Chevrolet. His performance improved, as he won the pole at the Pepsi 400, and finished a respectable 11th. A week later he took the checkered flag in the Tropicana 400 at the Chicagoland Speedway.

The rest of the year brought mixed results. Kevin failed to win another Winston Cup rac, but ran among the leaders more consistently. He also added the 2002 IROC championship to his resume. Kevin just missed finishing in the Top 20 at season's end.

Childress watched his young star struggle and resisted the temptation to bring the hammer down. As a former driver and longtime team boss, he knew that the two Winston Cup seasons Kevin had under his belt were like dog years in terms of experience and maturity. The kid knew how to win, and now he knew that he had to adjust. In other words, Kevin had to stop acting like a jerk and treating people like garbage. If opponents in the sport don't like you, they'll find a way to let the air out of your tires—and you won't even know it until you're running on rims.

Kevin came into the 2003 season a new man, and his talent began to flow again. Though victory eluded him in the early going, he was solidly ensconced in the Top 10. The crew switcheroo ordered by Childress midway through 2002 continued to pay dividends, especially after he tweaked it again in March. This time he inserted Kevin's old Busch buddy, Todd Berrier, as crew chief and reassigned Martin.

Kevin finally hit his stride in July, copping second at the New England 300. Two weeks later in Indianapolis, he scored the biggest win of his career in the Brickyard 400. Kevin stayed with the leaders until the end of the race, when a caution flag created a frantic restart with only 16 laps to go. He was running behind Jamie McMurray at the time, with Robby Gordon and Matt Kenseth right behind him. In the final 10 laps, Kevin pulled away for a trouble-free win.

After finishing fifth at Watkins Glen, Kevin scored three consecutive second-place finishes to vault into contention for NASCAR's final Winston Cup title. In the season;s final 11 races, Kevin recorded five Top 10 finishes but could not find Victory Lane. Still, e wound up fifth in the Winston Cup standings—his best season ever. The final third of the campaign, though winless for Kevin's team, was encouraging. His car was running well, and he was exhibiting a new maturity.

Going into 2004, many had Kevin as a co-favorite with Earnhardt Jr. to take the new Nextel Cup championship. The year started with near misses at the Bud Shootout, Gatorade 125 and Daytona 500. Kevin was leading the big race much of the way, when an out-of-sequence pit stop put him a half-lap behind. He failed to make up ground and finished fifth.

The promise of better things to come never materialized, however, as Kevin was beset by one problem or another all year. Be it bad luck, bad tires, bad pit stops, an uncooperative car, or just someone else's day, he was shut out of the winner's circle again and again until he was mathematically eliminated from the Final 12 field that would compete for the Nextel title.

In August, Kevin's streak of 58 races without a "Did Not Finish" ended with a wreck at the Pennsylvania 500. The DNF dropped him to 10th in the standings, and over the next few weeks, he finished out of the Top 10 six more times. A 28th-place finish at the Pop Secret 500 dropped Kevin down to 15th in the standings, and he failed to rally in his next two races. He would not be a part of the first Chase for the Nextel Cup. He ended up going winless in '04 and wound up 14th overall, although he captured two checkered flags for Childress in Busch Series events.

There was nowhere to go for Kevin but up in 2005. He was due, breaking through with a victory in the Food City 500 at Bristol,. Kevin picked his way through a tight field without crew chief Todd Berrier, who was on suspension for a rules violation. That was it in terms of Nextel Cup wins, as Kevin finished 14th again in '05. He also won four Busch races.

Kevin was back on track in 2006, finishing 14th in the Daytona 500 after starting 28th. That season he often drove Busch and Nextel events in the same weekend. He swept both races at Phoenix and Richmond, sandwiching a Nextel Cup victory at Watkins Glen. That was more than enough to secure his spot in the Chase for the Cup for the first time. Meanwhile, he dominated the Busch Series, winning nine times and finishing the season 824 points ahead of his nearest competitor.

In the first race in the Chase for the Cup, Kevin won the Sylvania 300 in New Hampshire. It was the ninth victory of his career and gave him the series points lead for the first time. Unfortunatley, some poor races followed—including a blown engine at Dover—dropping Kevin out of contention for the championship. On the bright side, a dominating victory in Phoenix at the end of the year boosted him into the #3 slot in the Chase and fourth overall for the season. Things could have gone better for Kevin during the season, but on the balance, it was a superb performance. He won a career-high five Nextel Cup events.

As the 2007 season began, Kevin had all the earmarks of a driver on the verge of doing something great. He was among the favorites heading into the controversy-plagued Daytona 500, despite qualifying a mere 34th.

Kurt Busch and Tony Stewart set the pace early, but a disastrous pit stop by Stewart and a great one by Kevin's team gave him the lead briefly on the 80th lap. Later in the race, Busch and Stewart collided, sending both drivers out of the race.

With 20 laps to go, everyone pitted for new tires and the race was up for grabs. Mark Martin and Busch established themselves as the 1-2 cars with just a handful of laps left. With five miles to go and Martin struggling to hold off Busch, Kevin saw his chance and zoomed around the outside, with Kenseth right on his bumper. As Kenseth pushed him forward, Kevin nosed ahead of Martin by a few feet and held on to take the checkered flag.

Six years after "Black Sunday," the driver tabbed by Childress to replace Dale Earnhardt had won the race that took the legend's life. Kevin was finally free to start building a legend of his own. He learned quickly that the Daytona 500 winner falls into the crosshairs of every other driver in the months that follow. During that time, Kevin struggled to win. In fact, he barely made the final 12 in the Chase for the Cup. He finished 10th overall at the end of the season—a huge disappointment considering his fast start.

Kevin had better luck on the Nationwide circuit, where he ran more than two dozen times. In addition to his win at Daytona, he took the checkered flag five more times—including back-to-back victories at Montreal and Watkins Glen in August. In the Sprint Cup race at Watkins Glen, he got into a shoving match with Juan Pablo Montoya after the two collided. The accident was actually caused by Martin Truex, but Kevin's famous temper got the better of him.

Kevin's winless streak continued into 2008. He went through the entire season without a Sprint Cup victory, even though heraced exceptionally well. He logged 19 Top 10 finishes and came in second in two races. Despite never reaching Victory Lane, Kevin logged a fourth-place finish in the Chase, which tied his career best.

Kevin got 2009 off to a roaring start, winning the Budweiser Shootout at the Daytona Motor Speedway by passing Jamie McMurray on the final lap. It was a carbon copy of his finish against Martin in the 2007 Daytona 500. As the big race neared, Kevin damaged the car he planned to run . He used the Shootout car instead and was running second when rain ended the race with 48 laps to go. Kevin trailed only Kenesth when the race was called.

Kevin soon scored another strong finish, coming in fourth at the Kobal Tools 400 in March. Yet several low finishes in the spring dropped him into the middle of the pack, more than 10 spots behind where he needed to be to make the final 12 at summer's end.

Kevin has the car, the team, the skills and the attitude to make up that kind of ground in a hurry. He's also got something else—respect. Although his fellow drivers still fear him on race day, their respect for him has increased significantly. Kevin is now a part of the club. He passed his initiation, and recognizes the two absolute truths of NASCAR racing: Everyone in the sport is basically on the same team, and the sport can—and will—go on without you.

KEVIN THE DRIVER

Kevin possesses the talent and focus to win any race he enters. He has a superb team backing him up. Crew chief Gil Martin is a good man and someone who is close to Kevin.

Kevin may have become a kinder, gentler soul off the track, but he remains an aggressive driver. He has learned to control his intensity with some help from Martin, and before him Berrier. Under his old friend's guidance, a more controlled and reserved Kevin finally appeared.

It had long been said that Kevin probably can't drive any harder, but he can certainly drive smarter. The win at Daytona in 2007 was proof that he is making that transition. Add to that a more cerebral approach to the business of racing, and Kevin is well on the way to building a legend of his own.
View the full website biography of Kevin Harvick.