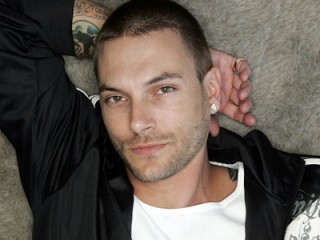 Kevin Federline
Date of birth : 1978-03-21
Date of death : -
Birthplace : Fresno, California
Nationality : American
Category : Arts and Entertainment
Last modified : 2011-03-21
Kevin Federline , born Kevin Earl Federline on March 21, 1978 in Fresno, California is an American dancer, rapper, fashion model and actor.

Kevin Federline, also known as K-Fed attained immediate celebrity in the early to mid-2000s for his personal associations in lieu of his professional accomplishments -- more specifically, his marriage to the outrageously wealthy, iconic pop diva Britney Spears.

The majority of the Western world first gained awareness of Federline -- then a pizza delivery boy and a dancer for such acts as Michael Jackson and Pink -- thanks to his nuptials with Britney, and the fact that Spears and Federline conceived and parented two children together. Their union lasted three years, and during that period, American tabloids swarmed with gossip about the relationship, much of it malicious; the scandal magazines particularly had a field day with the knowledge that Federline had left his pregnant girlfriend, Shar Jackson, to begin a relationship with Spears. And not everything was speculative; a popular reality show entitled Britney & Kevin: Chaotic covered the vicissitudes of the relationship from the "inside," candid and unrehearsed.

In October 2006, Federline branched out into a career as a recording star, debuting with the hip-hop album Playing with Fire to critical and audience excoriation. Around the same time, he started up an acting career as well, appearing in an episode ("Fannysmackin'") of the popular crime series CSI as a murderer named Cole "Pig" Tritt. Even after Federline and Spears famously split up in 2007, he continued to land roles, taking on a multi-episode stint that fall on the prime-time soaper One Tree Hill as an egomaniacal rock star.


View the full website biography of Kevin Federline.