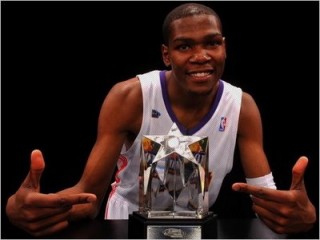 Kevin Durant
Date of birth : 1988-09-29
Date of death : -
Birthplace : Washington D.C., U.S.
Nationality : American
Category : Sports
Last modified : 2010-08-04
Pride matters in the NBA, but not more than skill. When Kevin Durant drops 40 on an opponent, his opponents don't begrudge him his talent. What kills them is that the kid looks like he's 15! Actually, that's not too far off. By taking the NBA by storm at 19—and winning the league scoring title at 21—Kevin has given Oklahoma City Thunder fans a lot to get noisy about. Not bad for a player who considered quitting his high school team as a frosh and then spent all of one season in college. Kevin may be a young gun, but he is definitely gunning for greatness.

GROWING UP

Kevin Wayne Durant was born September 29, 1988 in Washington, DC. He grew up with his older brother Tony in Seat Pleasant, Maryland, just outside the nation's capitol. They were raised by their mother Wanda Pratt and her mother Barbara Davis.

Their father Wayne Pratt left the family when Kevin was eight months old. He came back into his son's life when Kevin was around the age of 13. Both parents worked for the government—Wayne for the Library of Congress and Wanda as a postal employee.

Kevin was always the tallest boy in his class—and very self-conscious about his height. His mother asked his teachers to put him at the end of lines, so he wouldn't stand out as much. His grandmother Barbara consoled him, saying that his height was a blessing—just wait and see. Over the years, through all the ups and downs, she would prove to be the family's rock.

Kevin and his brother loved to play sports. They rooted for the Baltimore-area sports teams, including the Washington Wizards, whose stars included Michael Jordan. Kevin would later meet Jordan after being voted MVP at a high school tournament that bore his name.

Kevin and his brother participated in a wide range of after-school sports at the local Boys & Girls Club. Despite their close relationship, they never played on the same team as they grew older. In fact, when Tony finished his freshman year at Suitland High School, he decided to blaze his own path. Kevin's older brother transferred to St. John's Military School in Salina, Kansas.

Kevin was a phenomenal young basketball player. His first taste of serious competition came as a member of the Prince George Jaguars, which had AAU teams at every level. The Jaguars won two national championships with Kevin in uniform. His first came at the age of 11, when he scored 18 points in the second half of the final. He was so jazzed after the game that he told his mother he wanted to play in the NBA.

By that time, Kevin had become best buddies with Michael Beasley. Beasley's mom was also a single parent. She dropped him off at the Durant's home every day for breakfast. Kevin and Beasley would then ride the bus to school togther. Along with Chris Braswell, another future NBA player, the three formed the Jauguars' nucleus. When the team disbanded in 2003, Kevin moved on to the DC Blue Devils, where he teamed with point guard Tywon Lawson, who would go on to win ACC Player of the Year with UNC.

Meanwhile, Wanda and AAU coach Taras "Stink" Brown mapped out a program to maximize Kevin's considerable skills. Brown became like a godfather to Kevin, who followed the plan to a tee. Rule #1 was no pickup games. Though fun, they would only engender bad habits. When Kevin wasn't playing an organized game, he had a set of drills to perform. He became a practice junkie, normally working out eight hours a day during the summer.

Kevin's hard work paid off in varsity ball. He played as a freshman and sophomore for Montrose Christian in Rockville, Maryland. The Washington Post named him the area Player of the Year after his second season. It was quite a change from his first year, when his older teammates threatened to stop passing the ball to him. Kevin felt like quitting the team, but remembered all those extra shifts his mom had worked to keep food on the table. He stuck it out and earned those precious touches.

After his freshman year, Kevin shot up five inches to 6–8. All the catch-and-shoot drills, the strategy skull sessions, and other fine-tuning with Taras aimed at making him a great guard now turned him into a monster forward.

ON THE RISE

Kevin transferred to basketball factory Oak Hill Academy as a junior, where he joined Lawson. He averaged 19.6 points and 8.8 rebounds, and was voted a Second team All-American by Parade Magazine. The following year, Kevin moved on to National Christian Academy, under legendary coach Stu Vetter. There he upped his averages to 23.6 points and 10.9 rebounds. Kevin was named a McDonald's All-American and honored as co-MVP of the 2006 McDonald's All-Star Game.

Kevin landed on the radar of virtually every major college hoops program in the country. He looked ready to step into any starting lineup. At 6–9, he retained the quickness and instincts of a point guard. No one in high school could guard Kevin, yet instead of pouring in points, he used his talents to get his teammates involved. Of course, when he needed to score, he simply chose when and how. His shooting and driving skills were unmatched among prep players.

Lawson lobbied hard for his ex-teammate to join him on the Tar Heels. Russell Springmann, a Maryland native who worked as an assistant at the University of Texas, had been in contact with Kevin since his freshman year. Ex-Longhorn Maurice Evans, who was playing for the Los Angeles Lakers, worked out with Kevin and helped seal the deal. The teenager ended up signing with Texas.

Coach Rick Barnes had rebuilt the Longhorns—he produced 20-win seasons and NCAA Tournament bids with stunning regulatiry. Springman told Kevin that he would have a great chance to start as a freshman, and that he would likely finish the year in the national spotlight. Texas had a chance at a record-breaking season in 2006-07.

Kevin took advantage of the school's renowned strength training program and bulked up over the summer. He turned 18 that September and became a starter with three other first-year players. He was an immediate revelation, ranking among the nation's Top 10 scorers and rebounders after just a couple of months.

At first Barnes thought about designing plays for Kevin, but he soon realized that these would muffle his talents. As long as Kevin was willing to create—and his teammates were willing to let him control the flow of the game—there was almost never a reason to call a set play. By midyear almost everyone who saw Kevin was calling him the best offensive player in the college game.

Kevin poured nearly 26 points a game and grabbed 11 rebounds. In all, he posted 20 30-point games, and his 390 boards were third-most for a freshman in NCAA history. At the end of March, he was named AP College Player of the Year. He also won the Naismith and Wooden awards.

The Longhorns finished 25–10, third in the Big 12, with a Top 20 national ranking. Kevin and A.J. Abrams led the team to the championship game of the Big 12 Tournament. Texas faced Kansas in the final but lost a nail-biter in overtime, 88–84. The Longhorns led the game early by 22 points but could not hold off the Jayhawks. A missed free throw by Craig Winder enabled Kansas to tie the game with a three-pointer in the final moments. Kevin had a chance to win the game on a drive but missed his shot. He finished the game with 37 points.

Texas was given a #4 seed in the East Regional. The Longhorns beat New Mexico State in their first game. But they ran into a buzzsaw in USC in the next round and lost 87–68.

A couple of weeks later, Kevin declared for the NBA Draft. Greg Oden also declared, setting up a debate about who sould go first. The Portland Trailblazers settled the argument by settling on Oden. Kevin was the second overall pick, by the Seattle Supersonics.

MAKING HIS MARK

While Oden hurt himself over the summer, Kevin was healthy for the NBA opener. He scored 18 in a loss to the Denver Nuggets. A couple of weeks later, he hit the first game-winner of his pro career, a three-point bomb against the Atlanta Hawks in double-overtime.

Kevin's cohort on the Sonics was fellow rookie Jeff Green, acquired form the Celtics in a deal that sent Ray Allen to Boston. Both players made the NBA Rookie First Team. Green, a fellow forward, was bright and talented. He and Kevin formed the best young frontline duo in the league.

Kevin's offesnive game fit the NBA perfectly. He was a nightmare match-up for most opponents, and his ability to score from anywhere on the floor opened opportunities for teammates. His final averages were 20.3 points and 4.4 rebounds. He shot 43% from the field and 87% from the line. He was an no-brainer for NBA Rookie of the Year.

K'evins major adjustment came on the defensive end. Bigger and stronger forwards overpowered him neat the basket, while smaller guards were able to drive past him. But his length, quickness and nose for the ball were advantages that he learned to use. Kevin might not develop into an All-Defensive first team, but he had the skill and work ethic to improve.

The Sonics won just 20 games in 2007-08. The losing wasn't what made headlines, however. Owner Clay Bennett lobbied unsuccessfully for a new arena in Seattle, and after some legal wrangling, he cut a deal to move the club to his hometown of Oklahoma City. In 2008–09, the team was renamed the Oklahoma City Thunder.

Kevin and Green were joined by a third electrifying player, guard Russell Westbrook. Nick Collison, Nenad Krstic, Earl Watson, Thabo Sefolosha and Desmond Mason rounded out the lineup. The club still struggled to win, but the talent began to blend by the end of the season. The Thunder bettered their previous year's record by a handful of victories. Kevin averaged more than 25 a game on 47.7% shooting and increased his rebounds to nearly seven a night.

The Thunder began their second season with the experts saying they were on the verge of accomplishing something very special. Meeting those expectations became a priority for coach Scott Brooks and his players. In the early part of the season, the Thunder held their own, playing good, solid basketball. Oklahoma City had decided to build around its core; no major players were added through free agency or trades, only some spare parts.

That decision began to look smart by the second half of the year. A nine-game winning streak boosted the Thunder into potential 50-win territory, and they hit that number on the nose, making the playoffs in the process. Their fine season included some impressive performances, most notably blowouts over the Orlando Magic and Los Angeles Lakers, and road wins against the Boston Celtics and San Antonio Spurs.

Most impressive was Kevin's contribution. He established himself as the NBA's most dynamic young leader, hitting huge shots game after game and providing a rallying point for his teammates during times of crisis. Kevin played with remarkable confidence, believing no one in the league could keep him from the basket. Often he was right. Kevin set a franchise record with 29 games in a row of at least 25 points. His seven consecutive 30-point games broke a 38-year-old team mark held by Spencer Haywood.

On the strength of three consecutive 40-point games in April, Kevin finished the year averaging 30.1 points per game. That was good enough to edge LeBron James for the scoring title. At 21 years and 197 days, Kevin became the youngest scoring champ in NBA history. Hiss 2,472 points set a new franchise record as well.

Brooks played all of his starters in the weeks leading up to the postseason, even after securing a playoff spot. He felt that this would give this team the best chance to upset the Lakers in the first round. Although the Oklahoma City lost four of its final five regular-season contests, they gave LA all it could handle in an exciting series. After dropping the first two games on the road, the Thunder came back home and scored a pair of victories. Kevin led the team in scoring in both wins and added19 rebounds in Game 4.

The Lakers won Game 5 on their home floor, before the Thunder nearly pushed the series to seven games. In Game 6, in front of the home fans at the Ford Center, Oklahoma City kept Pau Gasol bottled up in a tight contest until the final seconds. Then he scored on a put-back of a Kobe Bryant miss. The bucket gave the Lakers a 95–94 win. Brooks and his players were despondent as they left the floor, especially Kevin, who had a poor shooting night. In time, however, they realized how special their season was.

And what a special player they have in Kevin. In the locker room after Game 6, he told his teammates that next season started right now, that they had to start thinking and working like champions immediately. He also said that painful losses are part of ultimate victory—a team has to go through ups and downs before reaching the pinnacle. Some wisdom for a 21-year-old!

Projecting young talent in the NBA is a tricky business, but there seems little doubt that Kevin is headed for greatness. If the same holds true for players like Green and Westbrook, Kevin could find himself the leader of the NBA's fastest-rising team. In two seasons all the pieces seem to be falling in place, and the team still has plenty of cap room. If everyone stay healthy and happy, the Thunder could road sooner than anyone expected. And if that's the case, Kevin will be the eye of the storm.

KEVIN THE PLAYER

For a 6–9 player, Kevin has a freakishly large wingspan of approximately 7.5 feet. He uses those long arms to shoot over smaller players. His quickness, on the other hand, allows him to post up larger players. A feathery jumpshooter, Kevin is also superb at attacking the rim. As with most scoring champions, he makes it look easy.

Kevin rebounds and passes well for his age. As a defender, he stays low and understands the position game. With each game, he finds subtle new ways to help his team compete.

In just three NBA seasons, Kevin's body has matured significantly and should continue to do so. At a rookie combine, he could not bench press 185 pounds. After turning pro, he became a regular in the weight room, and it now shows on the court. Although Kevin still looks whippet-thin, he weighs 220 pounds and can withstand the pounding he takes near the hoop.

Kevin was more of a leader by deed than by word when he entered the NBA. That has changed very quickly. He knows how to inspire on the bench and in the dressing room, without overstepping his authority. Of course, that authority grows with every clutch hoop and 25-point game.

EXTRA

* Kevin was named MVP of the 2007 Big 12 Tournament. He was also Big 12 Freshman and Player of the Year.
* Kevin's career high in college was 37 points. He reached that plateau four times, including the Big 12 Championship final.
* Kevin was the first freshman and Texas player to be named AP Player of the Year and win the Naismith Award.
* In 2007–08, Kevin was named Rookie of the Month in every month except for February.
* In 2007-08, Kevin broke Seattle's rookie scoring record. It had been held since 1968–69 by center Bob Rule.
* Kevin was Seattle's first First-Team All Rookie player since Derrick McKey in 1987–88.
* In 2007-08. Kevin became just the third teenager to average 20+ points in the NBA. LeBron James and Carmelo Anthony were the first two.
* Kevin netted a career-high 47 points against the New Orleans Hornets in February of 2009.
* Kevin won the NBA's first HORSE competition, during All-Star Weekend in 2009. He defeated Joe Johnson and O.J. Mayo..
* Kevin led the NBA in minutes played and free throws made and attempted in 2009-10.
* Kevin played in his first All-Star Game in 2009-10. He scored 15 points off the bench in a 141–139 loss to the East.
* Kevin was the runner-up to LeBron James in the 2010 NBA MVP voting. He and James were the forwards on the All-NBA First Team.
* With his 2009-10 scoring title, Kevin supplanted Max Zaslofsky as the NBA's youngest scoring champion. As a 22-tear-old, Zaslofsky netted 14.4 points per game for the Chicago Stags in 1946-47.
* Kevin scored 30 or more points 47 times during the 2009–2010 season.
* Kevin wears number 35 to honor his childhood coach and mentor, Charles Craig, who was murdered at age 35.
* Kevin had a 3.0 GPA as a college freshman. He attends classes at UT in the summers and is working toward his degree.
* Texas retired Kevin's jersey a week after he was drafted by the Sonics.
* In 2008, Kevin was invited to try out for the U.S. Olympic Dream Team. Greg Oden was the only other freshman to earn this honor. Kevin did not make the final cut.
* Kevin's favorite food is crab legs.
* Kevin inked a $60 million endorsement deal with Nike in 2007. Only LeBron James has a bigger shoe contract. Kevin turned down more money from adidas because he had worn Nikes his whole life.
* Kevin's nickname is K-Smoove.
View the full website biography of Kevin Durant.