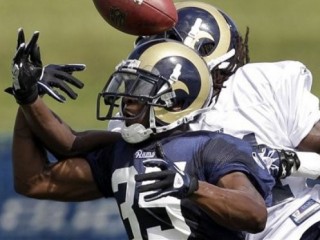 Kevin Dockery
Date of birth : 1984-01-08
Date of death : -
Birthplace : Hernando, Mississippi
Nationality : American
Category : Sports
Last modified : 2010-12-21
Kevin Dockery is an American football cornerback for the St. Louis Rams of the National Football League .

Pro Highlights:
Signed with Rams as a free agent (3/22/10)…signed with the Giants as an undrafted free agent on (5/16/06).

PRO: Earned a roster spot with the Giants after joining the club as an undrafted rookie free agent in 2006…contributed as a nickel corner, special teams player and an occasional starter…career totals include 127 tackles (91 solo), 22 passes defensed, one fumble recovery and 26 special teams tackles…has scored two
career touchdowns, one on a 96-yard interception return and the other on a 71-yard blocked field goal return.

2009 SEASON: Appeared in 11 games with three starts… recorded 18 tackles (14 solo), one pass defensed, one fumble recovery and nine special teams stops (eight solo)…at Carolina (12/27): Started final three games of the season…recorded seven tackles.

2008 SEASON: Played in 13 games with one start and played in the NFC Divisional Playoff game vs. Philadelphia...missed games vs. Dallas, at Philadelphia and vs. Baltimore due to a to transverse process fracture (back)...finished with 34 tackles (23 solo), one interception, seven passes defensed...vs. Cincinnati (9/21): Had a season-high seven tackles (six solo), two passes defensed and one quarterback hurry in action as the nickel corner...vs. Seattle (10/5): Grabbed his only interception of the season when he picked off a Matt Hasselbeck pass in the 3rd quarter and returned it 44 yards...vs. Philadelphia (12/7): Scored his second
career touchdown on a 71-yard blocked field goal return …at Minnesota (12/28): Started at left cornerback in the season finale...finished with six tackles (five solo)...NFC Divisional Playoff Game vs. Philadelphia (1/11): Intercepted a Donovan McNabb pass for WR DeSean Jackson...also had five tackles.

2007 SEASON: Played in 13 games with four starts and played in two postseason games...missed game vs. Green Bay (9/16) with an ankle injury and was slowed late in the season with a hip injury...started at left cornerback vs. the Jets (10/7) and at right cornerback at Chicago (12/2), at Philadelphia (12/9) and vs. Washington (12/16)...finished the regular season with 39 tackles (27 solo), eight passes defensed and one forced fumble...had six tackles and one pass defensed in the post season…had three solo tackles in nickel and dime packages in Super Bowl XLII victory over Patriots.

2006 SEASON: Played in 14 games in the nickel and dime packages as a rookie...was one of seven players to tie for the team lead with two interceptions...finished with 36 tackles (27 solo), two interceptions, six passes
defensed and four special teams tackles…at Dallas (10/23): Picked off a Tony Romo pass for his first career interception, which he returned 96 yards for a touchdown... return tied for the 4th-longest in Giants history and was the team's longest since Lawrence Taylor scored on a 97-yard return at Detroit (11/25/82)…at
Carolina (12/10): Recorded eight tackles (four solo), four passes defensed and one interception in action in nickel and dime packages...intercepted his second pass of the season when he picked off a QB Chris Weinke throw.

College Highlights:
Played in 44 games with 37 starts at cornerback for the Bulldogs and was credited with 195 tackles (117 solo)...also had six interceptions, 22 pass breakups and 2.0 sacks…started 10 of 11 games as a senior and finished with 53 tackles (35 solo), a career-high three interceptions, nine pass breakups and a sack…registered 43 tackles (23 solo), an interception and a sack as a junior…recorded career-high 70 tackles (45 solo) and an interception as a sophomore in 2003… physical education major… during final two seasons, head coach was current Rams running backs coach Sylvester Croom.

Personal :
Born in Memphis, Tenn…rushed for more than 2,400 yards and scored 27 touchdowns as a senior at Hernando (Miss.) High School, where he was also an outstanding cornerback.


View the full website biography of Kevin Dockery.