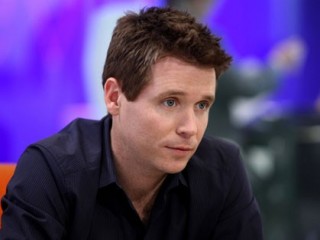 Kevin Connolly
Date of birth : 1974-03-05
Date of death : -
Birthplace : New York City, New York
Nationality : American
Category : Arts and Entertainment
Last modified : 2011-03-05
Though he was a working actor since he was six years old, Kevin Connolly finally became a recognizable talent when he co-starred on the popular cable series, "Entourage" (HBO, 2004- ). Prior to being on the hit show, Connolly made his mark on screens big and small, appearing in such notable films as "The Beverly Hillbillies" (1993) and "Antone Fisher" (2002), as well as the sitcom "Unhappily Ever After" (WB, 1995-99), playing the dumb, but happy-go-lucky eldest son of a dysfunctional family. But it was "Entourage" that made Connolly a well-known commodity, which led to bigger and better projects, including the short film "Whatever We Do" (2003) and his directorial debut with "Gardener of Eden" (2007), as well as his first Golden Globe award nomination as the ever loyal, "E" of "Entourage."

Born March 5, 1974 in Long Island, NY, Connolly started his acting career at age 6, appearing in numerous commercials including the "Betcha bite a chip" campaign for Chips Ahoy. He made his acting debut as Chickie in "Rocky V" (1990), then played Dabney Coleman's son in the feature film adaptation of the 1960s camp television series, "The Beverly Hillbillies" (1993). Connolly had a good year in 1995 - not only did he co-star with friends and future collaborators, Tobey Maguire and Leonardo DiCaprio, in the film "Don's Plum," but he landed his first major role in a television series, playing Ryan Malloy on "Unhappily Ever After" (WB, 1995-99). During the show's fourth season, Connolly was given the rare chance to pursue his other passion - directing six episodes of his own show. After appearing in "John Q" (2002), Connolly made two more important friends. His relationship with "John Q" director Nick Cassavetes became one of mentor-tutor and would bode well for Connolly's directorial aspirations in the future. As an actor, Connolly had another admirer in "John Q" star Denzel Washington. When Washington made his directorial debut with "Antone Fisher" (2002), he cast Connolly to play the role of Slim.

Although Connolly had made some high-placed buddies who admired his ambitions, he had yet to land that one defining acting role that would make him a household name. All of that changed in 2004, when the young actor landed the part of Eric Murphy in the Mark Whalberg-produced series "Entourage." The smart HBO show premiered to instant acclaim in June. The unflinching look at the rise of movie star Vincent Chase and his attached-at-the-hip posse of good buddies became an instant hit on the cable network - a sort of Hollywood-based "Sex in the City" for men. As Eric, Connolly was able to show both his dramatic and comedic skills to equal effect, always trying to steer the girl-crazy and career-lazy Chase (Adrien Grenier) on the right path. Connolly showed particular energy during his verbal head butting sessions with Chase's obnoxious agent Ari Gold (Jeremy Piven), a comedic highpoint of every episode.

Off screen, Connolly generated more tabloid buzz than any of his co-stars, due to his on-and-off relationship with celebrity heiress and sister of Paris, Nicky Hilton. But there was more to Connolly than his onscreen gig and headline-making girlfriend. Connolly made his directorial film debut with the short "Whatever We Do" (2003), starring Robert Downey, Jr., Tim Roth, Amanda Peet and Zooey Deschanel. Produced by old friends Tobey Maguire and written by Nick Cassavetes, the short premiered at the Sundance Film Festival in 2005. Back in features, Cassavetes again cast the youthful-looking actor in his three-hankie weeper, "The Notebook" (2004). The film proved a surprising hit in the middle of an action-packed summer and garnered Connolly excellent reviews for playing Ryan Goslings' doomed friend, Fin. With his success in front of the camera well assured each Sunday night on "Entourage," Connolly again pursued his directing ambitions. In 2005, he took the helm of "Gardener of Eden," a feature film produced by Leonardo DiCaprio's production company, Appian Way. Meanwhile, Connolly earned his first-ever Golden Globe nomination for his "Entourage" role, getting the nod in the Best Actor in a comedy series category.

In October 2008, Connolly was hired to direct his first music video for multi-platinum rap artist The Game, featuring R&B artist Ne-Yo. The video is for the song "Camera Phone" off The Game's album LAX.

Connolly attended the 2010 NHL Entry Draft in LA and announced the final pick of the first round for the New York Islanders.

View the full website biography of Kevin Connolly.