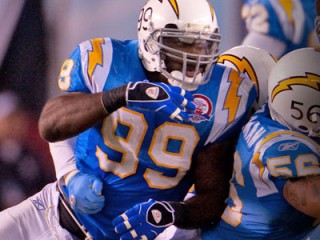 Kevin Burnett
Date of birth : 1982-12-24
Date of death : -
Birthplace : Carson, California
Nationality : American
Category : Sports
Last modified : 2010-09-16
Kevin Burnett born December 24, 1982 in Carson, California is an American football linebacker for the San Diego Chargers of the National Football League. He was drafted by the Dallas Cowboys in the second round of the 2005 NFL Draft. He played college football at Tennessee.


Burnett's Career
A native of Los Angeles, Burnett was excited for the opportunity to play in San Diego after leaving Southern California to attend college at Tennessee and then spending his first four NFL seasons in Texas. Burnett races remote-controlled cars competitively and has a custom-built track in the back yard of his San Diego home. He also competes at the Revelation Raceway in Ontario and at Thunder Alley in Beaumont. His interest in RC Racing began after his wife, Maia, bought him a couple of cars for Christmas. He now has a racing garage with more than 20 cars. Burnett and Maia oversee the Kevin Burnett Foundation,which supports literacy and education. It offers educational opportunities for lower-income families and a mentor element for children who have grown up in single-parent homes. The foundation works with children and families in San Diego, Los Angeles and Dallas. The Burnetts have two sons, Kamurhan and Kevin III, and a daughter, Kaihler. An outstanding student and an astute writer, Burnett is currently authoring two marriage books for young couples. Kevin is not the lone athlete in the Burnett family. Younger brother, Kealin, is a junior starting linebacker at the University of Nevada.
TRANSACTION HISTORY: Second-round pick by DAL (42), April 23, 2005...signed July 30, 2005... signed two-year contract with Chargers, March 12, 2009.
2009: season-high 14 TTs Sept. 27 vs. MIA...ended Dolphins' first drive with 3rd-down pass defensed and six-yard sack on next possession...career-high 1.5 sacks Nov. 22 at DEN...Game Ball following Nov. 15 game vs. PHI...set up Chargers' first TD forcing three-and-out with 3rd-down TFL...later helped force FG with first and third-down stops on goal-to-go plays from one.
2008: season-high four STTs vs. WAS Sept. 28.
2007: Season and career-high nine TTs along with season-high three STTs at NYG Nov. 11.
2006: INT and 39-yard TD return off Peyton Manning in Nov. 19 win over previously unbeaten IND...team-high three STTs in Wild Card Playoffs at SEA Jan. 6.
2005: INA Wks 1-2 after having surgery on left knee Sept. 8...season-high three STTs at CAR Dec. 24...onto "Reserve-Injured" Dec. 29 after tearing right ACL in practice Dec. 28.
COLLEGE: All-America and two-time All-SEC...in '03, he and T Michael Munoz became first juniors to serve as team captains since 1944...in '04, they became first two-time captains since J.G. Lowe in 1924-25...'04 semifinalist for Butkus and Nagurski Awards...tore left ACL in '02 season opener and spent year as medical redshirt...SEC Academic Honor Roll in '02 and '03 and SEC and AFCA Good Works teams in '03...bachelor's and master's degrees in sports management from Tennessee.
PERSONAL: Born in Inglewood, California...All-America, all-state and all-conference S and RB at Dominquez HS in Compton, Calif....led Dominquez to state playoffs in '98 and '99.
View the full website biography of Kevin Burnett.