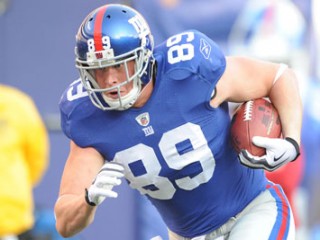 Kevin Boss
Date of birth : 1984-01-11
Date of death : -
Birthplace : Corvallis, Oregon
Nationality : American
Category : Sports
Last modified : 2010-09-22
Kevin Boss (born January 11, 1984, in Corvallis, Oregon) is an American football tight end who currently plays for the New York Giants of the National Football League. Boss, who resides in Philomath, Oregon during the offseason, graduated in December 2006 from Western Oregon University in Monmouth, Oregon, with a degree in physical education. He was then selected in the fifth round (153rd overall) of the 2007 NFL Draft by the Giants.

* Originally a 5th round (153rd pick overall) draft choice by the Giants in 2007.


GIANTS NOTES
* His 13 touchdown receptions the previous 3 seasons are the 2nd most on the team during that span.
* Had a game-long 45-yard reception in Super Bowl XLII.
CAREER HIGHLIGHTS
* Has played in 42 regular season games with 32 starts and has started all 5 postseason games in which he's played…Has 84 career receptions for 1,069 yards and 13 touchdowns in the regular season and 8 catches for 142 yards in the postseason.
* In 2009, Boss started all 15 games in which he played for the 2nd year in a row…Inactive vs. Oakland (10/11) with an ankle injury…Posted career-high totals of 42 receptions (doubling his previous career total) for 567 yards (a 13.5-yard average)…Caught 5 touchdown passes, 1 less than the career-best total he set in 2008.
* Caught 5 passes for a season-high 76 yards and touchdowns of 28 and 4 yards vs. Atlanta (11/22), his 1st career multiple-touchdown game. He was the 1st Giants tight end with 2 scoring catches in a game since Jeremy Shockey on Oct. 15, 2006 – also against Atlanta. Shockey scored on receptions of 2 and 4 yards… Boss' 28-yard touchdown reception in the 2nd quarter was the longest scoring catch of his career. The previous long was a 19-yarder vs. Washington on Dec. 16, 2007…Boss took a lateral from Eli Manning and ran 16 yards on his 1st career rushing attempt vs. Dallas (12/6)…Finished with a season-high 7 catches, including a touchdown, vs. Philadelphia (12/13)…Had a career-long 35-yard reception at Washington (12/21).
* In 2008, started all 15 games in which he played and the NFC Divisional Playoff game vs. Philadelphia…Inactive due to ankle injury and concussion at Minnesota (12/28)… Finished with a team-high 6 touchdown receptions while catching 33 passes for 384 yards…Run blocking helped the Giants rush for NFL-best and franchise record numbers of 2,518 yards and 5.0 yards per carry.
* Finished with 3 receptions for 51 yards and a touchdown vs. Cincinnati (9/21). A 21-yard reception in the 2nd quarter was his 1st of the season and helped set up Brandon Jacobs 1-yard touchdown run…4-yard touchdown reception in traffic in the end zone gave the Giants a 23-20 lead late in the 4th quarter…Had 4 receptions for 34 yards and the game-winning touchdown at Pittsburgh (10/26)…Finished with a team-high 52 receiving yards on 3 receptions in the NFC Divisional Playoff Game vs. Philadelphia (1/11).
* As a rookie in 2007, played in 13 games with 2 starts and started all 4 postseason games…Was inactive at Washington (9/23) and active but did not play vs. Philadelphia (9/30) and the Jets (10/7)… Finished the regular season with 9 receptions for 118 yards and 2 touchdowns…Added 5 catches for 90 yards in the postseason.
* Made NFL debut on special teams at Dallas (9/9)…Played on offense for the 1st time but did not catch a pass vs. Green Bay (9/16)…Recorded his 1st NFL reception, an 18-yarder in the 4th quarter, vs. Dallas (11/11)…Caught 2 passes for 31 yards, including a 19-yarder for his 1st career touchdown vs. Washington (12/16).
* Replaced Jeremy Shockey as the starting tight end after the 4-time Pro Bowler was placed on injured reserve with a fracture fibula vs. Washington.
* Made 1st NFL start at Buffalo (12/23).
* Caught 2 passes for 14 yards in NFC Wild Card Game at Tampa Bay (1/6)…Boss' 19-yard reception on a 3rd-and-10 in divisional playoff at Dallas (1/13) set up Amani Toomer's 4-yard touchdown catch that tied the score at 14-14 late in the second quarter…Caught 1 pass for 9 yards in the NFC Championship Game at Green Bay (1/20).
* Boss' 45-yard catch and run early in the 4th quarter of Super Bowl XLII set up David Tyree's 5-yard touchdown catch, which gave the Giants a 10-7 lead.
COLLEGE
* Played in 33 games with 31 starts and finished his career with 134 catches for 1,590 yards (11.9-yard avg.) and 19 touchdowns.
* Boss ranks 6th in Western Oregon history with 134 receptions, 8th with 1,590 receiving yards and 4th with 19 touchdown catches.
* Played 2 basketball seasons for the Wolves, averaging 13.6 minutes of action and 3.0 points in 53 games.
OFF FIELD ACTIVITY
* Hosts an annual competition around Thanksgiving called "Giving Thanks with the Bossman," asking Giants fans to tell him what they were most thankful for, and then selecting one appropriate nominee as his guest to a home game, including a postgame dinner with Kevin.
* Hosts an annual school event called "Bring the Bossman to School," visiting a school in Oregon every offseason to speak to the students about values and excellence.
* Adopted Lyndhurst Public Schools in spring 2009 and Nutley Public Schools in 2010 for the Giants' Play 60 Challenge, making multiple visits to encourage the kids to play 60 minutes every day.
* Attended the United Way of New York City's 2009 Gridiron Gala fundraiser dinner.
* Participated in the Shaun O'Hara Foundation Golf Outing, raising money for cystic fibrosis research.
* Participated in the Giants Foundation 2009 Golf Outing.
* Joined Coach Coughlin to host local children fighting cancer and blood disorders for the Jay Fund Ice Cream Social at the Timex Performance Center.
* Signed autographs as a fundraiser for the Community Hospice of Bergen County.
* Partnered with The Epilepsy Foundation of Northeastern N.Y. to host an essay winner for practice at Giants' Training Camp.
* Attended the Champions for Children fundraiser gala benefitting the Tom Coughlin Jay Fund Foundation.
* Attended Starlight Starbright Children's Foundation's Celebrity Sports Auction.
* Visited Central Park East 1 School in Harlem with The National Dairy Association, NFL Commissioner Roger Goodell, and several other NFL athletes to encourage kids to eat well and exercise often through the "Fuel Up to Play 60" program.
* Visited South Brunswick High School, signing autographs as a fundraiser for Project Graduation.
* Participated in Rich Seubert's Celebrity Trap Shoot in Eau Claire, Wisconsin, benefitting The Marshfield Clinic for Cardiac Research.
* Attended a fundraiser dinner hosted by Coach Peter Giunta for Holy Spirit School.
* Attended the Giants Kickoff Luncheon benefitting St. Vincent's Medical Center.
PERSONAL
* Married (Breanna)
* Was a standout tight end during his 3 seasons with the varsity at Philomath (Ore.) High School….He was an honorable mention All-State Class 3A choice as a senior, adding 1st-team All-ValCo League accolades….Boss was a 2nd-team All-League choice as a tight end and defensive end during his junior year….He also played in the East-West Shrine Game in Baker.
* Lettered 3 times in basketball as a center. He led the team to the state title in 2002, picking up honorable mention All-State and All-League 1st-team accolades as a senior. During his junior campaign, Kevin was awarded 2nd-team All-League honors.
* Physical education major, with a minor in business.
* Earned Academic All-District VIII honors with a 3.2 grade point average.
* Older brother, Terry, played soccer at the University of Tulsa and professionally with the Seattle Sounders of the MLS.
* Son of Teresa and Bob Boss…Born Jan. 11, 1984 in Corvallis, Oregon.
View the full website biography of Kevin Boss.