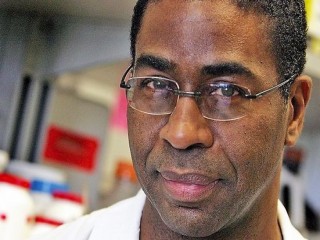 Keith Black
Date of birth : 1957-09-13
Date of death : -
Birthplace : Tuskegee, Alabama
Nationality : American
Category : Science and Technology
Last modified : 0000-00-00
Keith L. Black is an American neurosurgeon specializing in the treatment of brain tumors and a prolific campaigner for funding of cancer treatment. He is chairman of the neurosurgery department and director of the Maxine Dunitz Neurosurgical Institute at Cedars-Sinai Medical Center in Los Angeles, California.

Shortly after he was born, Keith's family moved to Auburn, Alabama, where his mother Lillian was a schoolteacher, and his father Robert was the principal of Boykin Street Elementary School. Though the Supreme Court had declared school segregation unconstitutional years before Keith Black was born, the state government of Alabama continued to mandate separate schools for black and white children. Robert did his best to circumvent the enforced segregation by employing an integrated faculty in his school, and encouraged his sons to swim in the "whites only" swimming pool. From an early age, Keith Black was fascinated by biology, and taught himself to dissect frogs. Encouraging his son's interest, Robert bought a cow's heart for his son to dissect.

When Keith was ten, Robert Black moved his family to Cleveland, Ohio, seeking superior educational opportunities for his two sons. As a teenager, Keith joined an apprentice program at Case Western Reserve University to learn basic laboratory skills. While still in high school, he took a part-time job at Cleveland's St. Luke's Hospital. As an assistant to Frederick Cross and Richard Jones, inventors of the Cross-Jones artificial heart valve, he learned to perform transplant surgeries and heart valve replacements on laboratory dogs. In the course of his work in the Cross-Jones laboratory, he observed damaged red blood cells in patients with heart valve replacements. These observations formed the basis of Black's first scientific paper, published at age 17. The paper also won him the national Westinghouse Science Talent Search competition. After graduating from Shaker Heights High School, he was admitted to the University of Michigan Medical School's accelerated program, allowing him to complete an undergraduate degree and medical school in only six years.

At the beginning of his medical studies, he became fascinated by the workings of the brain. In addition to studying the anatomy of the brain, he pursued studies in chemistry, physiology, psychology, philosophy, religion and mysticism, in an attempt to grasp the mechanism of human consciousness. In the end, this multidisciplinary exploration led him back to an intensified study of the physical structure of the brain. For his medical specialty, he chose to pursue one of the most notoriously difficult areas of medicine, neurosurgery. A newly minted doctor at age 24, Black remained at the University of Michigan to complete an arduous internship and neurosurgical residency. In 1987, he joined the medical school of the University of California, Los Angeles (UCLA) as an assistant professor of neurosurgery.

Of all the challenges facing the neurosurgeon, the most difficult involve the removal of tumors from the brain: cut too much and the brain is permanently damaged; cut too little and the cancer will probably recur. Over the next decade, Keith Black attacked the problem from every possible angle, perfecting his dexterity as a surgeon while exploring breakthroughs in basic science to devise new strategies for combating brain cancer.

Chemotherapies that proved successful in treating other cancers were largely ineffective in cases of brain cancer. The brain is protected by a dense mesh of capillaries, the so-called "blood-brain barrier" -- that diverts and dilutes most medications before they can enter the brain. Since medical school, Black had been fascinated by leukotrienes, naturally occurring compounds that enable swelling around traumatic injuries. Among other properties, leukotrienes cause the capillaries to leak. Black conjectured that similar substances, applied to the blood-brain barrier, could permit therapeutic chemicals to enter the brain. Unfortunately, leukotrienes affect the capillaries of healthy brain tissue as well as those of tumors, exposing the brain to the toxic effects of the chemicals. Undaunted, Dr. Black continued his search for a compound that would facilitate effective chemotherapy for brain cancer.

At last, Black identified a naturally occurring peptide called bradykinin. Unlike the leukotrienes, bradykinin only affects the blood vessels of cancerous tissue, allowing therapeutic chemicals to attack brain tumors without affecting the healthy tissue of the brain. In 1994, Dr. Black patented a novel therapy, employing RMP-7, a synthetic version of bradykinin. That same year, Dr. Black was appointed to an endowed professorship at UCLA, and named to head the school's Comprehensive Brain Tumor Program, where he expanded his search for new cancer therapies.

After ten years at UCLA, Dr. Black moved to the neighboring Cedars-Sinai Medical Center to lead the newly formed Maxine Dunitz Neurological Institute. While running the Neurological Institute at Cedars-Sinai, Dr. Black also served for five years on the faculty of the University of California Irvine School of Medicine. By this time, his work had drawn national attention. He was profiled on the public television series The New Explorers, the magazine Esquire included him on its list of "The 21 Most Important People of the 21st Century," and TIME magazine featured him on the cover of a 1997 special edition, "Heroes of Medicine."

At Cedars-Sinai, Dr. Black's search for new therapies produced a second major discovery. Previous research had revealed that many cancers are effectively blocked by the human immune system, but that certain brain cancers produce a substance that renders them invisible to the body's natural defenses. This substance, known as transforming growth factor-beta (TGF-beta), became the next target of Dr. Black's attention. He devised a novel therapeutic approach in which cancer cells are harvested from the individual patient, cultured, and genetically altered to remove their capacity for producing TGF-beta. Reintroduced into the patient's system, they stimulate the body's natural immune defenses. The immune system responds immediately to the re-engineered cancer cells, and continues attacking whatever cancer cells surgery or other therapies may have missed. Dr. Black has continued his exploration of the body's natural capacity to defend itself against cancer, extracting a patient's white blood cells and training them in the test tube to search out and destroy cancer cells. In laboratory rats, this process successfully eliminated glioblastomas, among the most pernicious brain tumors.

In 2007, Dr. Black opened a new brain tumor research center at Cedars-Sinai, named for the late Johnnie L. Cochran, Jr. The renowned defense attorney was a former patient of Dr. Black's and a longtime supporter of the center's fundraising efforts. At the Cochran Center, he continues to develop new approaches to the treatment of brain cancer. He has explored new uses of magnetic resonance imaging (MRI) technology, including three-dimensional and real-time imaging processes that enable the surgeon to identify and protect "eloquent" brain tissue -- responsible for thought, movement or speech -- during surgery. He has also made use of precisely targeted microwave radiation to kill cancer cells, a computer-driven technology that may someday be performed remotely, without requiring the physical presence of the surgeon in the operating room.

In 2009 Black published his autobiography, co-authored with Arnold Mann, entitled Brain Surgeon. New York Times reviewer Abigail Zuger described the book as a "fascinating, if somewhat stilted, memoir". The Publishers Weekly review commented that the book "examines racial hurdles he had to leap to become a neurosurgeon" and "alternat[es] incisive writing about incisions with his personal memoir, insightful and inspirational."
View the full website biography of Keith Black.