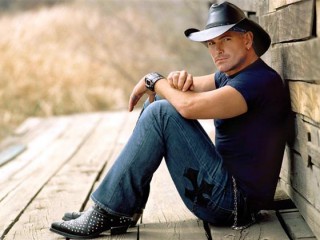 Keith Anderson
Date of birth : 1968-01-12
Date of death : -
Birthplace : Ozark Mountains, Miami, Oklahoma
Nationality : American
Category : Arts and Entertainment
Last modified : 2010-12-14
Women swoon every time hunky country heartthrob Keith Anderson takes the stage, but despite his good looks, Anderson's first big country music break was a behind-the-scenes job. Born near the Ozark Mountains in Miami, OK, Anderson grew up listening to the Southern-fried sound of Lynyrd Skynyrd and Molly Hatchet along with numerous hair metal bands. A copy of Willie Nelson's Red Headed Stranger turned Anderson's attention toward country music. He started writing country songs and envisioned himself as country music star, but he was getting more attention for his baseball-playing skills, so much so that the Kansas City Royals approached him after one of his high-school games. A shoulder injury ended his baseball career, but his physical rehabilitation program led to an interest in bodybuilding, which led to him becoming the runner-up in the Mr. Oklahoma contest and, eventually, a part-time catalog model. After moving to Dallas, Anderson hit the local nightclub stages while working various day jobs.

Writing ad jingles for local radio became his first paying gig in music. The pay wasn't great, but that he was paid at all was enough of an inspiration for Anderson to quit his day job and head for Nashville. Playing around town introduced him to some of the local professional songwriters, most notably George Ducas. Writing a couple songs with the well-revered Ducas was a big endorsement for Anderson, and soon every publishing house in Nashville was aware of him. A couple minor appearances on various albums appeared before Anderson hit pay dirt with "Beer Run," a tune that was recorded as a duet by Garth Brooks and George Jones in 2001. Anderson felt he now had the clout to become an artist on his own, and started approaching labels. It took a while, but eventually Arista Nashville came calling. The label issued Anderson's debut, Three Chord Country and American Rock & Roll, in 2005.

Discography :

2005 "Pickin' Wildflowers"
2005 "XXL"
2006 "Every Time I Hear Your Name"
2007 "Podunk"
2007 "Sunday Morning in America"
2008 "I Still Miss You"
2008 "Somebody Needs a Hug"
2009 "She Could've Been Mine"

View the full website biography of Keith Anderson.