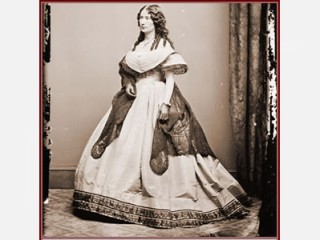 Keene Laura
Date of birth : 1826-07-20
Date of death : 1873-11-04
Birthplace : Winchester, England
Nationality : British
Category : Arts and Entertainment
Last modified : 2010-06-07

Keene, Laura (July 20, 1826 – November 4, 1873), with her real name Mary Frances MossM/b> was an English actress. She has suffered an unmerited oblivion. The date of her birth in England is uncertain; her real name is unknown. Her family seems to have been of high respectability and considerable culture, for she was widely read. In her youth she had some connection with the world of art; as a child she had haunted Turner's studio. Throughout her career she used a trained pictorial sense in dramatic production. Rachel's voice, floating through the windows of a theatre, stirred her ambition to become an actress, and she joined the company of the great light comédienne and manager of the time, Madame Vestris, from whom she acquired a rich taste in stage production. In 1852, at the invitation of James W. Wallack, she came to New York as leading lady at his new theatre, where she achieved a brilliant success. She was beautiful, with chestnut hair and eyes, an exquisite pallor, and a fine carriage. Slight and graceful, she had "the water-color touch," and did not so much draw details of character and action as suggest them. She could play Rosalind with spirit and delicacy, a milkmaid with lusty vigor.

In 1853, at the apex of her fame, she left Wallack's without notice and went to Baltimore for a brief period of management at the Charles Street Theatre. In the spring of 1854 she went to San Francisco, where she became a star at the Metropolitan Theatre under the gifted Catherine Sinclair. Within a few months she left for Australia as abruptly as she had left Wallack's. Her tour, partly with young Edwin Booth, proved unsuccessful. Undaunted, she returned to San Francisco and began a highly original interlude of management at the Union and later at the American Theatre, gathering about her the most vivid talent in the region and wiping out the poor impression she had made by her sudden departure. Comedy had had a great vogue among the mining audiences, and the time was ripe for her adventure into extravaganza, a novelty there as elsewhere in the country. Her productions of the gay, wild pieces always had a poetic turn. She gave a notable Midsummer Night's Dream among the Shakespearian productions. Returning to New York in 1855, she opened Laura Keene's Varieties and became doubly a pioneer, the first woman manager in New York of scope or power, and the first producer to give dignity and charm to the lighter side of the theatre. In 1856 she moved to Laura Keene's Theatre, built for her by Trimble, where for seven years she was both manager and leading actress, sustaining a high achievement against the odds of competition by many gifted comedians, including Wallack, and with the handicap in 1857 of the general panic. Young, talented actors like Jefferson and Sothern were drawn to her company, as were the experienced Boucicault and Blake.

As a manager Miss Keene was imperious; many amusing stories were told of her tiffs with actors. But her own humor was unfailing, her integrity unmistakable. She made costumes, painted scenery, could prompt any actor, and herself took the feminine leads, gaining an enthusiastic personal following. Our American Cousin was her most conspicuous success, but she had many others on the lighter side of comedy. She habitually encouraged American playwrights. Her position as a woman manager remained difficult; in 1863 she decided that it was considered "not quite respectable," and moreover that she was "ever sinking the actress in the manager." She relinquished her theatre, and thenceforward her career was broken. Perhaps she had made a wrong turning, but the form of comedy to which she was deeply attracted, extravaganza, had not yet come into vigorous growth; and social comedy, in which she played with unusual finish, had entered a dreary phase. The English plays had grown stale; American social comedy was not yet written.

She was next seen in the event which has given her a modicum of fame, playing in Our American Cousin at Ford's Theatre in Washington on the night when President Lincoln was assassinated. In 1869 she took the Chestnut Street Theatre in Philadelphia, but her materials were old and the venture was a failure. She became a wandering star, acting in forlorn small theatres in the West, keeping an irrepressible humor both on and off stage. She embarked upon the grandiose project of editing a magazine called the Fine Arts, and lost money. She wrote plays, lectured, and acted until the end. Overworked, she failed suddenly, dying Nov. 4, 1873. She had married John Taylor in England, to whom she had borne two daughters, but the marriage was unhappy. She had brought the children to America and later married John Lutz. Little is known of her personal life. The few faint glimpses reveal a distinguished and complex character.
View the full website biography of Keene Laura.