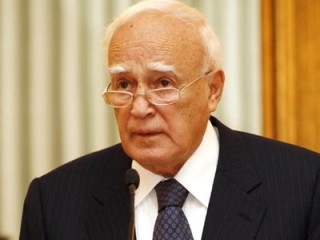 Karolos Papoulias
Date of birth : 1929-06-04
Date of death : -
Birthplace : Ioannina, Greece
Nationality : Greek
Category : Politics
Last modified : 2011-09-27
Dr. Karolos Papoulias is the seventh and current President of the Third Hellenic Republic.

Karolos Papoulias was sworn in as President of Greece on 12 March 2005, after having been elected by an unprecedented 279 votes in the country's 300-seat parliament. A founding member of the opposition Panhellenic Socialist Movement (PASOK), the 75-year-old Papoulias won support both from his own party and from the ruling center-right New Democracy party, which nominated him to succeed Kostis Stephanopoulos in the largely ceremonial post.

In the course of his long career, Papoulias has been a pole vault champion, an attorney, a political activist, a member of parliament, an official of the national volleyball team, and president of the National Athletics Association.
He was born in Ioannina in 1929. After legal studies in Athens and Milan, he obtained his PhD at Cologne University and went on to practice law from 1963 to 1981. He was in Germany at the time of the 1967 military coup in Greece. During the next seven years, Papoulias helped found a student resistance organisation and broadcast regularly on Deutsche Welle's Greek service, denouncing the colonels.

In 1977, Papoulias entered parliament for the first time, representing the Ioannina electoral district as an MP on the PASOK ticket. He was re-elected eight times, serving a total of 27 years. A close associate of the late Greek prime minister Andreas Papandreou, he has been a consistent influence in the foreign policy of successive PASOK governments, serving as deputy foreign minister from 1981-1984, as foreign minister from 1985-1990, and again as foreign minister from 1993-1996. In 1995, he was elected to the party's executive bureau and political secretariat.

Following the 1996 general elections, Papoulias became head of Greece's parliamentary representation to the OSCE. In June 2000, he was appointed a member of the Board of Directors and Executive Committee of the International Olympic Truce Foundation.

Papoulias will serve a five-year term. He is married and has three daughters.

View the full website biography of Karolos Papoulias.