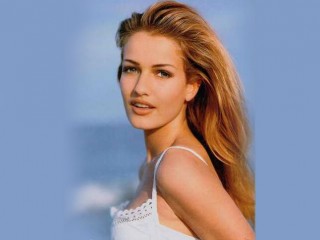 Karen Mulder
Date of birth : 1968-06-01
Date of death : -
Birthplace : Vlaardingen, Zuid-Holland, Netherlands
Nationality : Dutch
Category : Arts and Entertainment
Last modified : 2010-06-03
Karen Mulder

HEIGHT: 5′10″
MEASUREMENTS: 33.5-23.5-34
HAIR: Blonde
EYES: Blue-Grey
BORN: 1968 in Vlaardingen, Holland, Netherlands. Grew up in the Netherlands.
DISCOVERED: When she was 17 her family went on a camping trip in the south of France. She saw an ad for Elite's 'Look of the Year' contest in a newspaper. A friend took some photographs of her and she tried out and won.
AGENCY: New York-Elite, Paris-Elite, UK-Elite Premier.
INCOME: Made approx. $2 million in 1994. Her estimated worth in 2000 was $19.3 million.

Modelled for Victoria's Secret, Calvin Klein, Nivea, Ralph Lauren, Claude Montana, Valentino, Versace, Guess?, Chanel, Celine and Yves Saint Laurent. Has a Barbie doll, made to her likeness, for sale. Has her own CD Rom with beauty and fitness tips called "Karen Mulder: Beauty".

HOME: New York, Paris, Monte Carlo and Monaco.

SWEETIE: In 1993 she met Jean Yves in the waiting area of a Paris airport and it was love at first sight. Today, she sports a large diamond solitaire engagement ring. Yves manages Mulder's off-the-runway career. In 1995, he collaborated with Hasbro on a Karen Mulder doll; it spurred an entire supermodel line. Then they did an infomercial and video. Her favorite item is a beauty and fashion CD-ROM, in which she gives makeup, beauty and exercise tips. In 1997, Karen Mulder said she planned to "spend most of the year at home in Monaco with Yves" (and supermodel neighbors Helena Christensen, Carla Bruni, Claudia Schiffer and Eva Herzigova.)

On 31 October 2001, Mulder claimed during a taping of the French channel France 2 show Tout le Monde en Parle (Everyone is Talking About It) hosted by Thierry Ardisson, and with a live audience in the studio, that various people, including top executives at her former agency, Elite Model Management, and Prince Albert of Monaco, had tried to rape her. Moreover, Mulder said that her own father had hypnotized her from the age of two and then raped her. The producers of the show deemed her emotionally unstable and did not broadcast the interview. Not only was the show never aired, but the entire recording was erased.

Days later, Mulder repeated her allegations, this time to a weekly magazine in an interview conducted in her Paris apartment. Within hours of the interview, her sister Saskia arrived and took her to Villa Montsouris, a psychiatric hospital specializing in such disorders as depression, anxiety, and delirium, where she stayed for five months. The stay reportedly was paid for by Elite models president Gerald Marie, an old friend of hers and one of the accused. (It came after the BBC caught Marie on hidden camera trying to give a 15-year-old model £300 for sex, and bragging Elite Model Look competitors he would sleep with that year.)

On 11 December 2002, after suffering for years from chronic depression, Mulder went into a coma after she overdosed on sleeping pills in an apparent suicide attempt. She left no note. She was rushed to the American Hospital in Neuilly after neighbors found her passed out on the floor of the Paris apartment on exclusive Avenue Montaigne where she was staying with friends. Mulder's parents flew from the Netherlands to be by her side along with former fiancé Jean-Yves Le Fur. Le Fur was reportedly one of the people who found Mulder unconscious after arriving at the apartment after Mulder had not answered several of his telephone calls. She awoke from her coma the next day.

In the summer of 2004, Mulder decided to re-enter the music industry. She worked with Daniel Chenevez of the Niagara group to create the self titled CD Karen Mulder. She gave birth to a daughter, Anna, on 30 October 2006.

On 1 July 2007 she returned to the catwalk at the Dior Autumn/Winter 07/08 Couture Collection in Paris, modelling alongside Naomi Campbell, Linda Evangelista, Helena Christensen, Amber Valletta, Shalom Harlow and Stella Tennant.

On 1 July 2009, the Daily Mail reported that Mulder was arrested in Paris for threatening to attack her plastic surgeon. Though the exact nature of the type of plastic surgery is unknown. And the outcome of the it was never reported, Karen Mulder has been keeping a low profile since this whole ordeal.
View the full website biography of Karen Mulder.