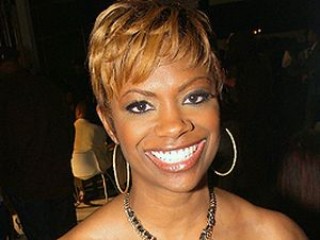 Kandi
Date of birth : 1976-05-17
Date of death : -
Birthplace : Atlanta, Georgia, U.S.
Nationality : American
Category : Arts and Entertainment
Last modified : 2011-01-21
Kandi Burruss , better known by her stage names Kandi or Kandi Girl, is an American R&B singer-songwriter and record producer. She is also a former member of the group Xscape from Atlanta.

Vocalist and songwriter Kandi Burruss first caught the public's attention when she was only 15 years old. Her first major appearance was the Teen Summit Showcase on BET. What might have been a highlight for some artists proved to be little more than a stepping stone for this young singer. In 1990 Kandi became one of the sensual foursome known as Xscape. Other members were Tameka "Tiny" Cottle and sisters LaTocha and Tamika Scott. During the time Kandi was with Xscape, the group earned a number of gold and platinum records and in 1996 walked away with Album of the Year from the Soul Train Music Awards.

Kandi wrote a couple of the group's first big hits, like "Feel So Good" and "Can't Hang." When she took her writing and singing career solo, she continued to please fans and surprise others. One of her first successes outside the group was the hit number, "No Scrubs," that she co-wrote for the hot female team TLC. Kandi's next effort, "Bills, Bills, Bills," written for Destiny's Child, did nearly as well, landing on the Billboard charts. In 2000, Kandi won the Rhythm & Soul Music Award for Songwriter of the Year from the American Society of Composers, Authors, and Publishers. That was a big enough deal for any artists, but what topped it off was that she was the very first female to ever win this award. Kandi has written for a number of other artists, including Mariah Carey on "X-Girlfriend" and Boyz ll Men on "Good Guy." Kandi has also worked, as a singer or songwriter, with N'SYNC, Da Brat, N-Toon, Sole, and MC Lyte. She even added her talents to the soundtrack for the movie Big Momma's House. In 2000 Kandi's solo full-length debut album for Columbia Records, Hey Kandi, hit the stores.

In early 2006, Kandi began work on her second album. The first single I Need was a promotional single only. It featured rap duo 8Ball and MJG. Another song, Keep It Gangsta featuring rapper Lil Scrappy, was also set to appear on the album, although it was never released as a promo single.

Failing to generate any buzz, plans for the new album were temporarily put on hold. Burruss then teamed with Atlanta female rapper Rasheeda to form the duo Peach Candy, signed to D-Lo Entertainment. Their first single, entitled "Bam," got little airplay and plans for this album were also put on hold. PeachCandy EP was released on iTunes with a 5-track lineup.

In 2009, Kandi joined the second season of the Bravo reality series, The Real Housewives of Atlanta and went back to work on her second album, then titled B.L.O.G.. Her debut EP, the Fly Above EP, was released on October 29, 2009. The album will be released on her own record label Kandi Koated Entertainment and possibly Capitol Records, although the EP will only be released on Kandi Koated Entertainment. The album is confirmed to feature appearances from artists such as Rick Ross, Rasheeda, Gucci Mane and possibly Missy Elliott. Despite speculation that the lead single would be either "I Like Him" featuring Rick Ross and Rasheeda or "Trade Him In" featuring Gucci Mane, the lead single, "Fly Above", was released on October 6, 2009. It was later dubbed a promo single. Kandi signed a record deal with Asylum Records in early 2010 and released her second album, Kandi Koated on December 14, 2010. The lead single "Leave U" debuted at number 89 on Billboard's Hot R&B/Hip-Hop Songs chart.


View the full website biography of Kandi.