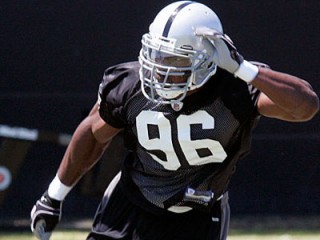 Kamerion Wimbley
Date of birth : 1983-10-13
Date of death : -
Birthplace : Wichita, Kansas, USA
Nationality : American
Category : Sports
Last modified : 2011-01-14
Kamerion Wimbley is an American football linebacker for the Oakland Raiders of the National Football League.

Attending Wichita Northwest High School in Kansas, Wimbley earned Parade and SuperPrep All-America honors during his senior season and was considered to be one of the top high school athletes in the nation. He participated in the 2002 U.S. Army All-American Bowl.

Considered a four-star recruit by Rivals.com, Wimbley was ranked 58th overall among football prospects of the class of 2002. He selected Florida State over Notre Dame, Nebraska, Oklahoma and Tennessee. Wimbley graduated from Northwest High School in December 2001 (a semester early) and enrolled at Florida State in the spring of 2002.

College:

Wimbley played at Florida State, where he was one of the top defensive ends in the country, recording two sacks in three different games in his senior year and leading his conference in sacks before suffering a knee injury against NC State. Despite the injury, Wimbley was named second team All-ACC and was named All-America by Pro Football Weekly.

Starting in all 10 games he played in, he led the team in quarterback hurries with 17 and set career-highs in season sacks and tackles for a loss. He returned to the starting lineup for the Orange Bowl against Penn State, his last career game.

Pro:

Although playing 4-3 defensive end at Florida State, Wimbley was considered "not big enough to play there on a consistent basis in the NFL". Rather, he was considered an ideal fit at 3-4 rush linebacker by most NFL scouts.

For their 3-4 defense, the Cleveland Browns were in need of a run-stuffer and a pass rusher. There was discussion the team should pick 338-pound Oregon nose tackle Haloti Ngata, but according to general manager Phil Savage the coaching staff wanted to pressure the quarterback. So the team targeted Wimbley. The Browns selected him with the 13th pick overall in the Draft.

Cleveland Browns
On July 22, 2006, he signed a six-year deal with the Browns and includes $9.3 million in guaranteed money and $23.7 million total. After being converted to outside linebacker from his college position of defensive end, he played the entire season as the starting linebacker playing opposite all-time post season sack leader Willie McGinest. During his rookie season, Wimbley made an immediate impact leading the team and all AFC rookies with 11 sacks, to go along with 62 tackles, 1 fumble recovery, and 1 forced fumble. He managed to fly under the radar in his rookie season despite the impressive performance, who was beaten out by 3 other rookie linebackers in consideration for the NFL Defensive Rookie of the Year award.

In his second NFL season, Wimbley failed to live up to the success of his rookie campaign, being part of a Browns defense that struggled throughout the season. However, he still led the team in sacks with 5, and also registered 51 tackles and 4 forced fumbles.

Oakland Raiders
On March 14, 2010, Wimbley was traded to the Oakland Raiders for a third round pick in 2010 NFL Draft, which was used on Quarterback Colt McCoy of Texas. The Raiders intended to put him at defensive end, hoping it would bring him back to his 2006 (rookie campaign) form. Instead they moved him to strongside linebacker. He currently has 32 tackles (25 solo), 4.5 sacks, a pass defensed and a forced fumble through 9 games in his first season with the Oakland Raiders.

On August 21, 2010, during a pre-season game against the bears, Wimbley recorded 4 sacks in one half on Chicago Bears quarterback Jay Cutler.


View the full website biography of Kamerion Wimbley.